Good genetics are a gift that keeps on giving. I'm grateful that my children inherited the ability to travel well from both sides of their gene pool.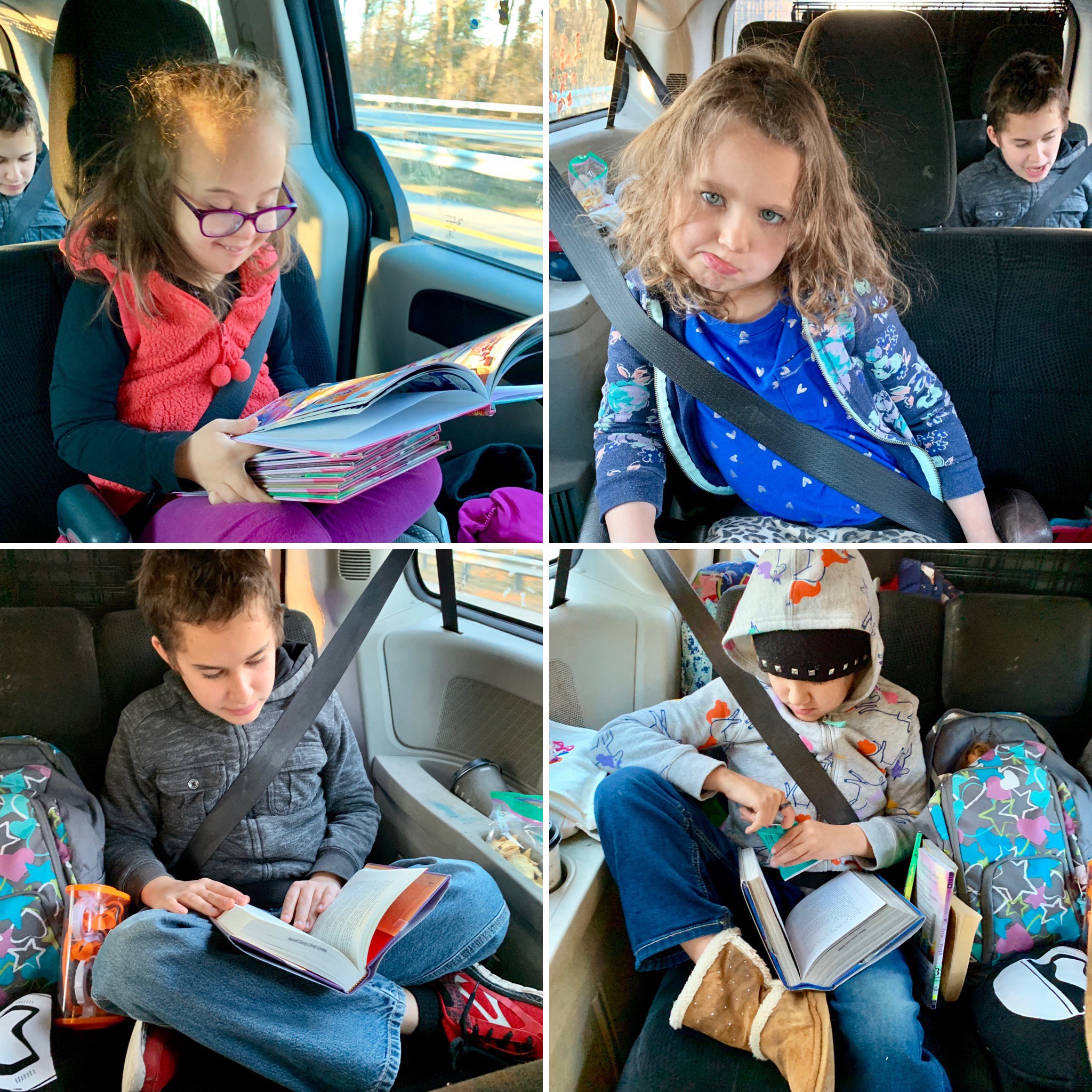 All 11+ hours (one way) of our recent short trip up to New York looked something like the above. I did read out loud to the little girls quite a bit, and there was breakfast and lunch in the car. For the most part, though, driving with the monkeys is a calm and enjoyable experience.
Travel is another love of my life and I really love planning and carrying out trips and adventures. As I mentioned in my post about Tatanka, my sister is almost done with college and we got to go see her final student performance. Eating and visiting a cool historic site also happened, so the trip was a definite win in my book.
Thursday was a driving day, so Friday morning we got up and braved the cold to visit the only other agenda item besides the dance show…Sleepy Hollow and its massive cemetery.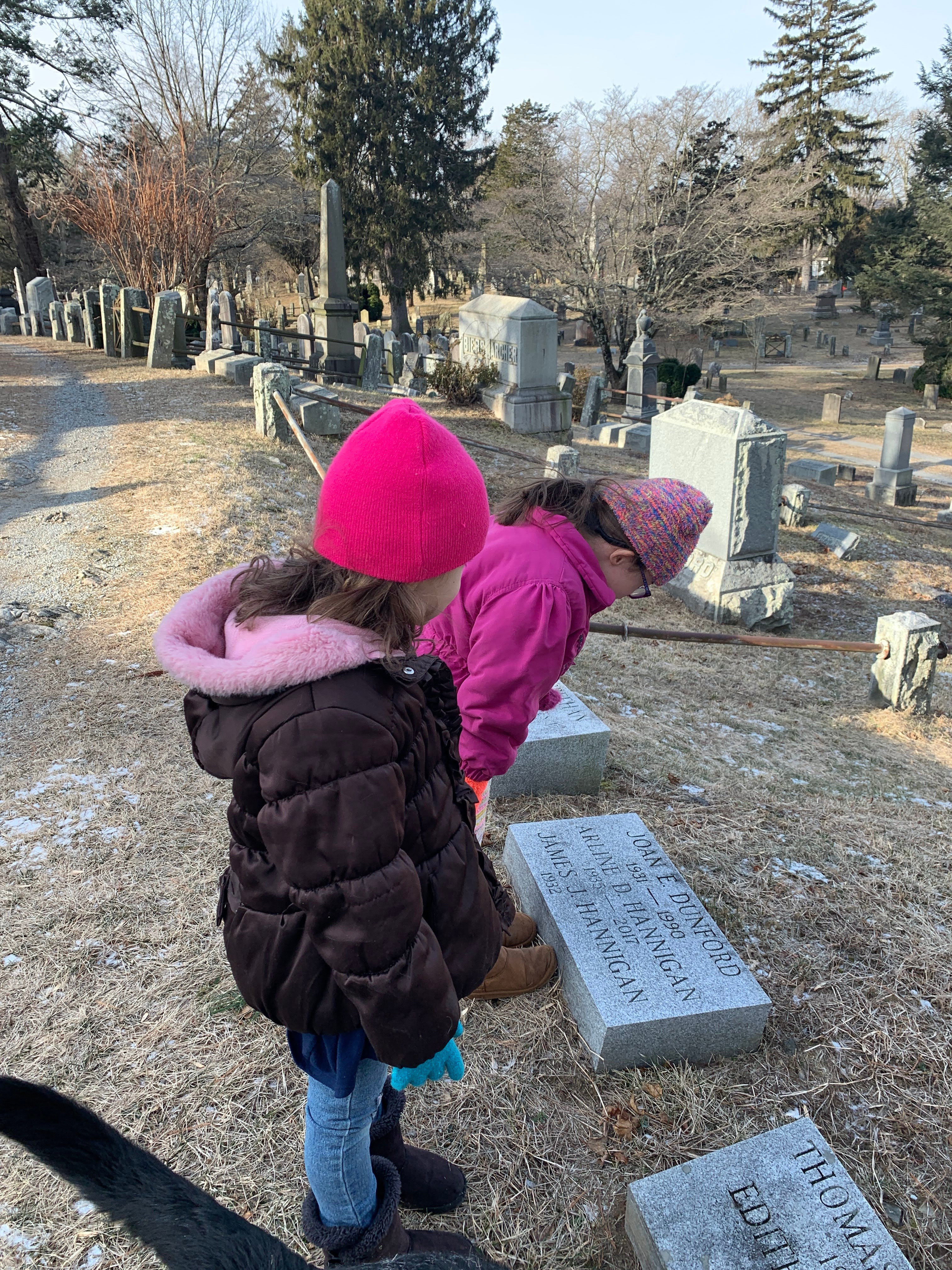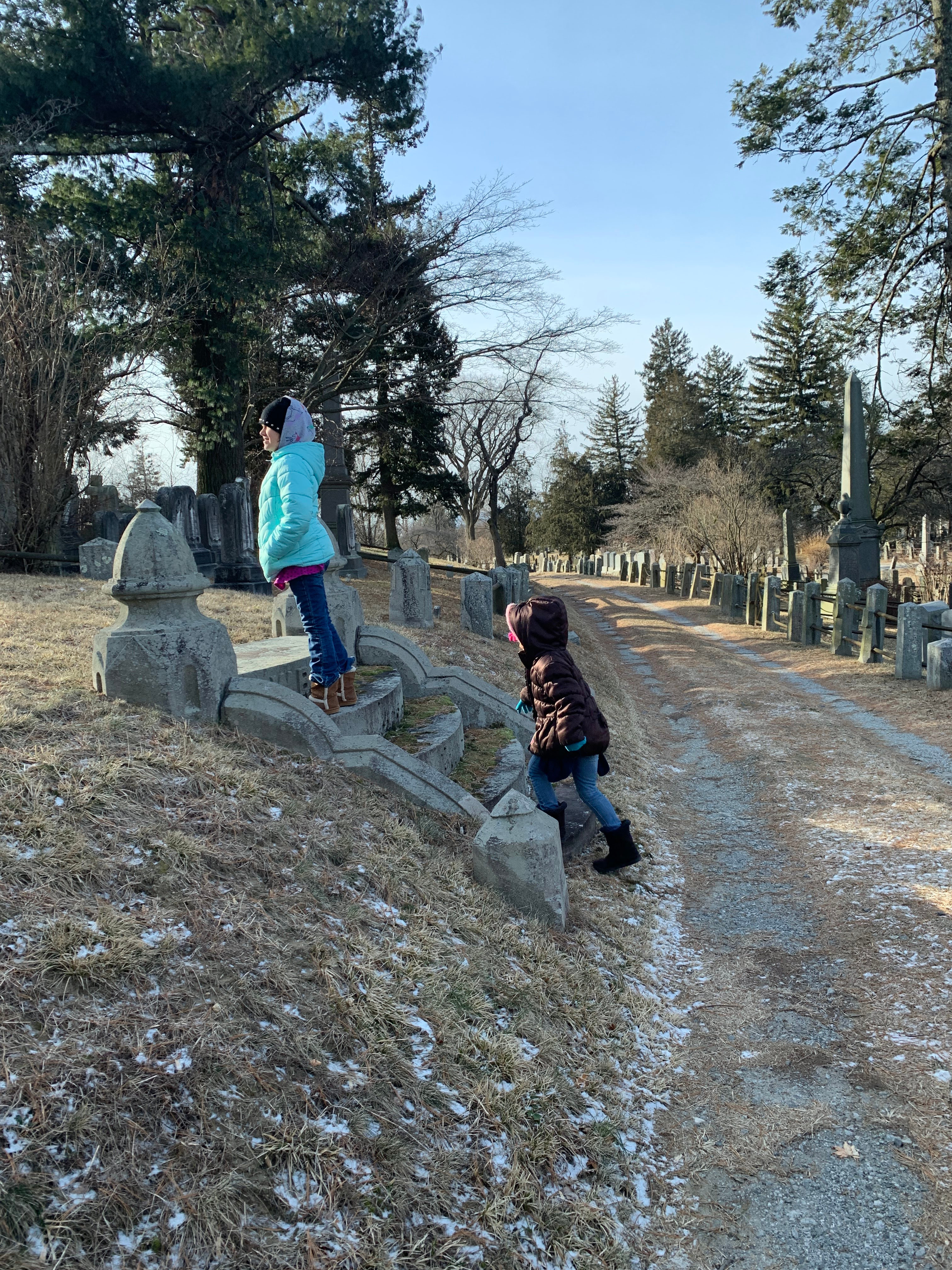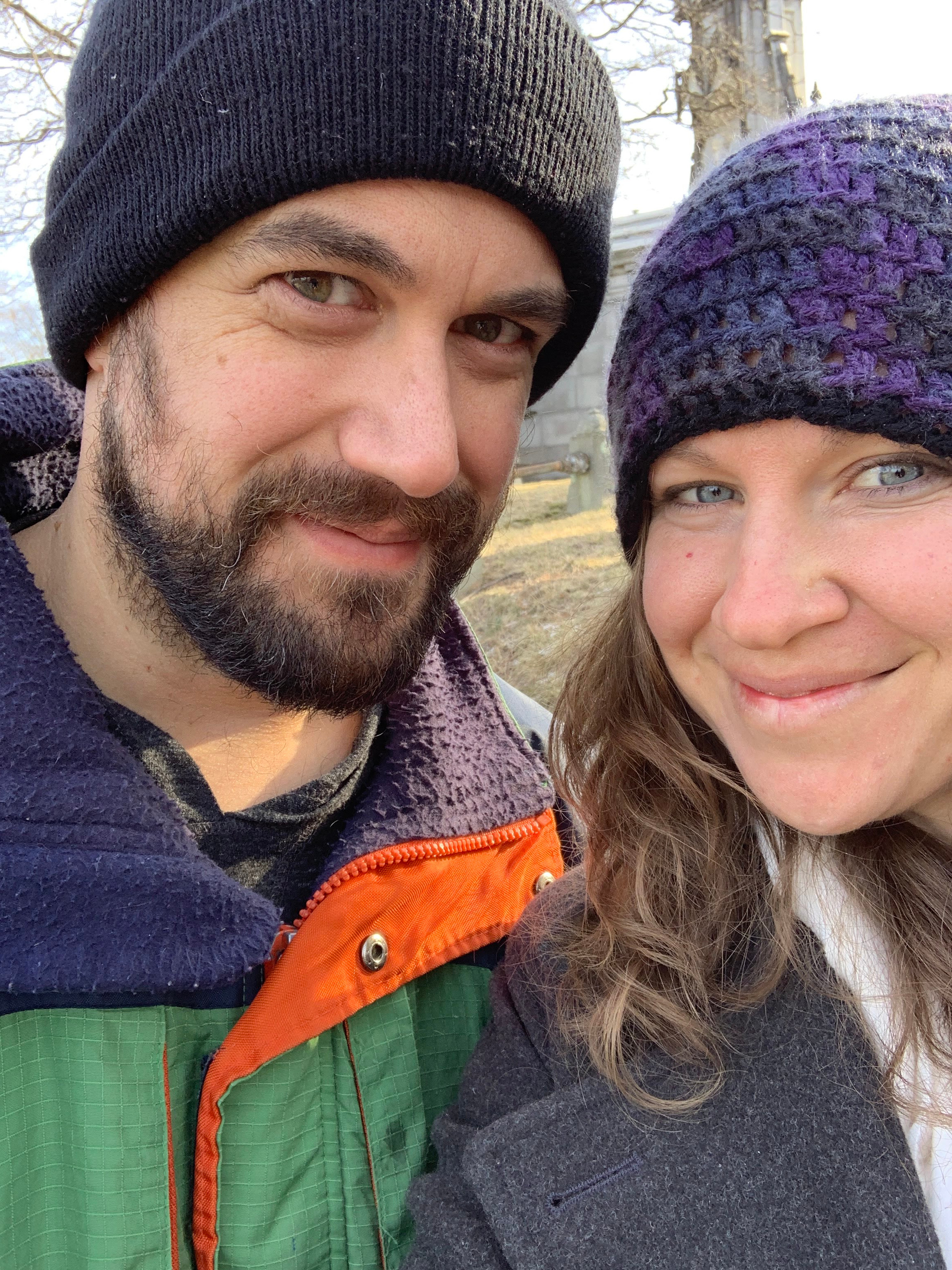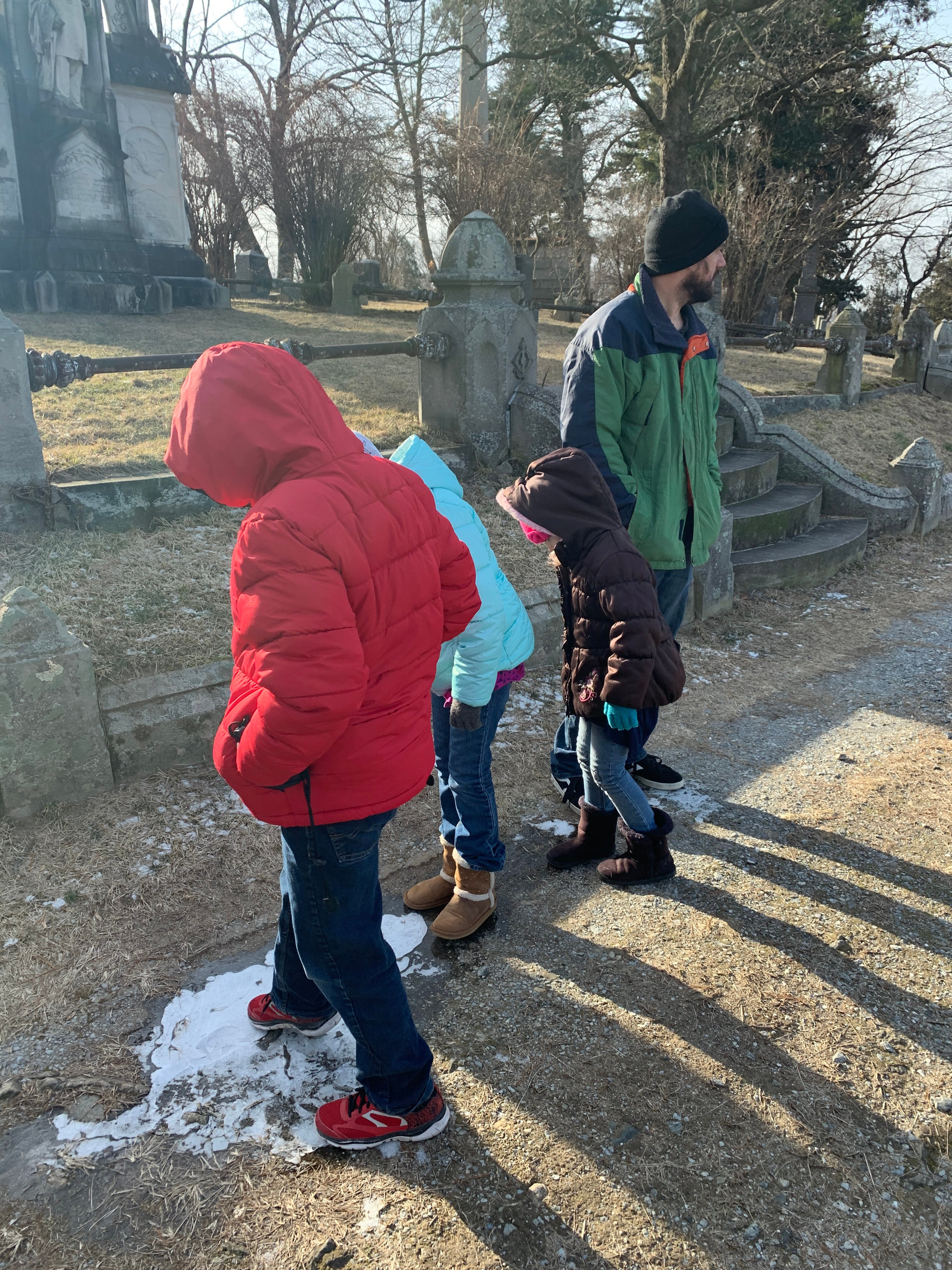 Growing up in a place with a very unusual kind of a history (Las Vegas tends to invent and replicate history), really old authentic places are a total novelty and still surprise me. Couple that with trees and creeks and ice and cold and we were all smitten.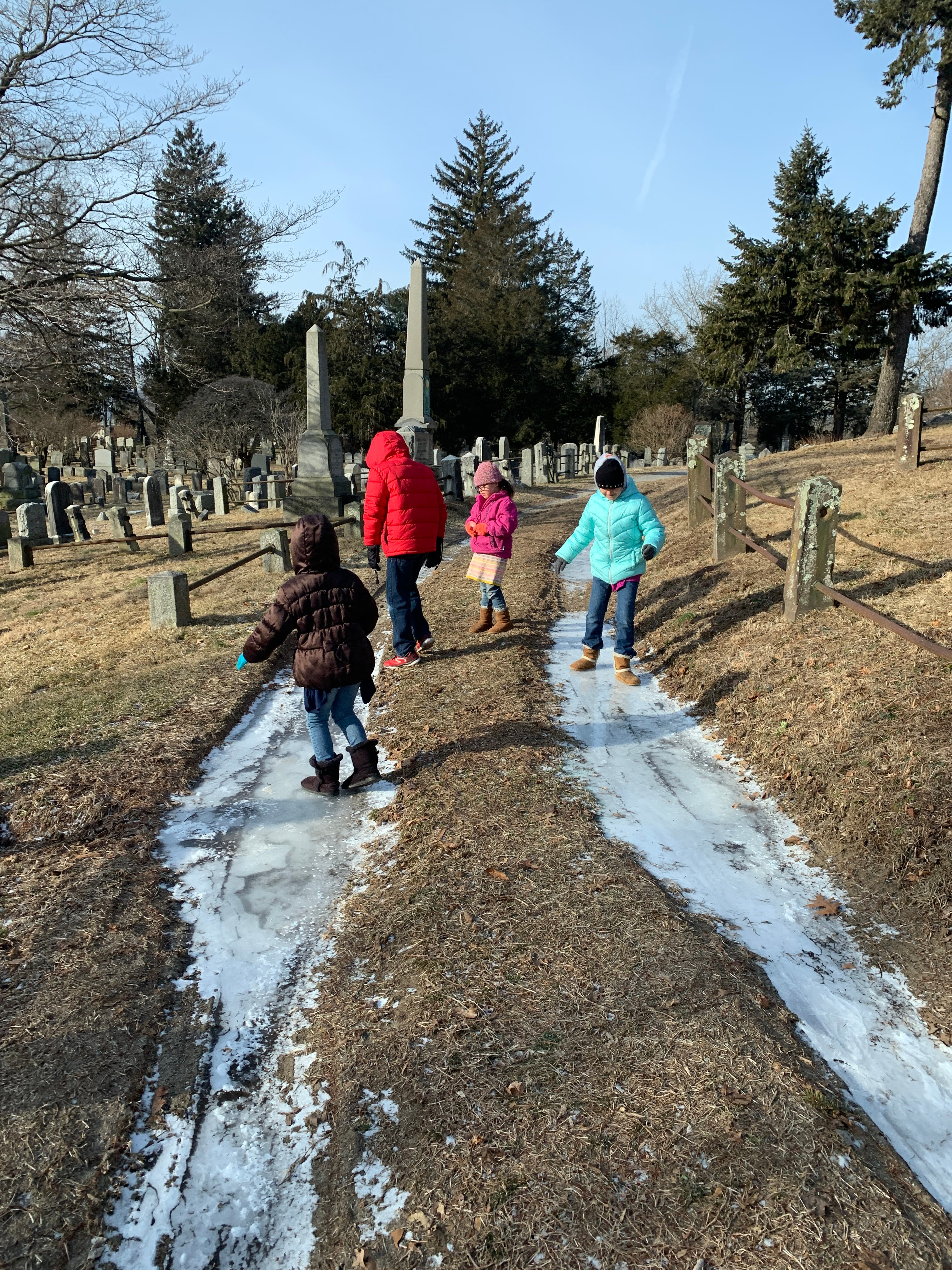 Plus there was mini ice skating in the frozen puddles. Luckily we are good at really milking an experience for all it's worth efficiently, because after about 20-30 minutes we were frozen and ready to be out of the outside.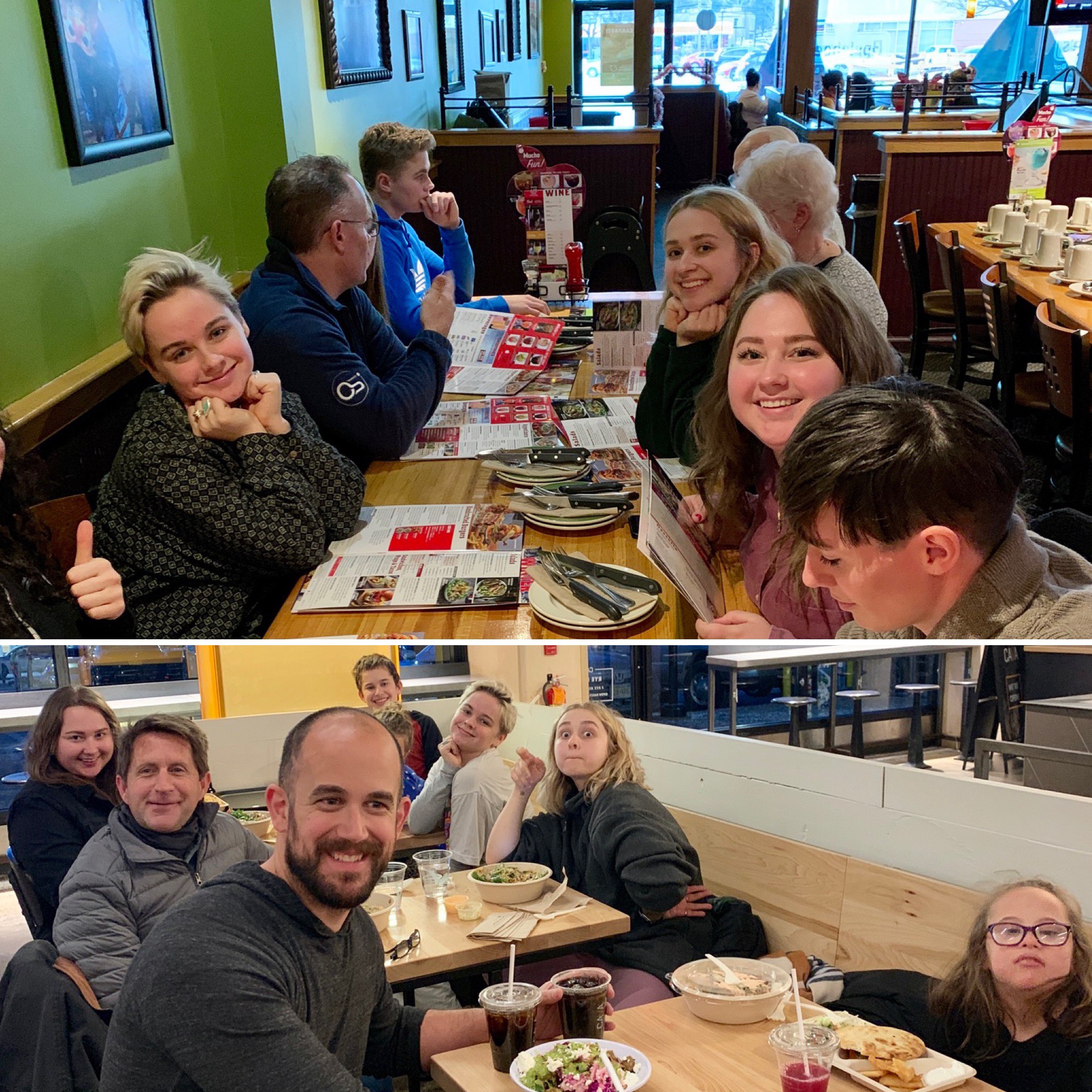 I love eating out. Family and cold conspired to give us the chance to eat out twice and even try a new restaurant, Cava. Standing in line at Cava, waiting to order for myself and the kids, I joked that normal people do Sudoku to keep up their mental acuity. I cater to the demands of 4 very distinct sets of tastes and preferences. Oh well. It's not so bad. My mantra is that teaching them to listen to their bodies is worth the frustration of texture aversion and changing whims. Cava was Thursday's dinner and in between Sleepy Hollow and Applebee's we hung out at the mall with the dog.
Chain restaurants with their standardized kids meals do simplify logistics even if the food is meh. Garyn has officially aged out of kids meals and he tackled a bacon cheeseburger like the growing youth he is. In about two years he will be taller than me…I already steal his flip-flops if I can't find mine.
After dinner, we headed to Baylie and McCall's school, SUNY Purchase. It's a tiny performing arts college near White Plains, NY.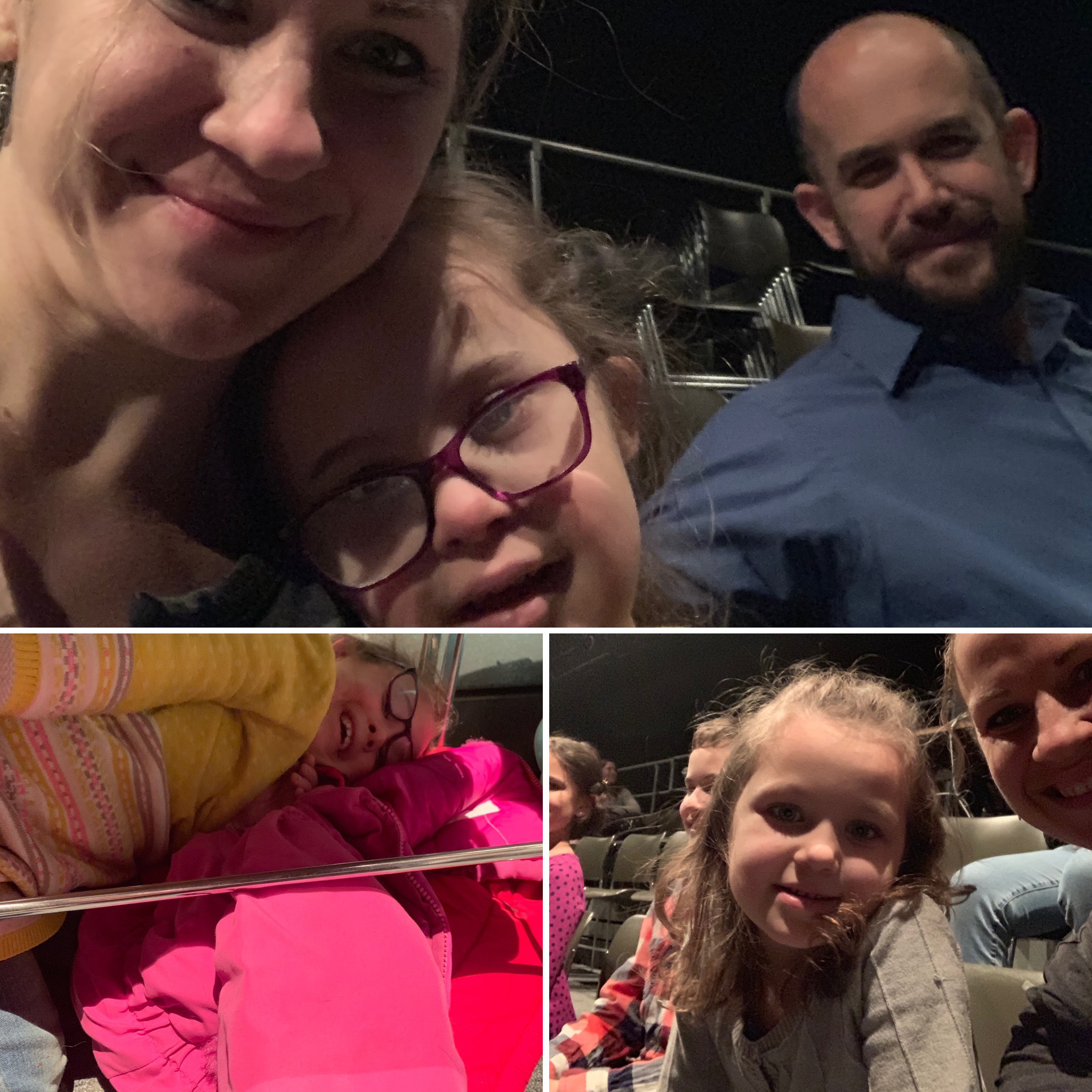 Excepting a brief stint under the chairs during intermission from Miss Layna, the kids watched the entire two hour show with no problems at all. Honestly, modern dance is not something I even pretend to understand and I try to just appreciate the music and the skill of the dancers. [Corra has a Ballet book that she loves and it talks about the dance telling a story. After a particularly weird number, she asked what story they were telling. I had nothing.] So the fact that the kids rolled with it, was pretty awesome.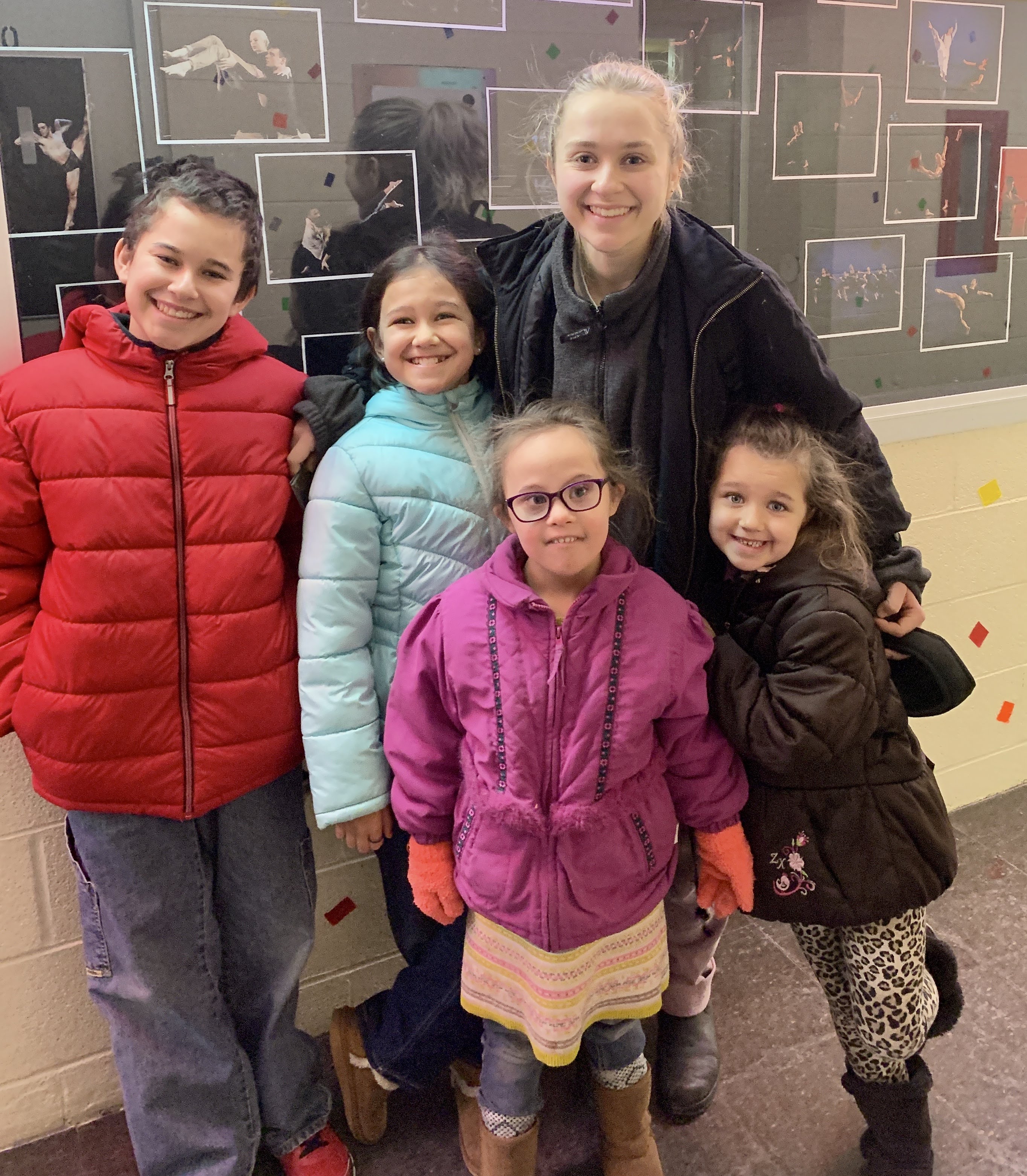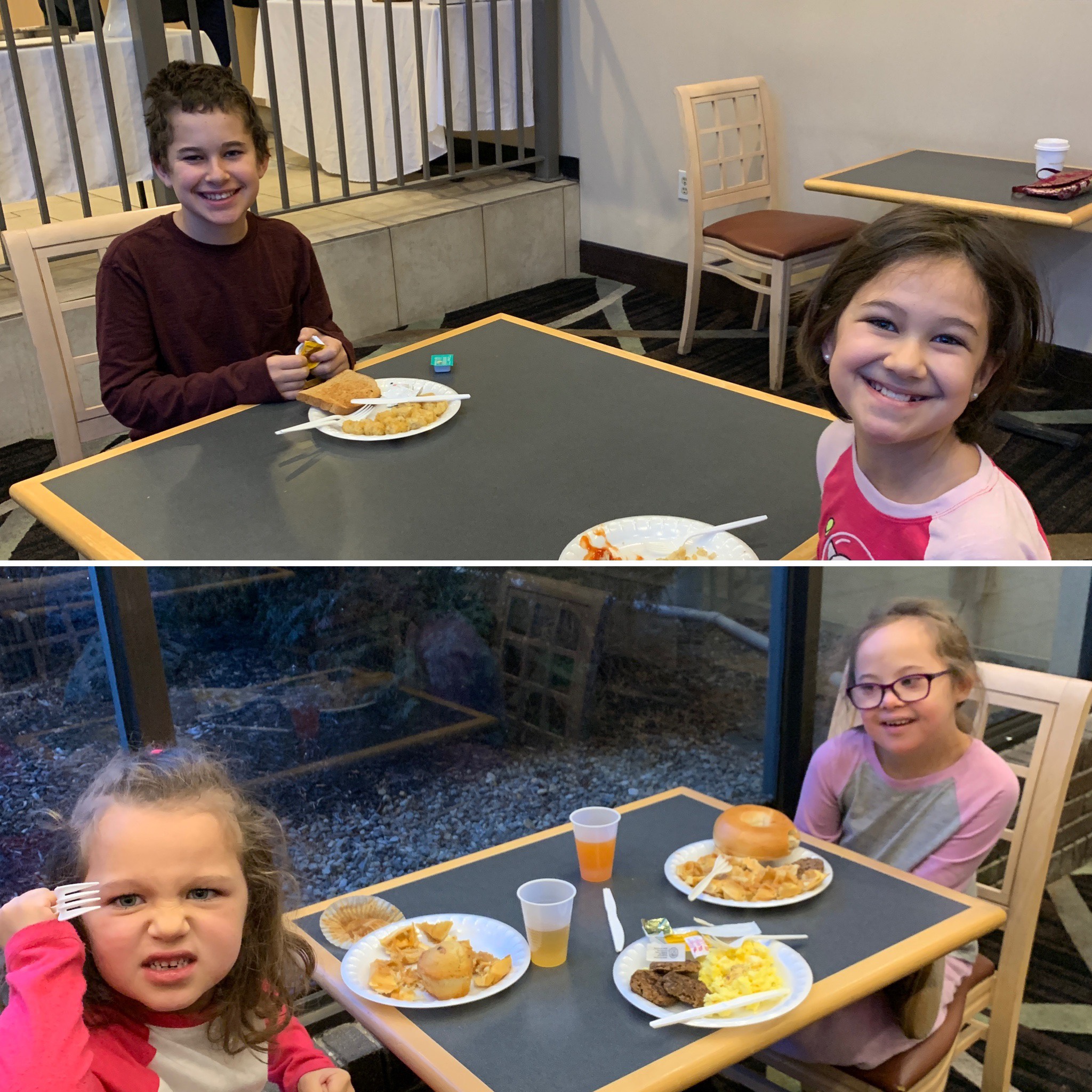 Eating breakfast at the hotel has always been the main highlight of staying at a hotel for me (that and crisp, perfectly white sheets) despite the fact that the food is typically not spectacular. I'm not sure what it is, but I love it! My monkeys must have inherited that too. (Corra's standard face/pose du jour).
We drove home Saturday, and almost as soon as we got on the road Corra's stomach hurt. By the time we made it home, Naomi had such a bad headache she was crying and Corra's stomach still hurt so much she didn't want to eat (that makes it serious stuff). It's been a week today since we got home and we have all been sick all week (except Neil. Lucky). Garyn and Naomi seem to be better and I thought Corra was better, but she took a 3.5 hour nap today. Layna seemed to be better, but now she's acting pretty out of it and very cranky. Sigh. This is day two that I was functional without medicine so I'm pretending I'm totally over it. My husband thinks I'm cute.