You know that closet? Maybe in your house it's a drawer. Either way it's a space that wants to be a black hole when it grows up. It sucks wandering objects into its dark abyss, and it is so terrifying that you hesitate to retrieve said objects. So as it collects, its mass grows until it can no longer be ignored…then…you clean it out. Maybe even get ambitious and re-purpose it. But, no. It doesn't stick, it resumes sucking things.
Well, with our shed as my secret weapon, I put my foot down. I faced our closet. I emerged triumphant.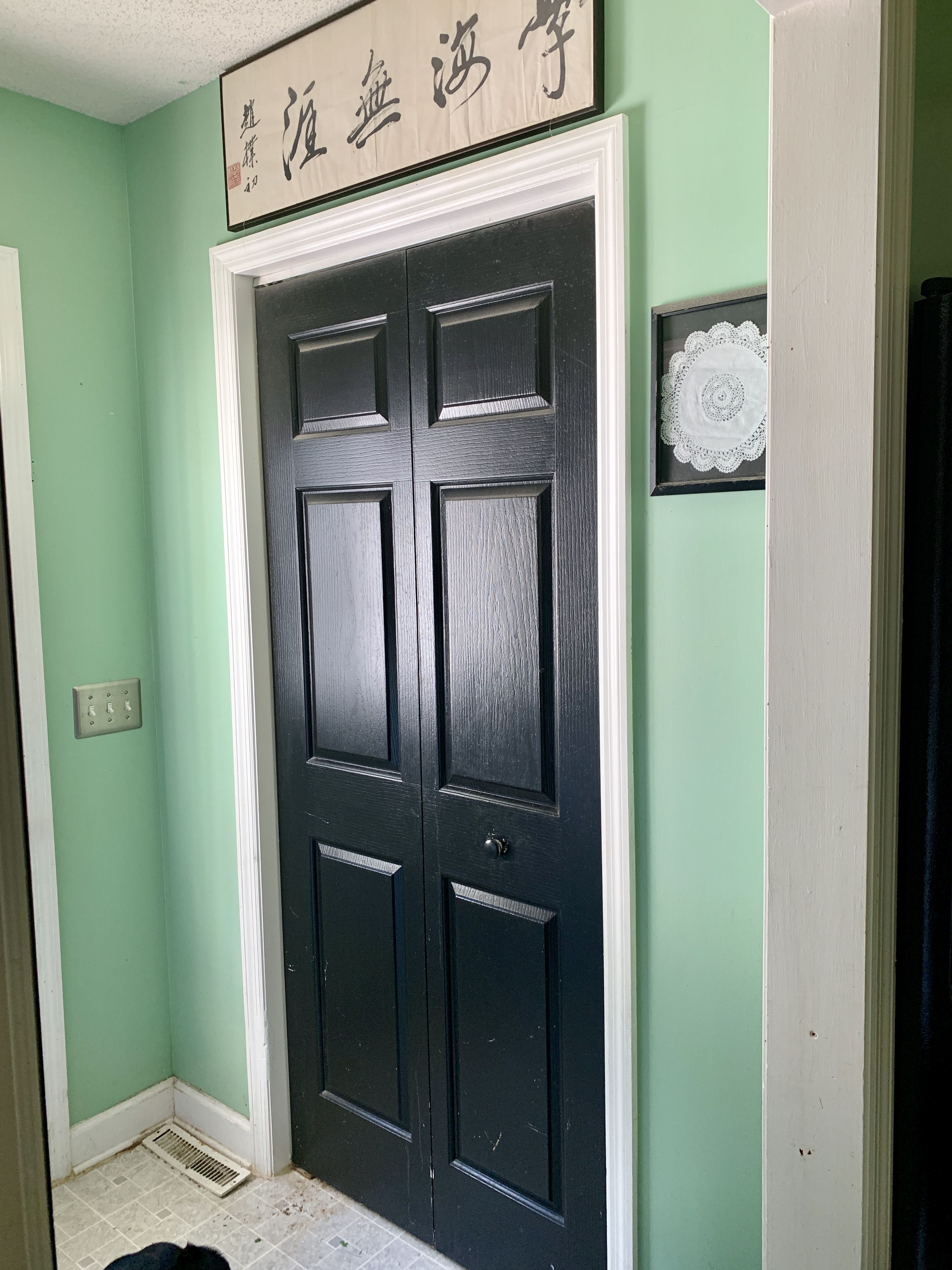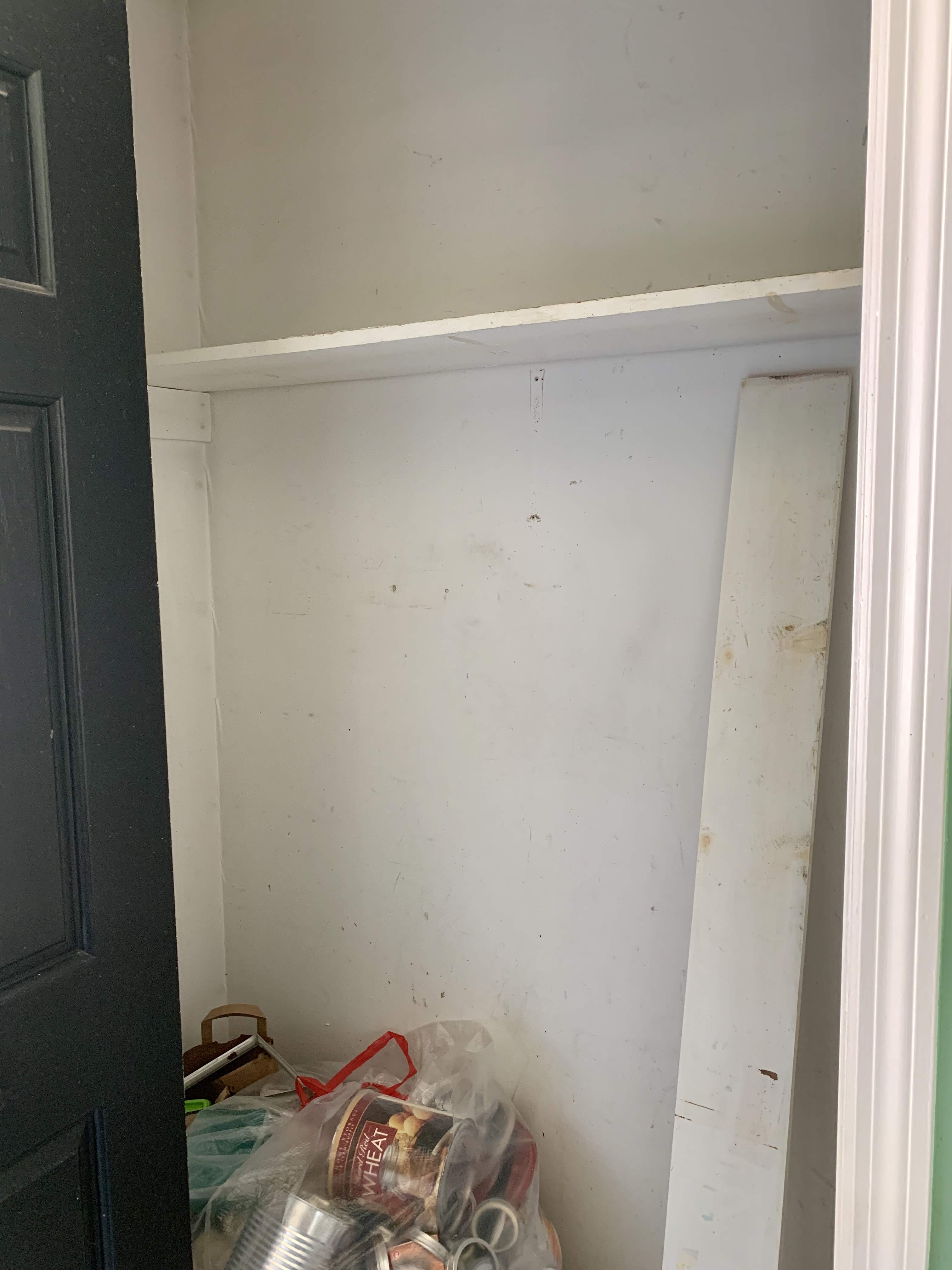 On a good day I could close the door. Good days were rare in my kitchen. Honestly, I completely forgot to take a decent before picture of the closet in all its nasty, junk collecting glory. This is the best I could get.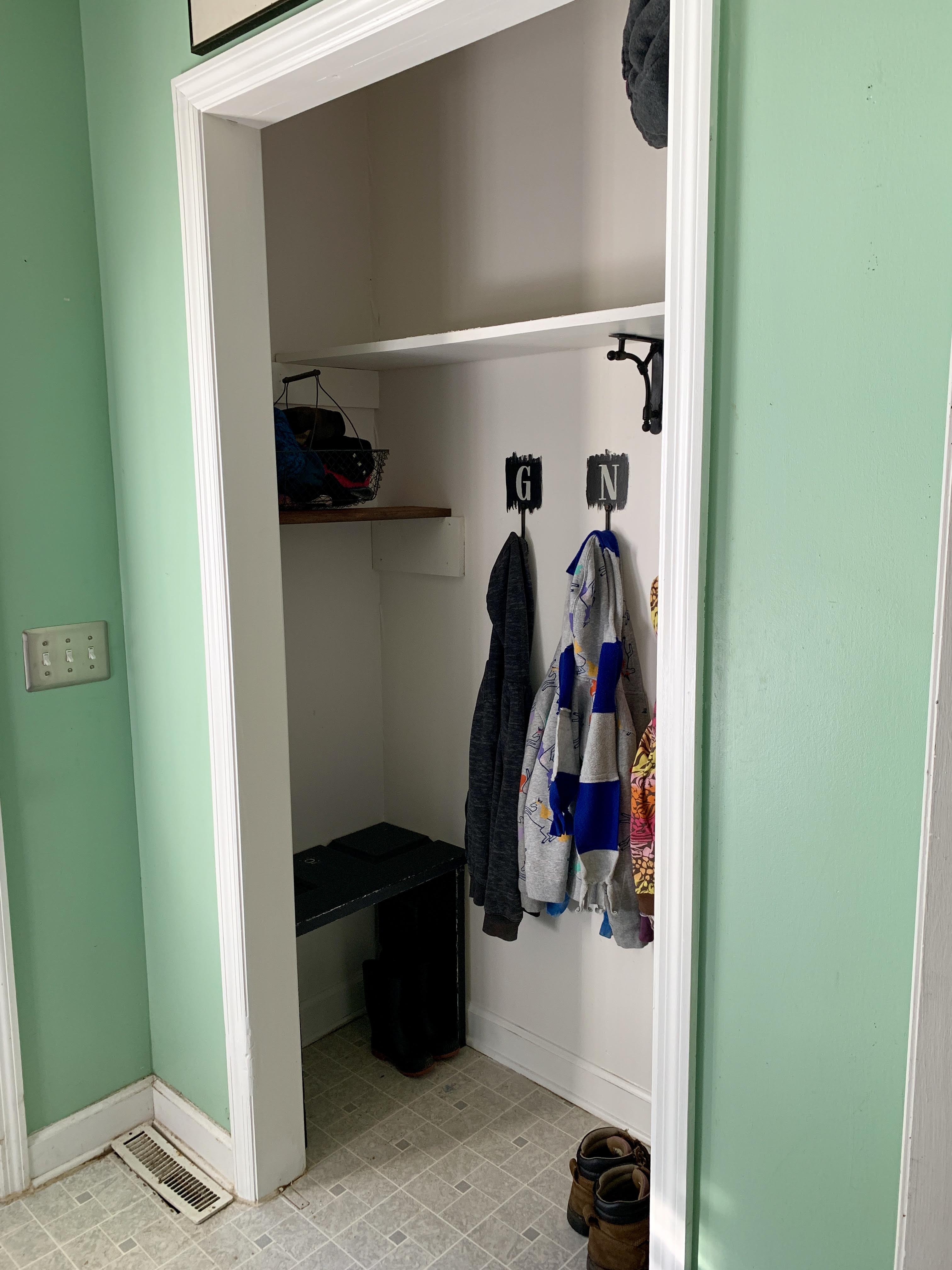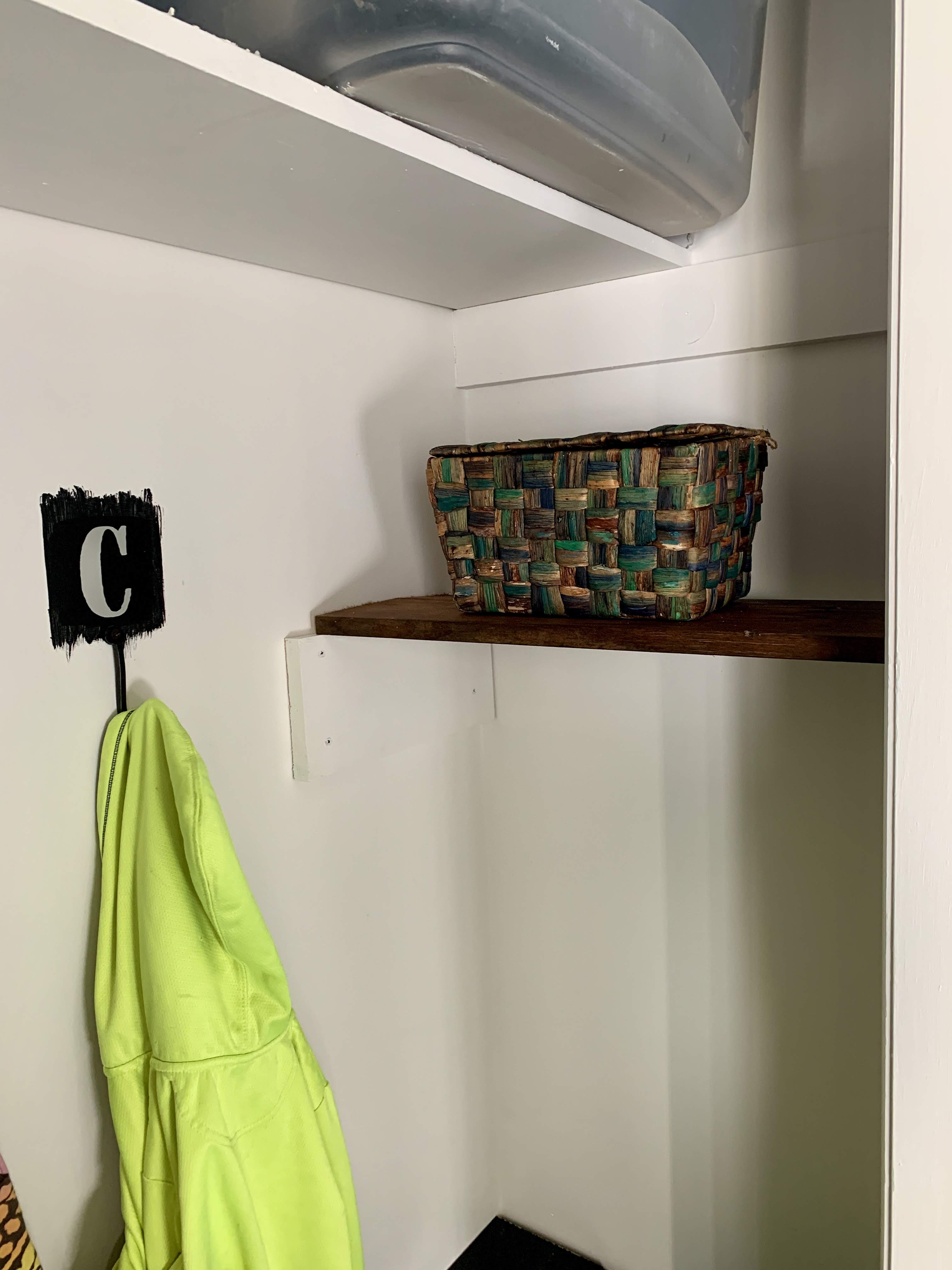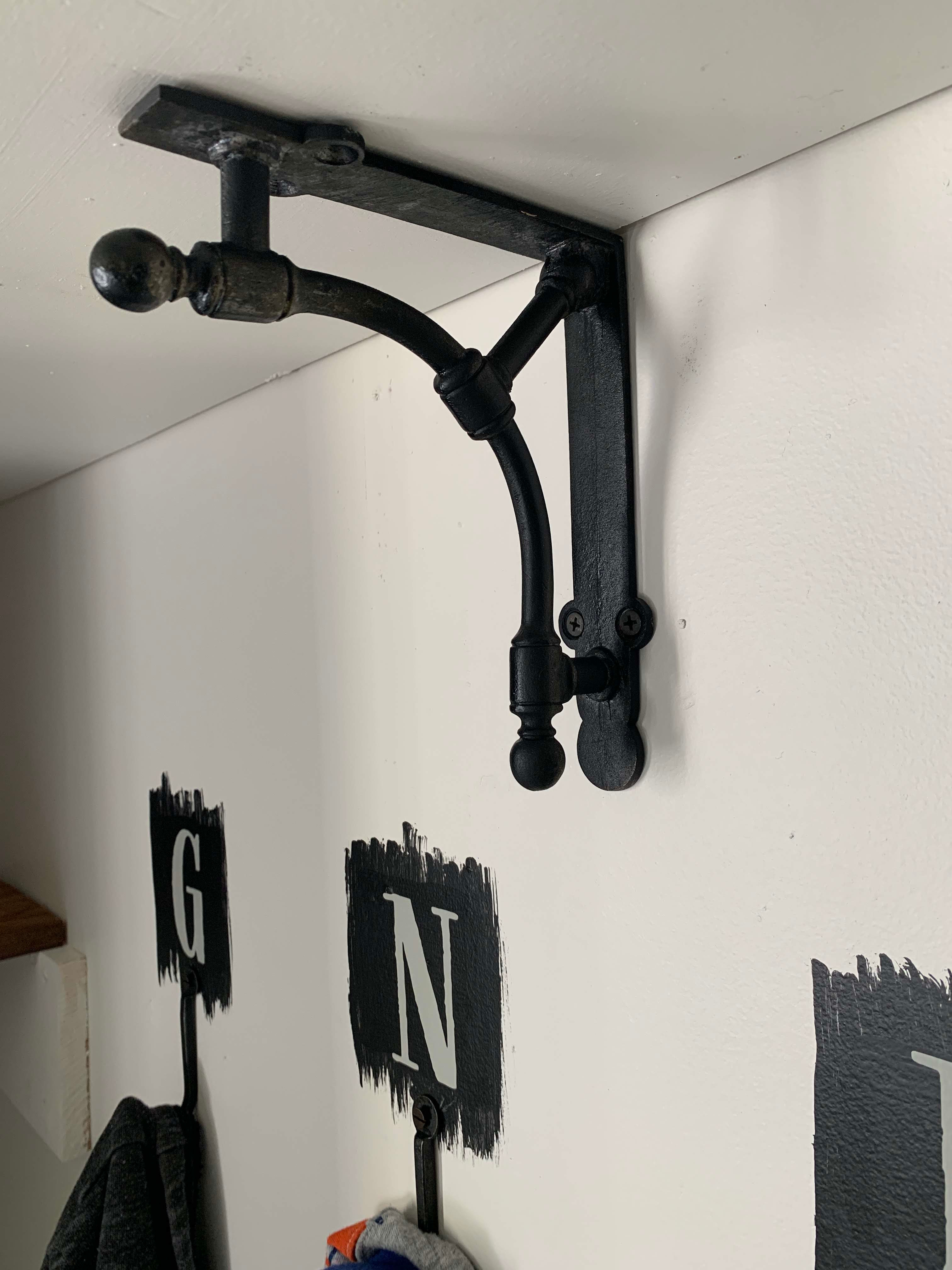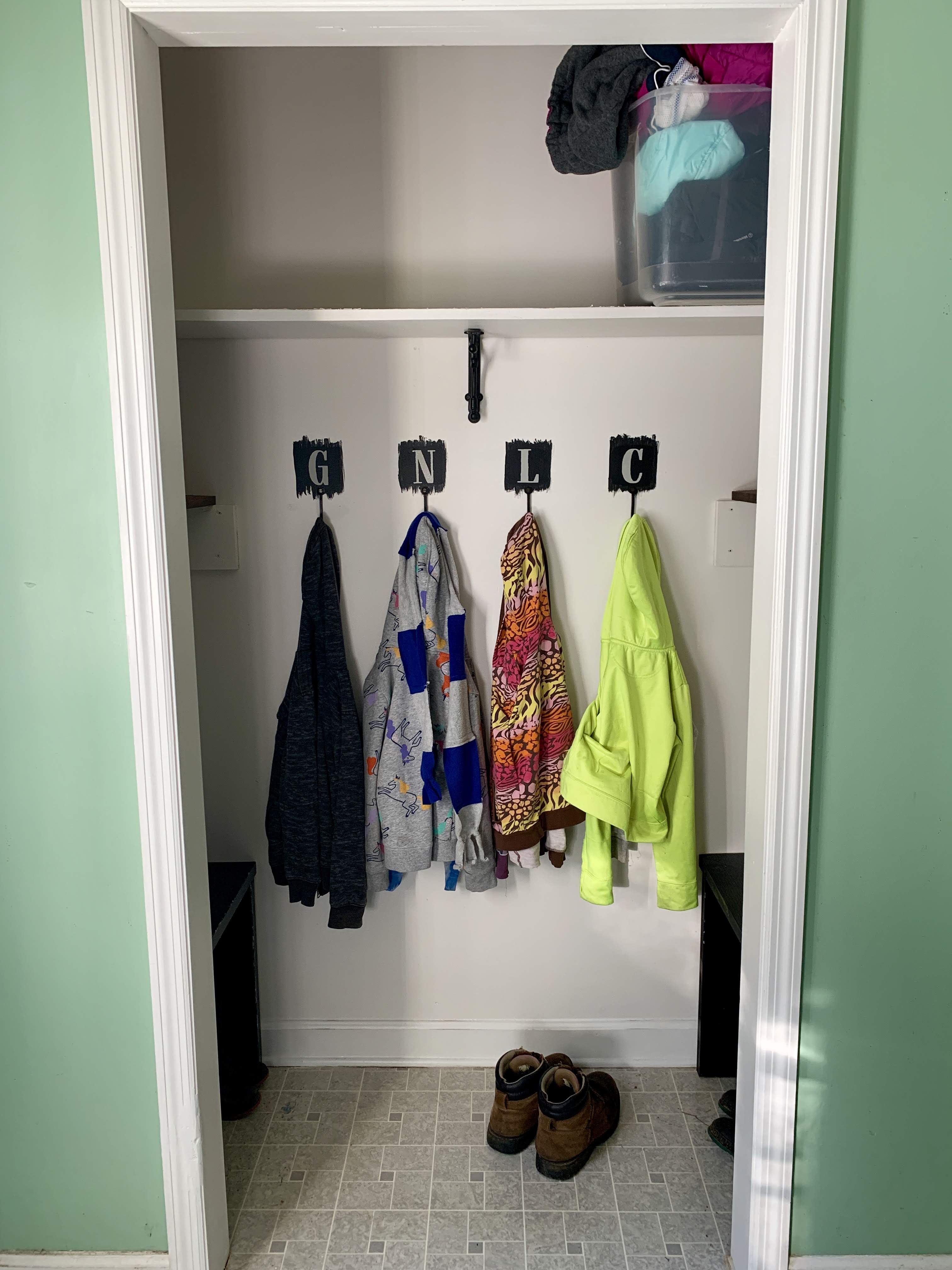 After cleaning out the junk, the doors came off and my amazing husband turned them into benches. Paint became my new favorite thing, and after giving the whole closet a few new coats I had to resist the urge to re-paint every white surface in my house (Don't worry, baseboards. I'm coming for you). Originally my plan was centered on some monogram wall hooks I saw once at Hobby Lobby. Well those disappeared so chalk board paint, iron hooks from Amazon, and vinyl letters cut by my mom's silhouette became my plan B and I like it better. The nifty shelf bracket I did pick up at Hobby Lobby on clearance. After a rough coat of black spray paint it was perfect. The after picture didn't manage to include the new storage bag that replaced the ugly bin on the top shelf…it's gray with stars and perfect for storing snow gear. I coated some scrap wood that Neil cut for my side shelves with Tung oil to maintain the cool weathered patina. Baskets/acceptable containers for storing beanies and gloves on the shelves haunted my dreams for days. Then I realized I was being dumb and had a cool wire basket and another basket that we got in England that I wasn't even using. Problem solved! The end result makes me so happy. All the work boots no longer live on our front porch and much more traffic comes in the side door through the kitchen. The kitchen is lighter and just feels more open. Hoodies in the spring and fall, towels and goggles in the summer, snow jackets in the winter will all now have a place to live. Solid win for our gradual farm house awesomification effort.