birthday lulus
---
2020-03-07
A few items of business: 1) above is not a picture of a lulu. It is Toothless from the How to Train Your Dragon franchise. Don't know what a lulu is? No worries, I'll get there. 2) I again have the plague. My husband went there and said maybe I have corona virus…there is no such thing as "too soon" for him and me. I will be blaming the state of my fondant rendition of Hiccup on the plague. 3) This is only most of the pictures of birthday celebrations since we will have her big birthday dinner tomorrow. All done? Great. Meeting adjourned. I mean Commence Blog Post!
When Layna was about 2 we saw a puppet show about environmentalism in the desert. The chicken puppet scared the living daylights out of her and it was literally years of calm conversations about that stupid chicken to help her through the trauma. However, a silver lining came out of the experience…a life long nickname for chickens. Lulus.
Layna's job on the farm is tending the lulus. I knew we needed a new batch of chicks, and I was very excited to see that we would be picking up our babies on Layna's 9th birthday. We've only been counting down the day since March 5th 2019 (day after birthday number 8) so when it finally came we were all pretty excited. But first the chicks. I mean lulus.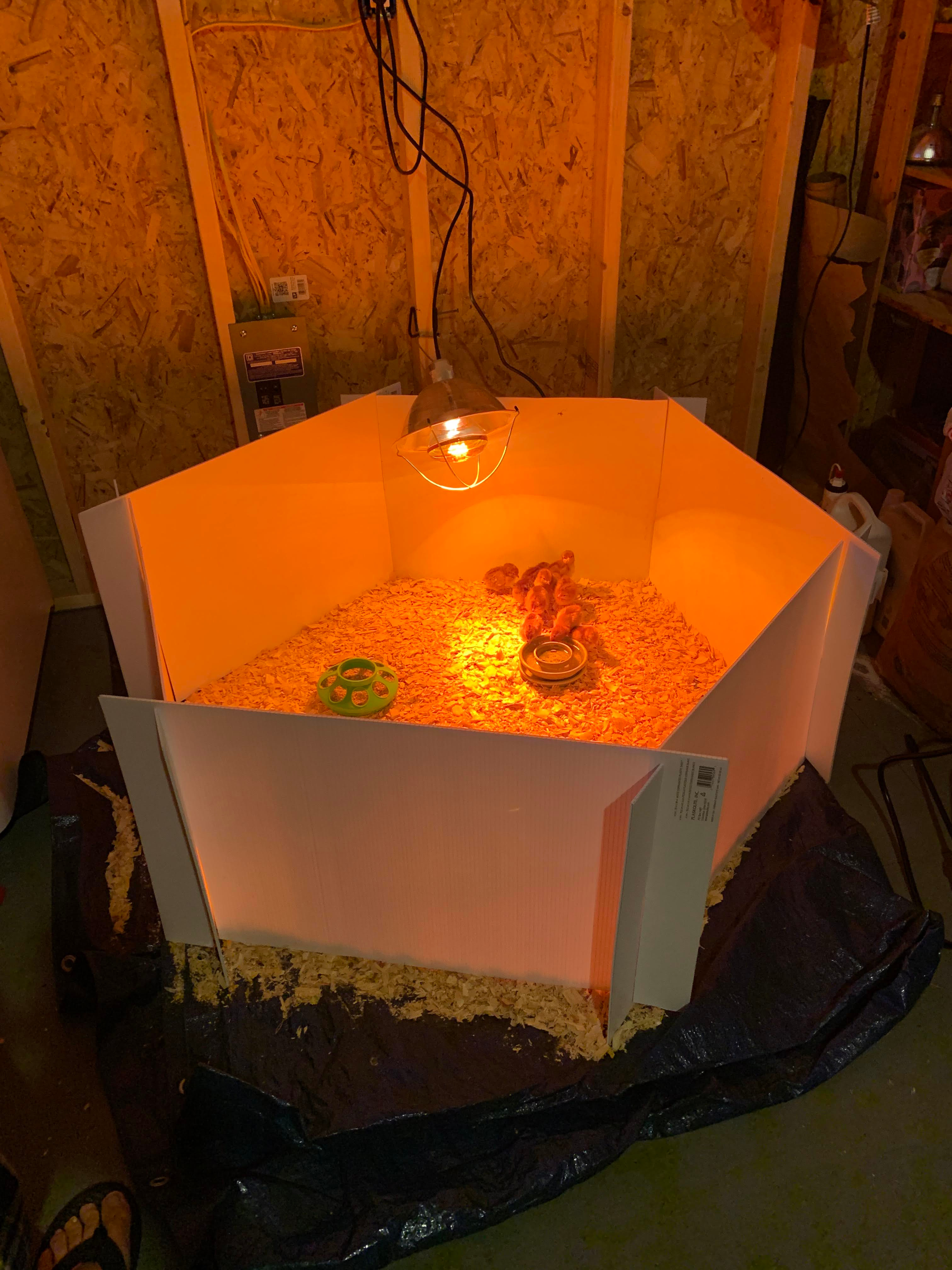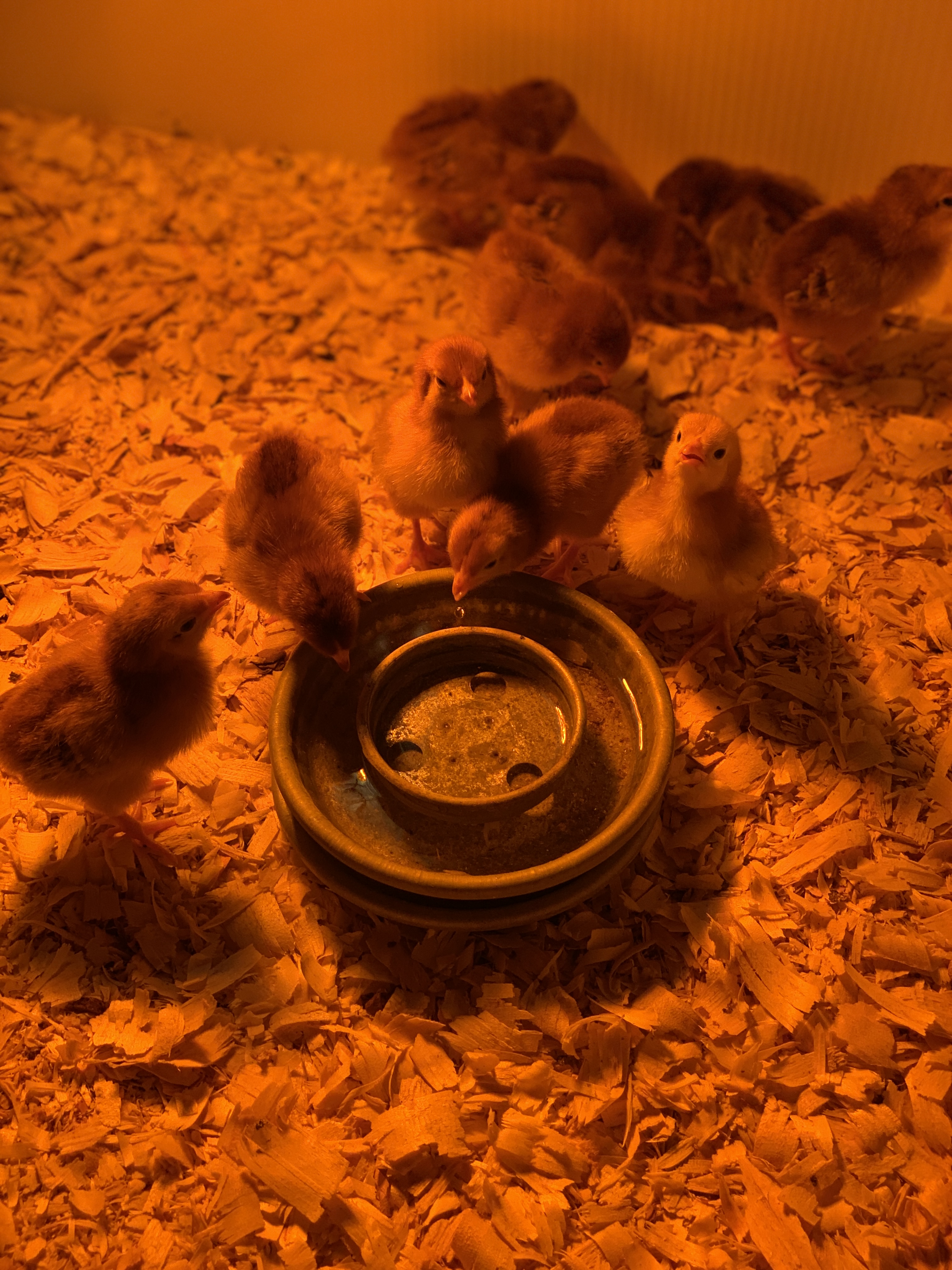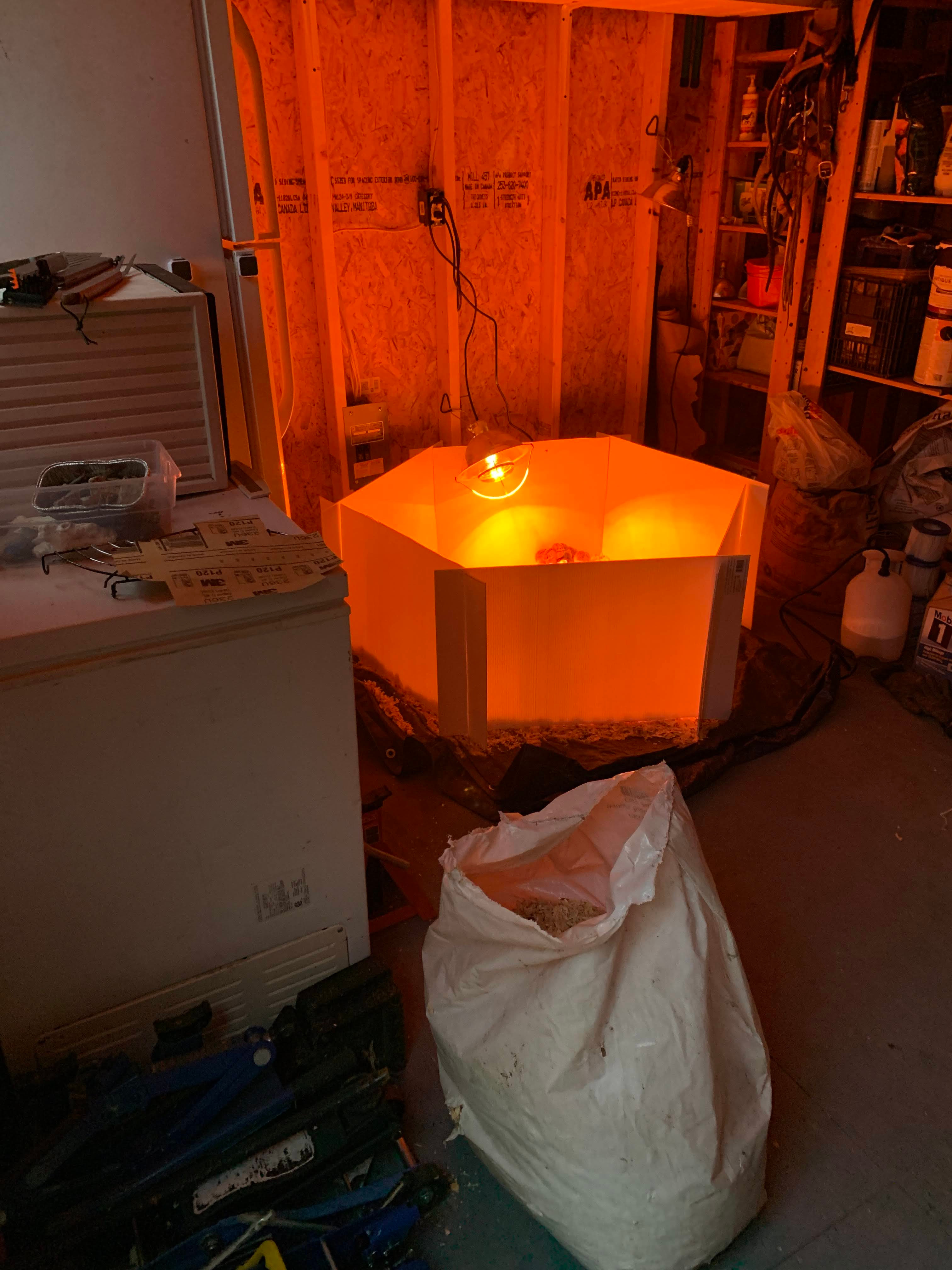 Since we've moved here, I've brooded chicks and poults in a closet off our kitchen. That space has moved up in the world and is now a mud room. Enter the shed, to the rescue again! Because the shed offers much more space I could really up my brooder game and do more than just a cardboard box. I love it, they love it, winning all around.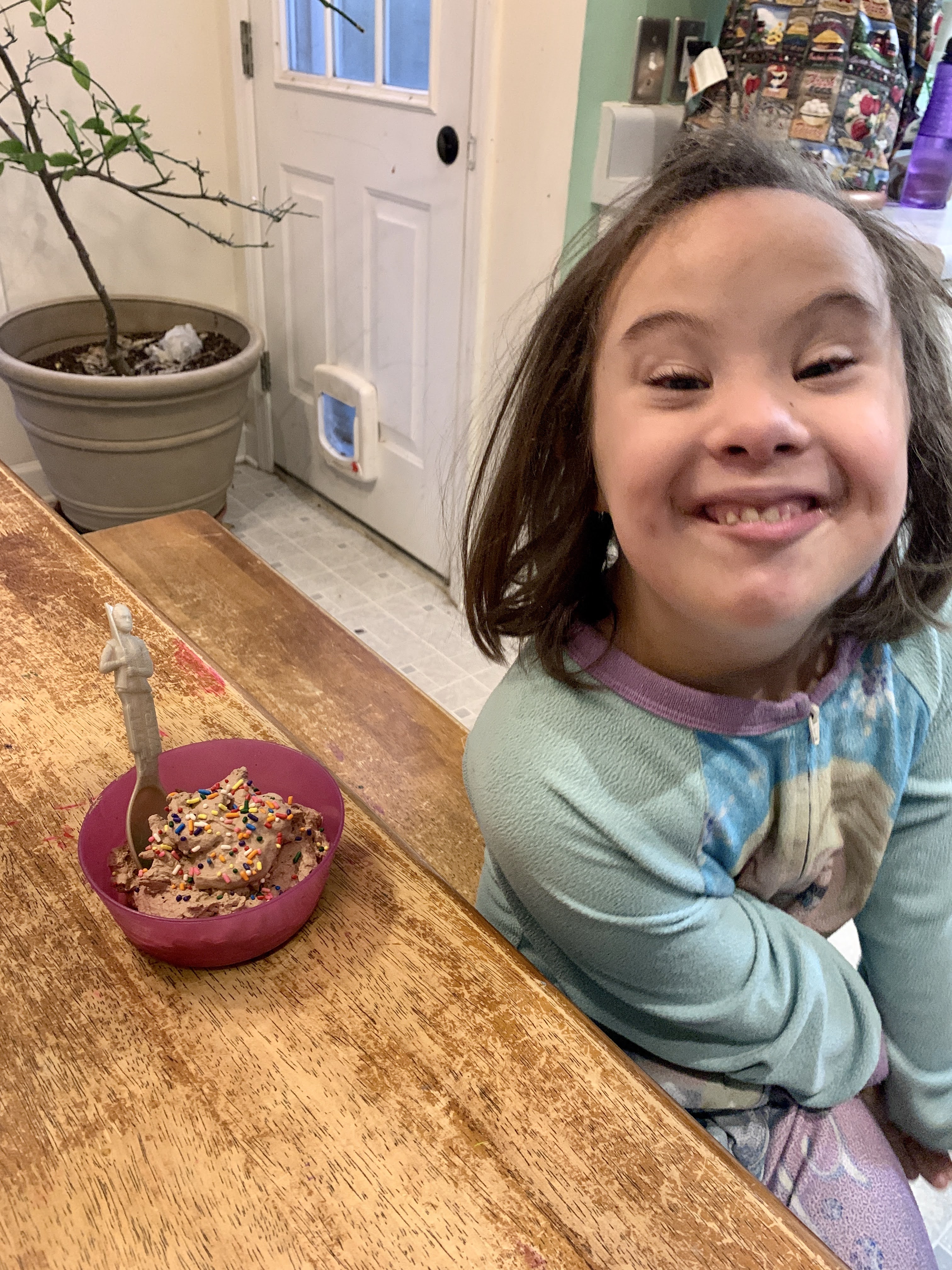 Kids get to choose the full menu on their birthdays and Layna went with keto chocolate mousse (it's actually a breakfast I feel really good about and the kids love it) and we added sprinkles for some birthday flair. Lunch was, ironically, spaghetti and meatballs. Layna doesn't care for meatballs or sauce, so really it was a boon to her siblings and she had noodles and butter. As per her usual.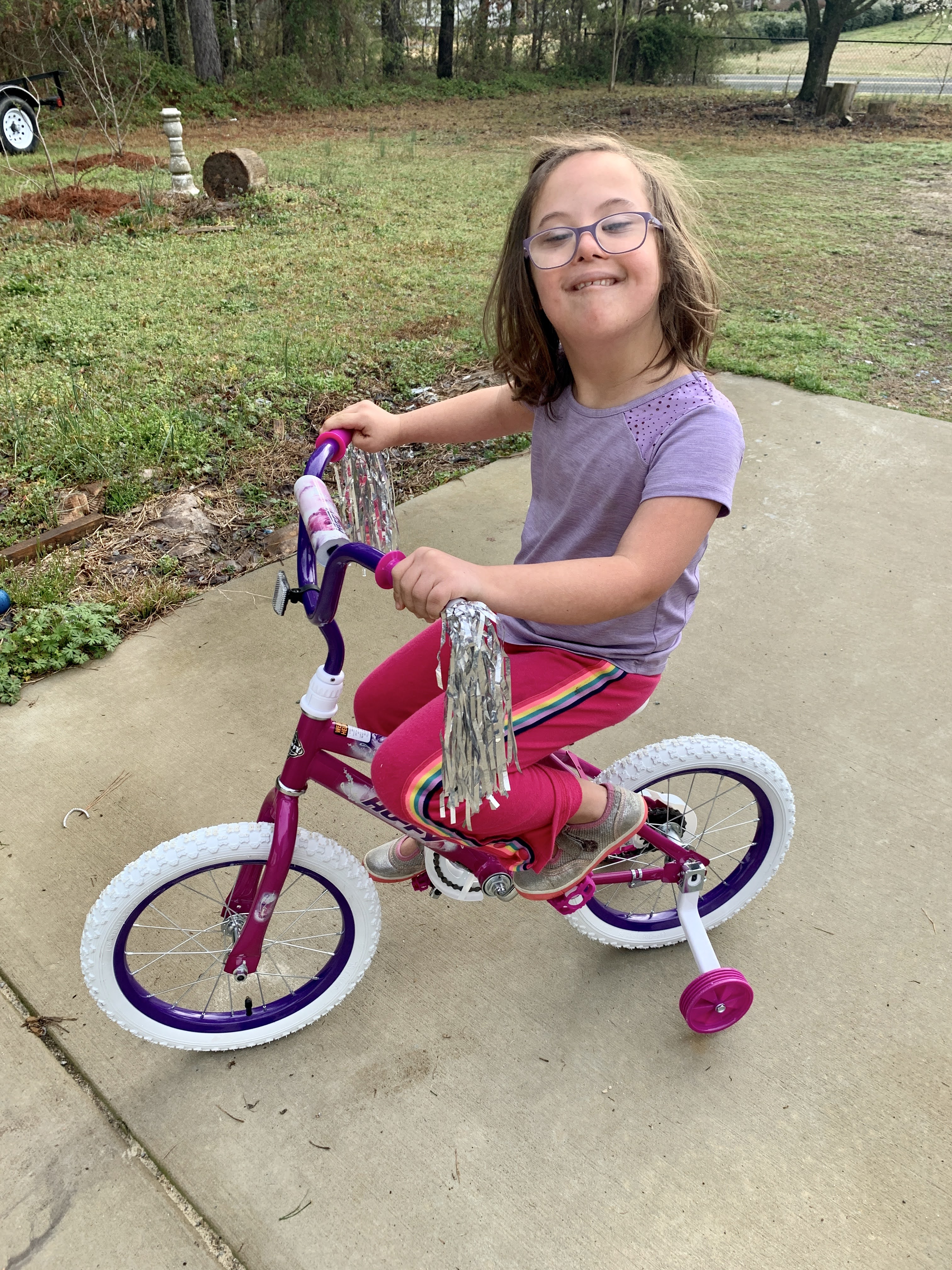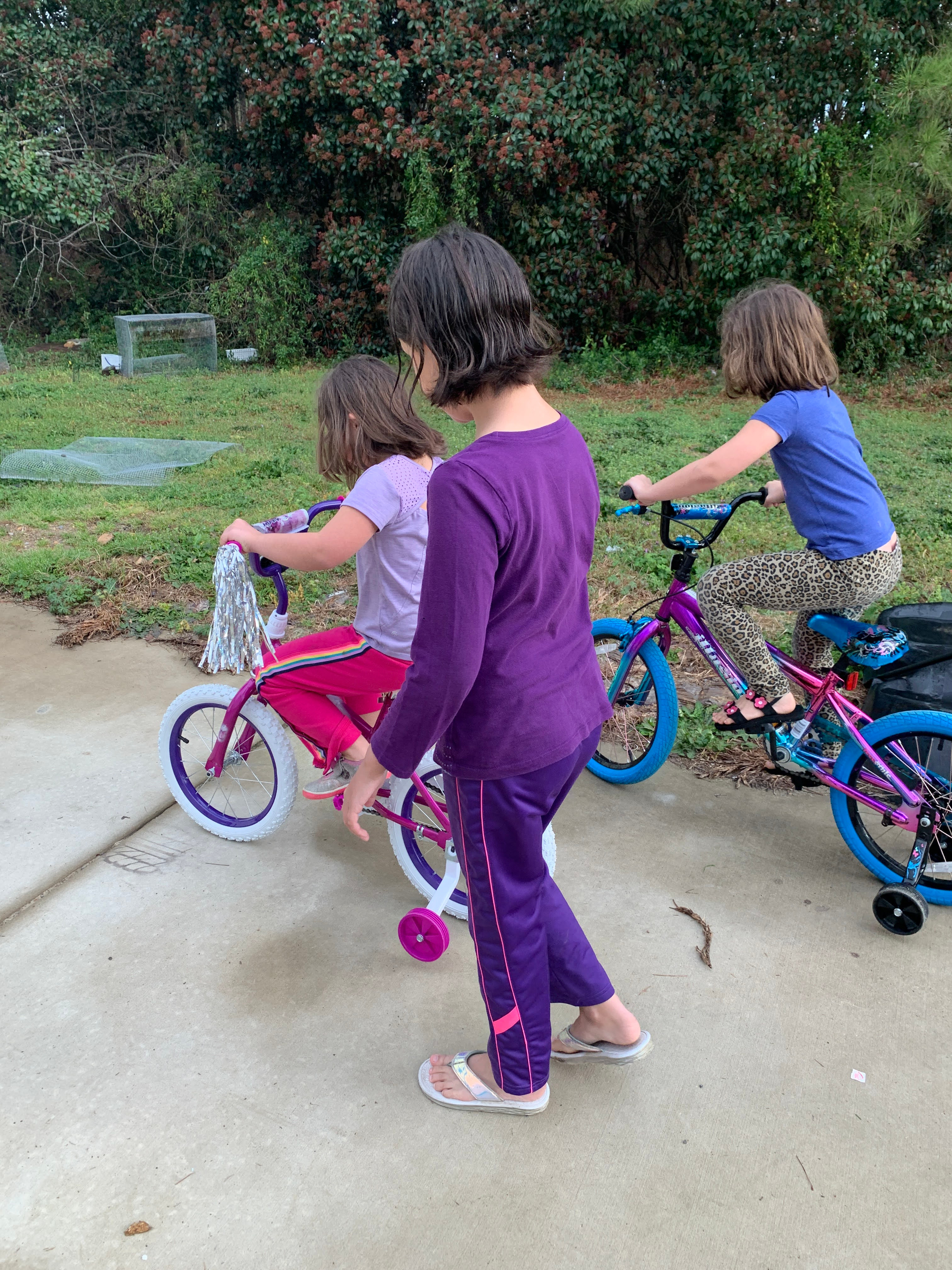 She came downstairs to a brand new bike and a lovely purple and pink helmet (not pictured because it's a tiny bit big and therefore annoying). After breakfast it was a race to see who could get outside and on wheels first. She was frustrated about the pedaling at first but she's getting it.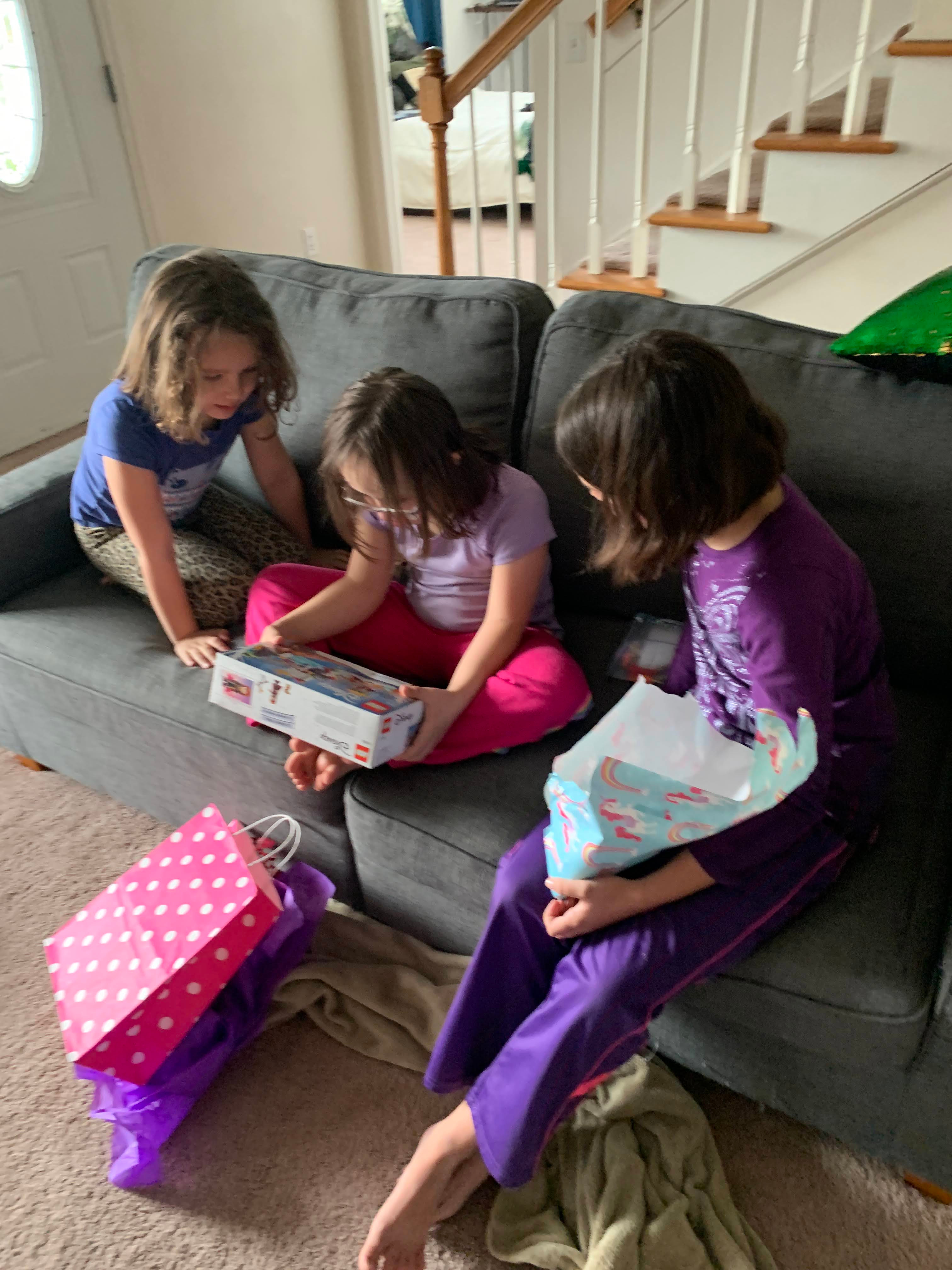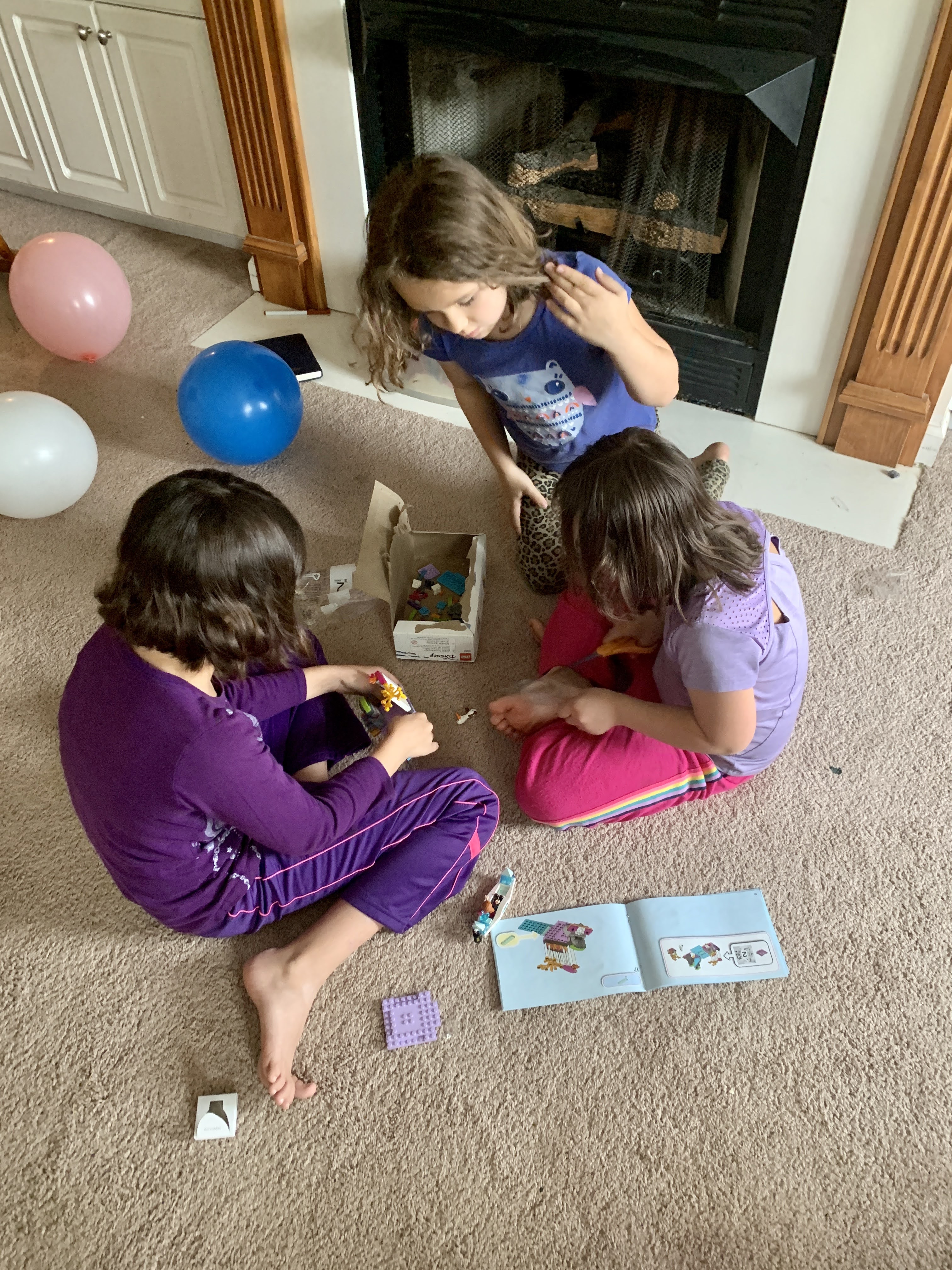 Naomi and Corra were D.Y.I.N.G. to give her her presents so I acquiesced and they had fun building her Frozen II lego set from Corra and we have yet to start a project with the sewing kit Naomi got her. [Raises hand] That would be totally my fault. It's on the docket for this week.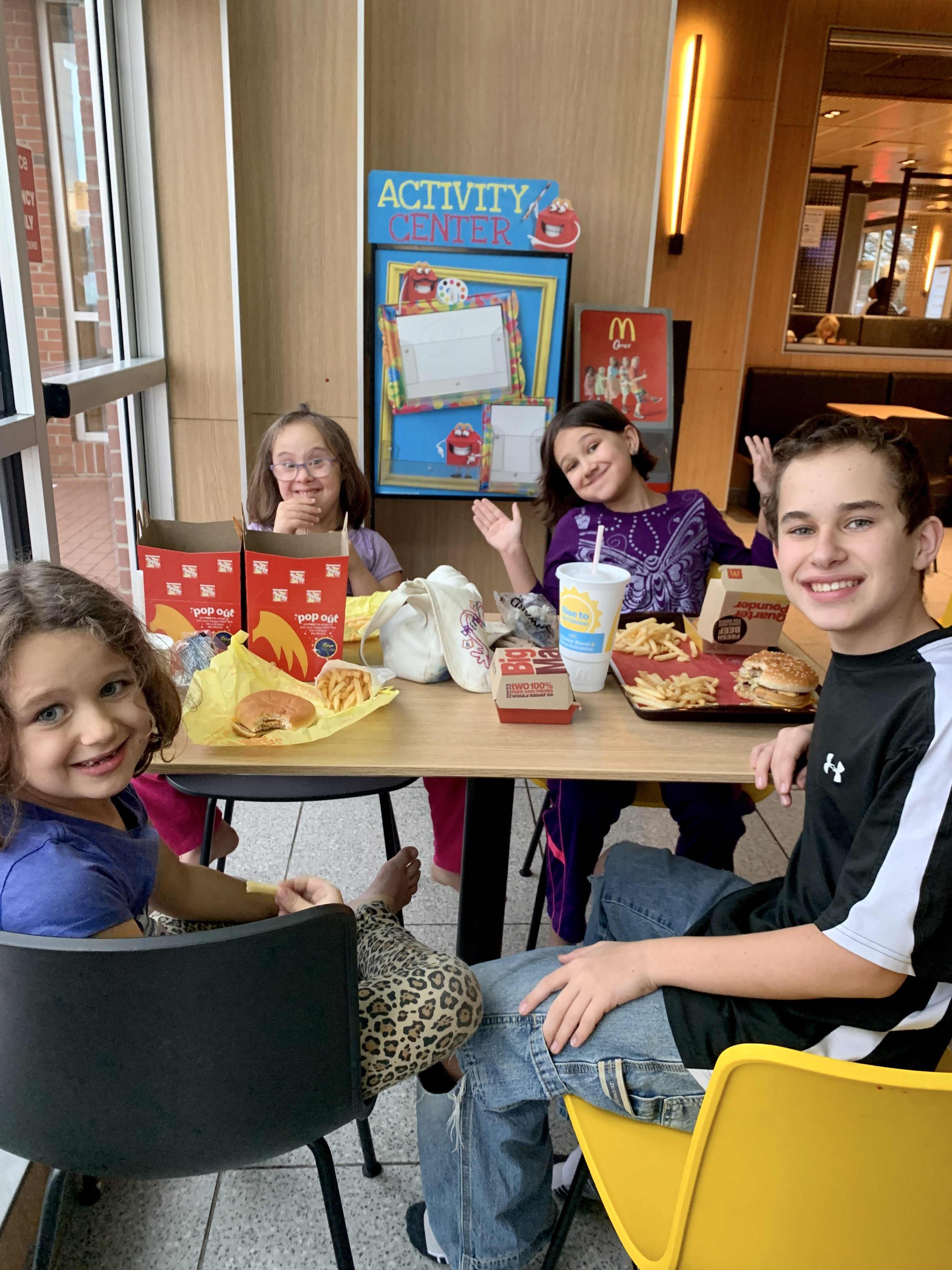 Girlfriend loves her some McD's so we kept it classy and headed to the golden arches. And actually, McDonald's really has made a serious effort to up the classy quotient of its restaurant and our local one just got its face lift. Not too shabby at all. [quick aside: the boy has graduated to Big Macs and was still looking to poach unwanted leftovers. He's a man cub. Heavy on the man.]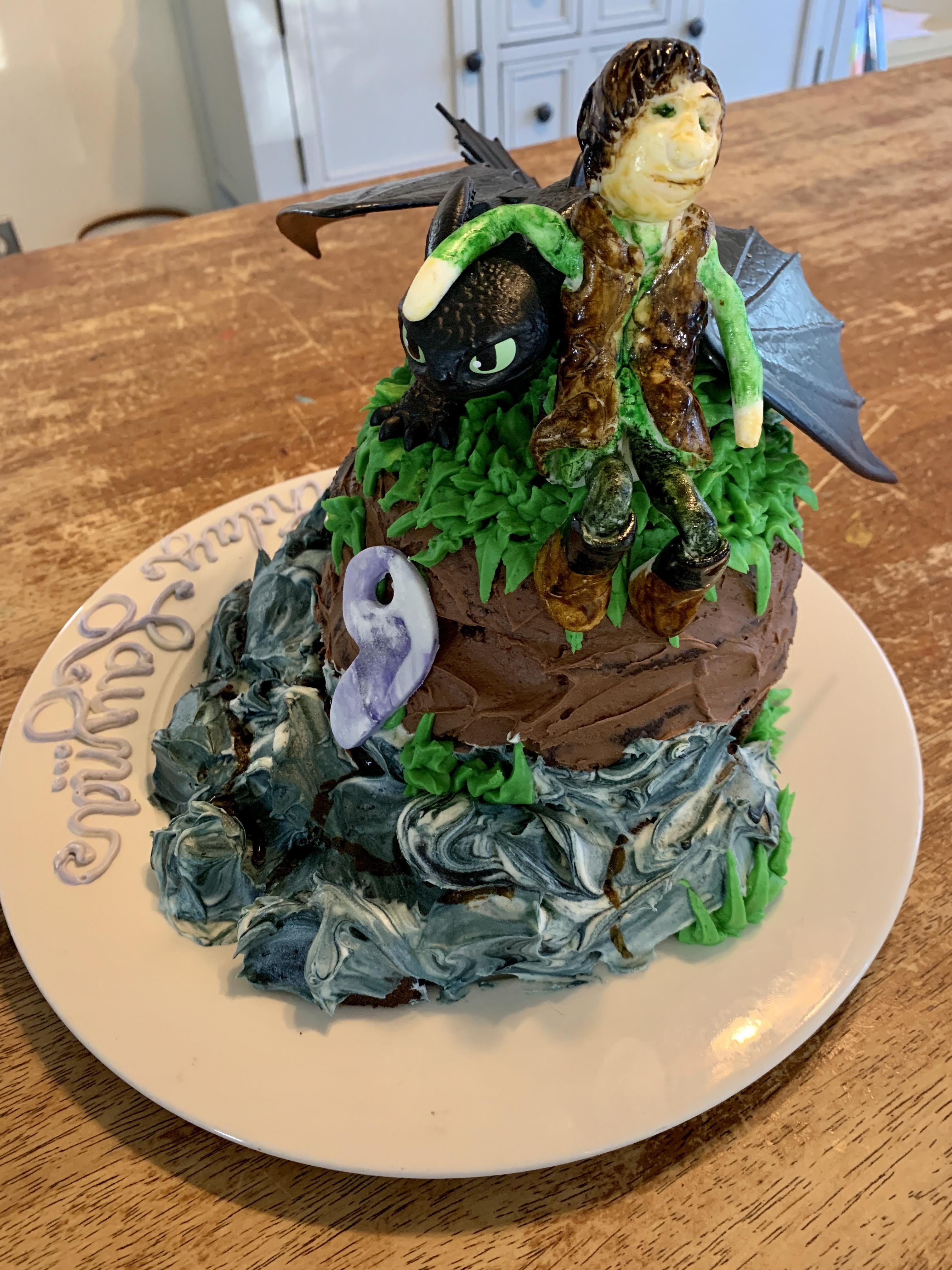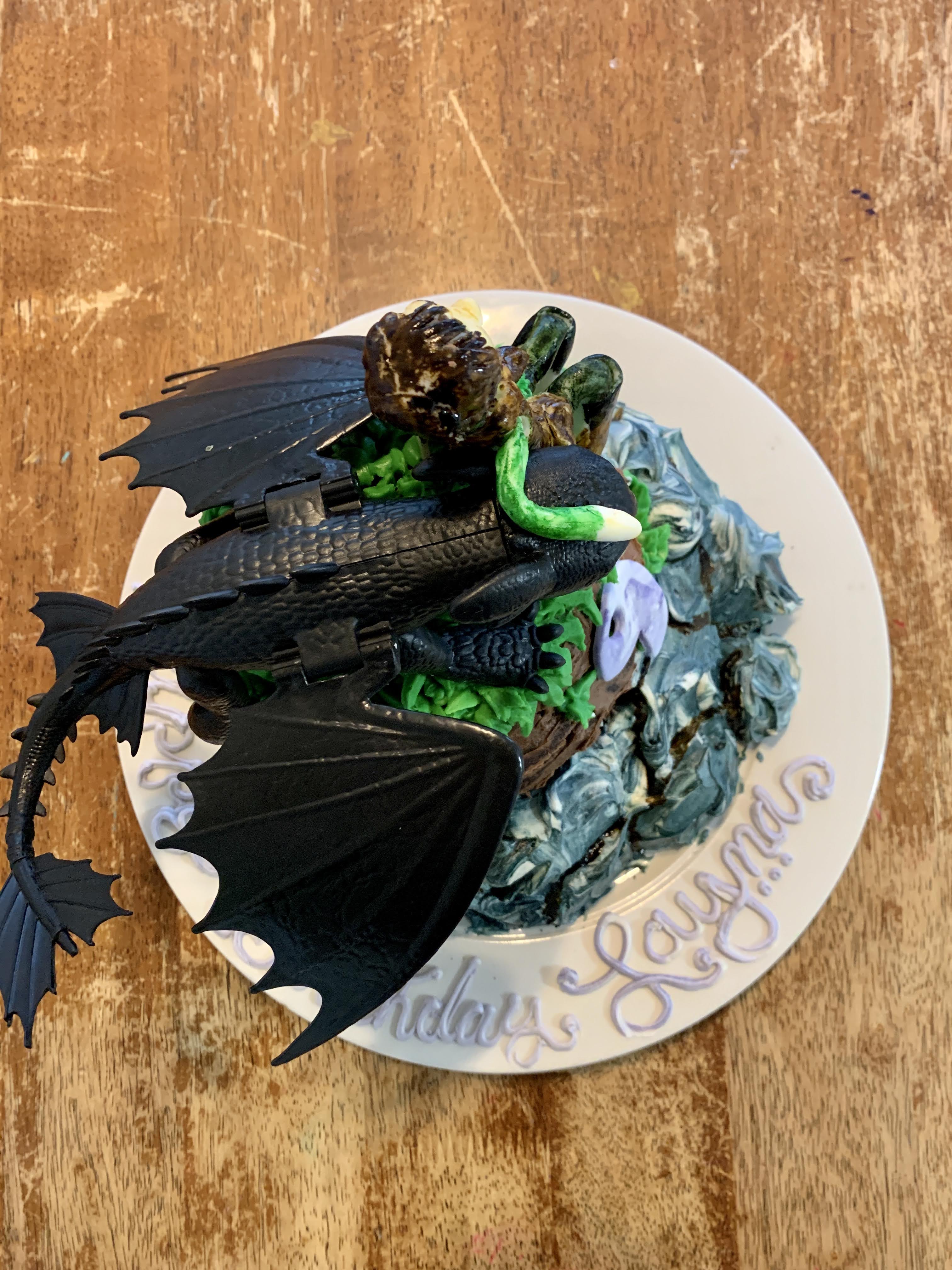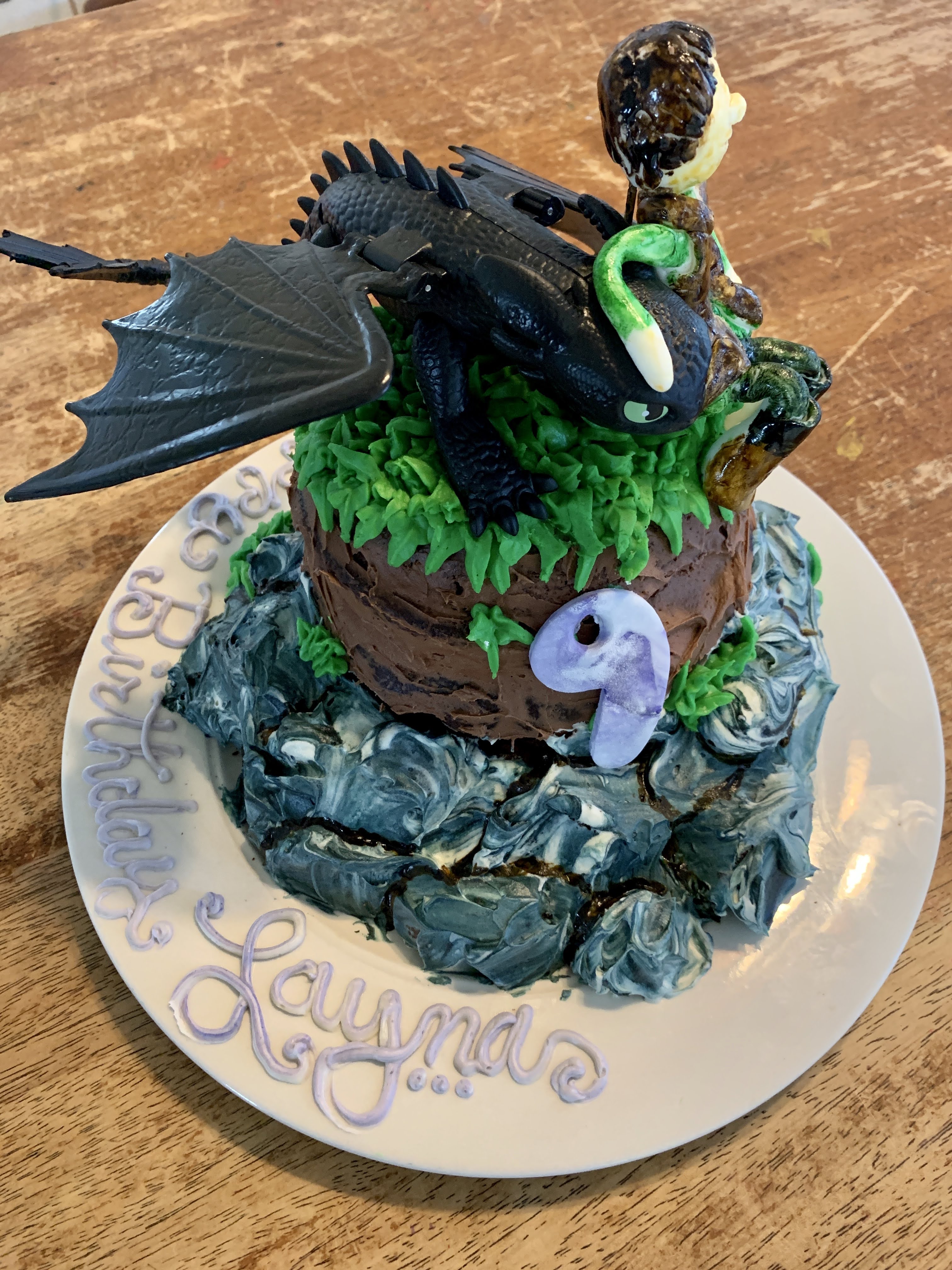 Sigh. I hate how Hiccup turned out. There I said it. Layna loved it and said it's what she wanted, Neil said all the right stuff…but it's awful. I tried to find a figurine but Layna was adamant that it be Hiccup from the first movie and only Hiccups from the third movie are available! They are now collectors items! Can't spend $40 for a cake topper. Bless you, Toothless, for looking exactly the same through the whole trilogy. So I attempted to make him out of fondant and I thought painting him with food coloring would be a way better option that trying to color multiple balls of fondant. I was so wrong. If I didn't currently feel like I was hit by a truck, I'd probably go start over and stay up way too late. Neil won't let me…plague and all. I'm calling it a solid learning experience and am grateful Naomi wants to make the fondant panda bear's for her cake in September. Watch, Corra will want something ridiculous and heavy on fondant for her birthday. Sigh. At least I won't be achy and freezing in August. (Knock on all the wood.)
I love Layna. She will tell me to "Leave it, Mom" or "Weeve me lone, MOM!" when I get too pushy. I threaten to excuse her from family movie night if she is particularly stubborn. She loves school, and reading and does this princess hand clasp when she is excited about something. Good thing, that under the occasional butting heads I really like her, and she likes me. Daddy is still the favorite, but it's not by such a wide margin anymore. We've got a lot of years ahead, and I can't wait for each and every one of them.