One goal I have for myself is being able to do a respectable handstand. I'm doing ok, not perfectly independent of a wall, but progressing! Well, when I started doing handstands Corra started joining me. Then Neil found her some basic gymnastics/parkour exercises. She ate it all up, and it wasn't long before she asked for real-life gymnastics lessons. Being as we are still in the middle of a pandemic…my hopes were not high. But I went to the internet and found that there is a gym in Sanford (15 minute drive) that ended up being exactly what we needed. I had talked to Naomi about if she wanted to give soccer another go. Turns out one game was exactly all the soccer she needed so far and she was super eager to join Corra on this new adventure.
[Terrible quality picture warning: Turns out, despite my wonderful phone camera, super zoomed in pictures are kind of junk. I had to stay out of the actual gym equipment, so this is the best I could do]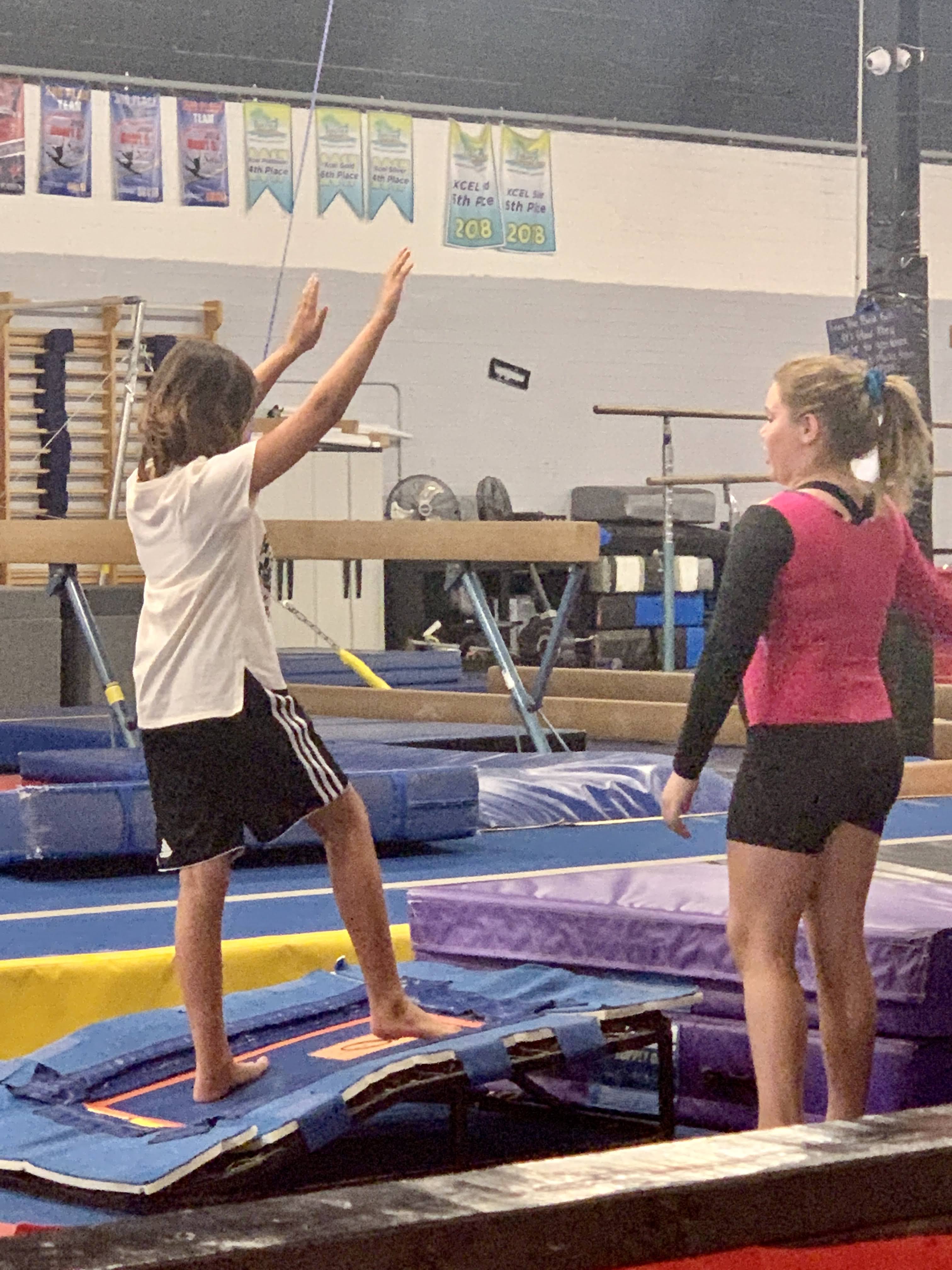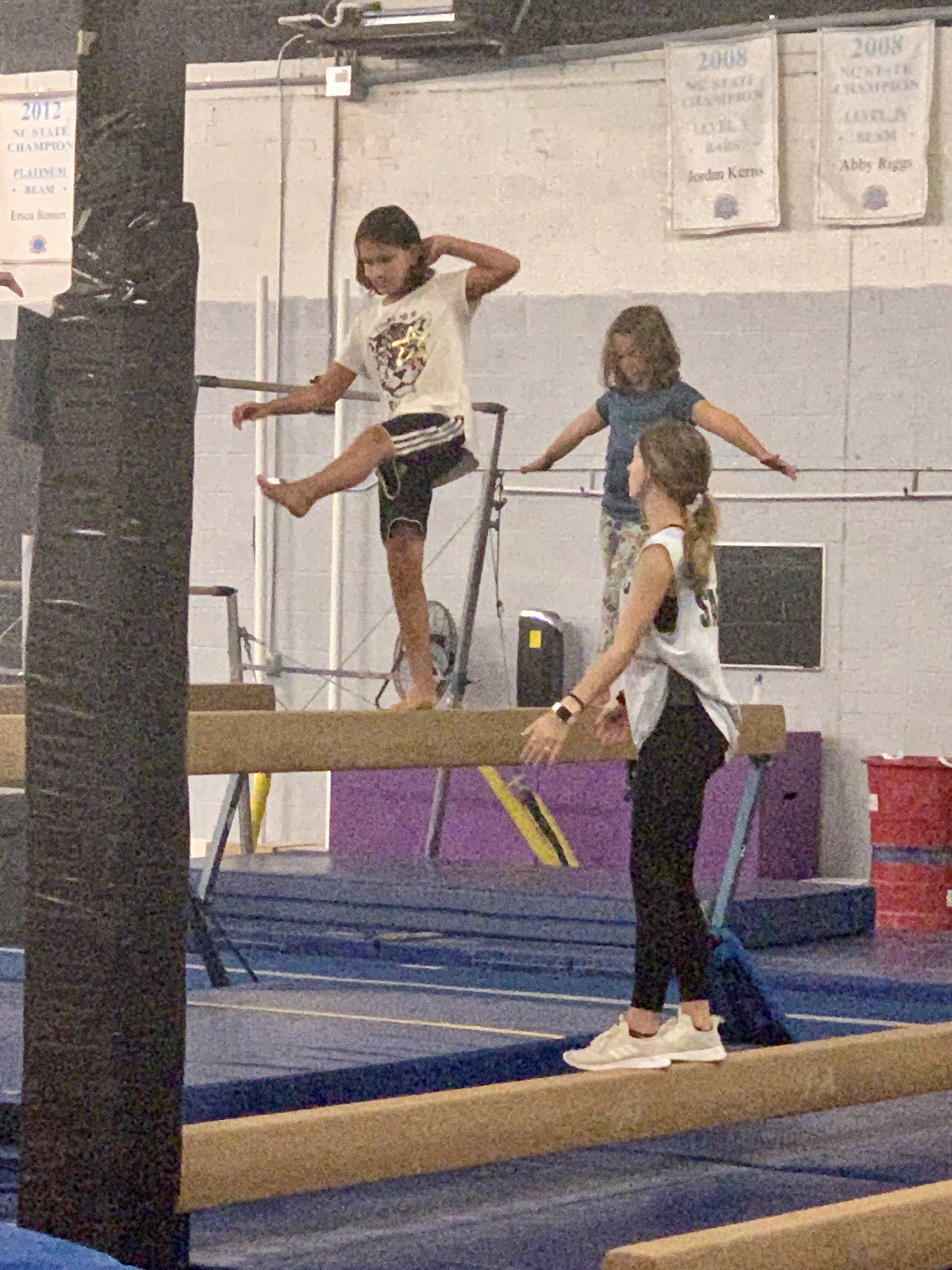 We went in for a trial class to see if it would be what they wanted. The staff was super nice and helpful, but it was hard because the girls were with much more experienced gymnasts. Plus it seemed like there were about 73 kids in the class. Sigh. Despite intimidation factors stacked up, Naomi and Corra dove in and did their best. They had a ton of fun and gave it a green light. Their regular class turned out to only be 2 other girls who were also just starting…creating a way better environment. Turns out we couldn't ask for a better fit.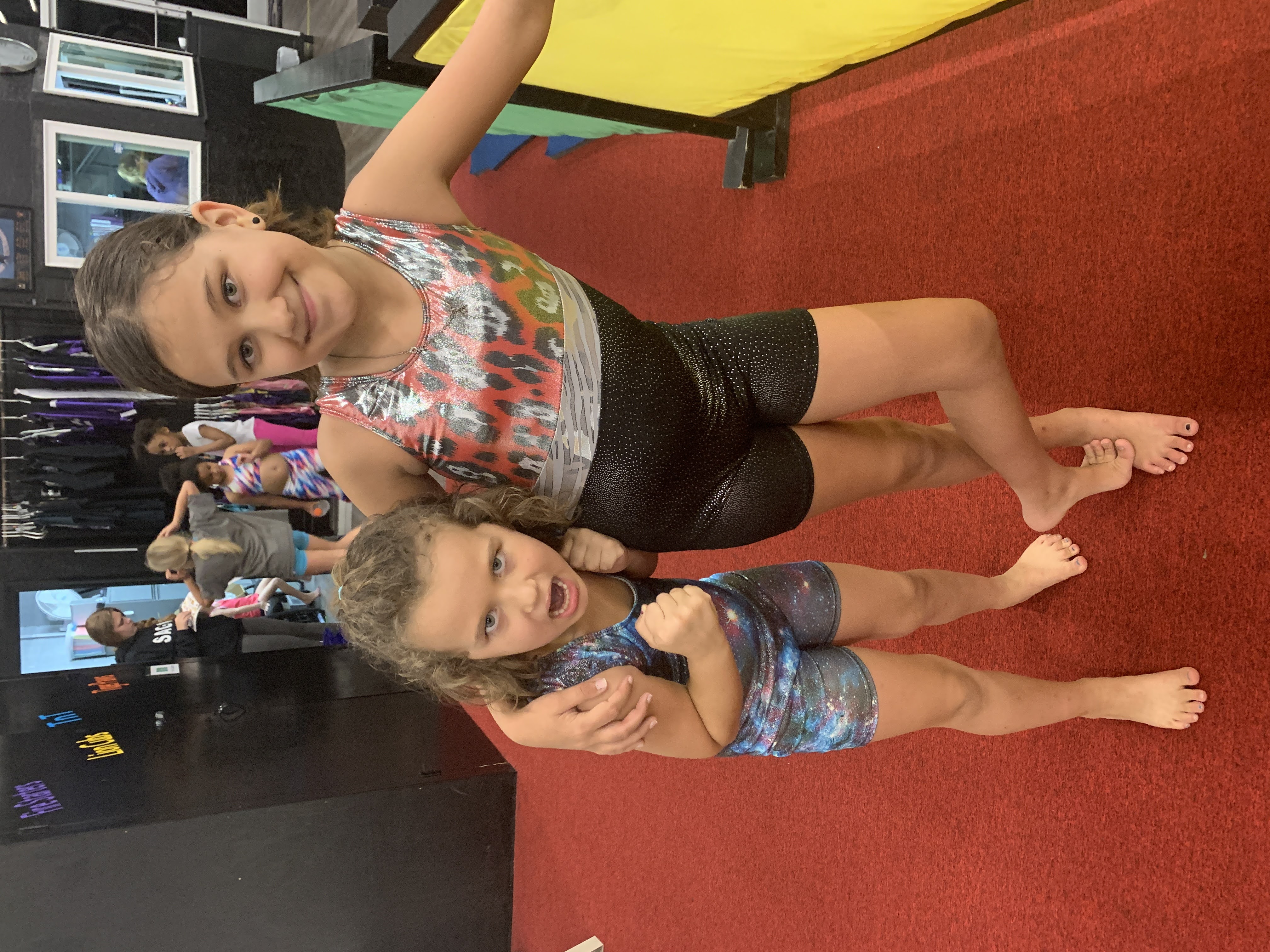 First item of business was proper attire. T-shirt and shorts were fine for a test run, but not for realsies.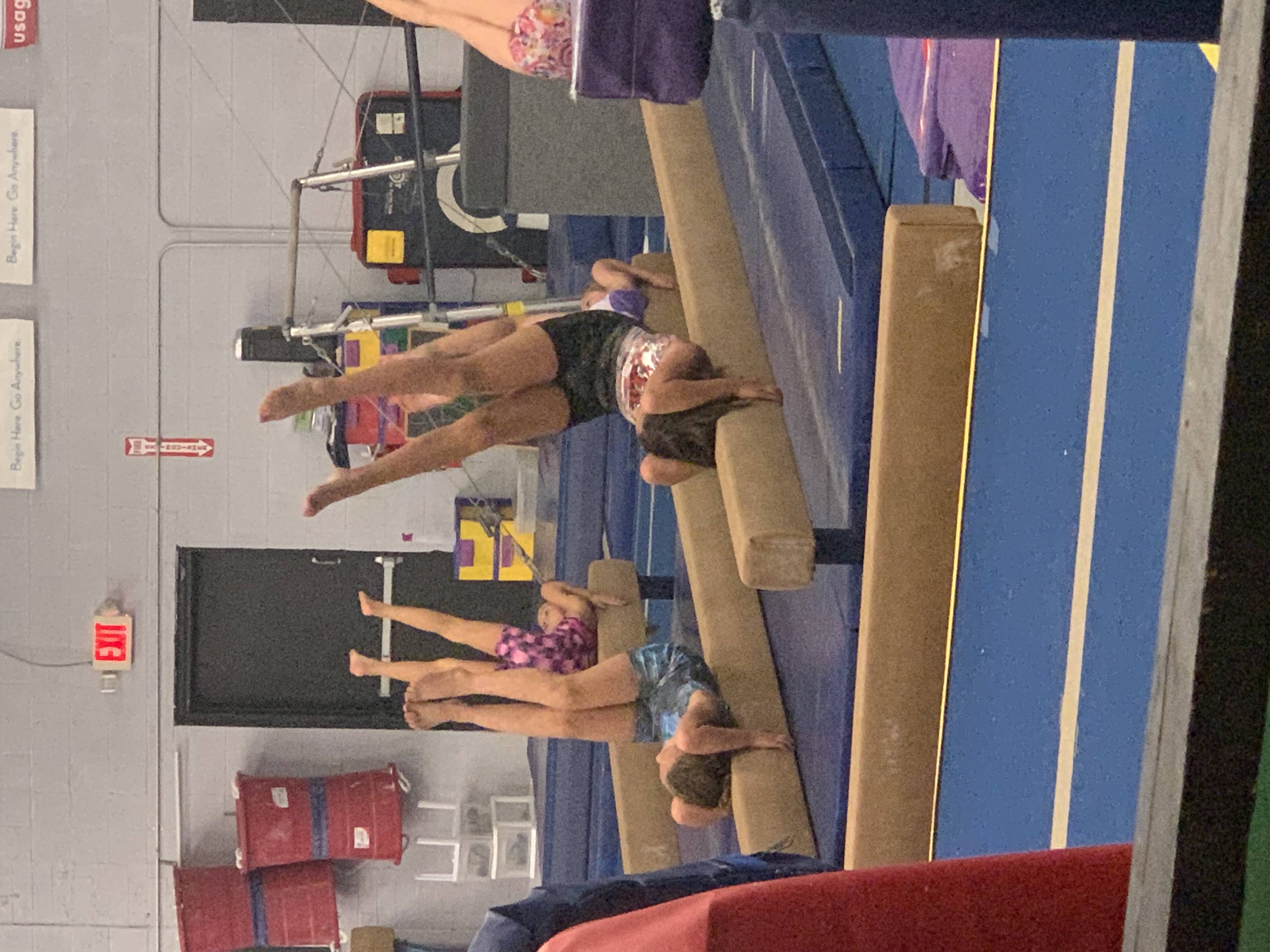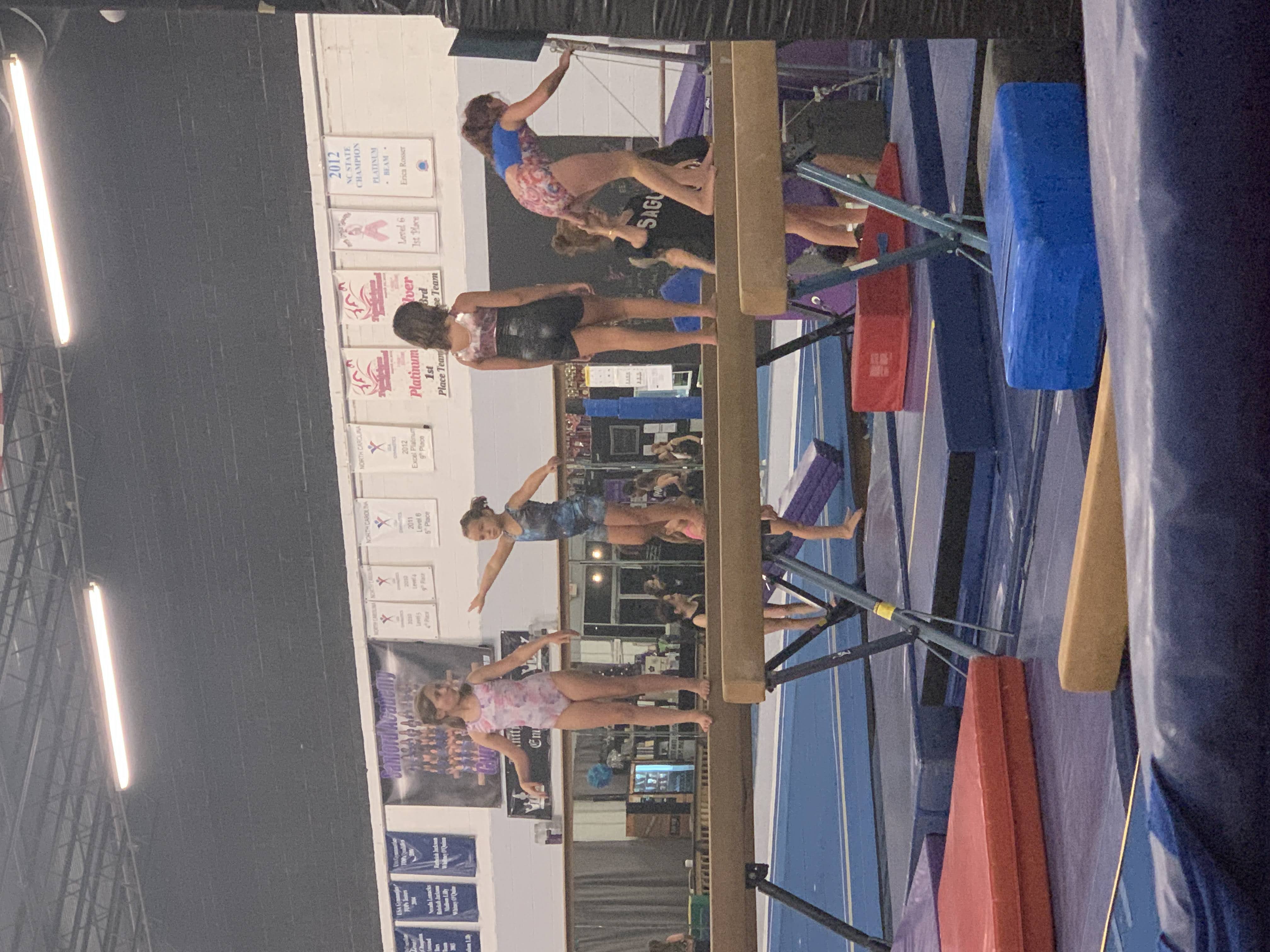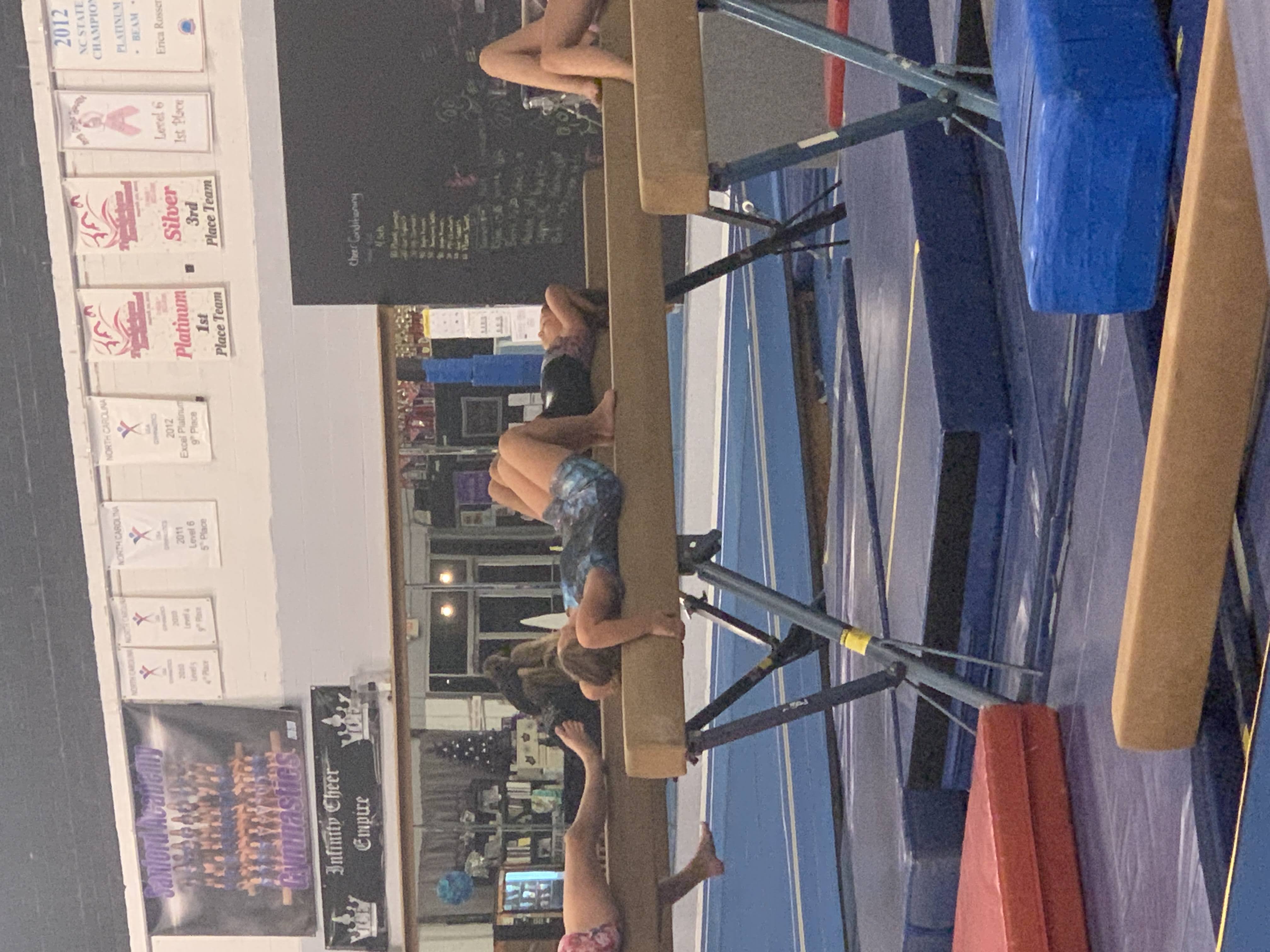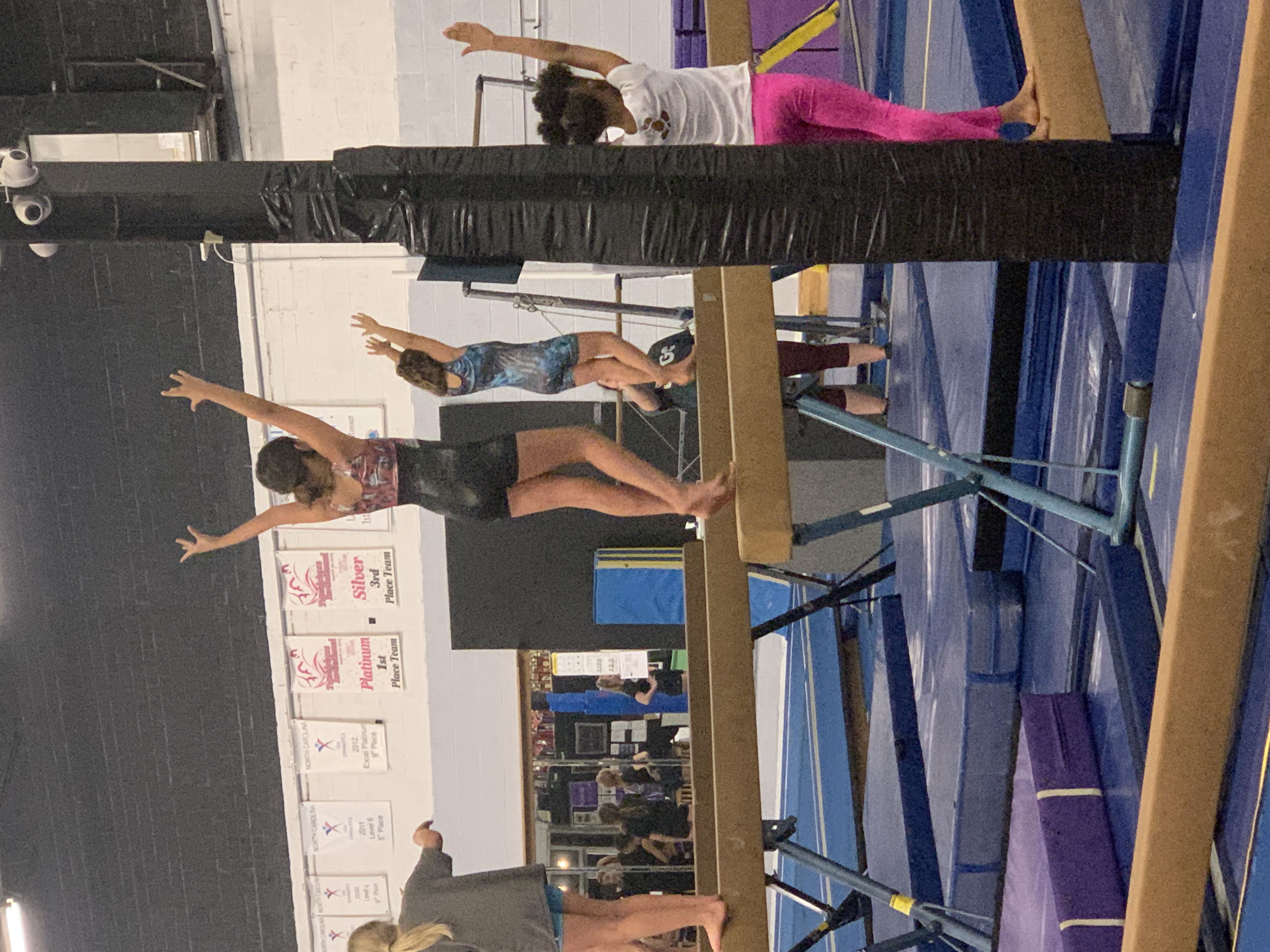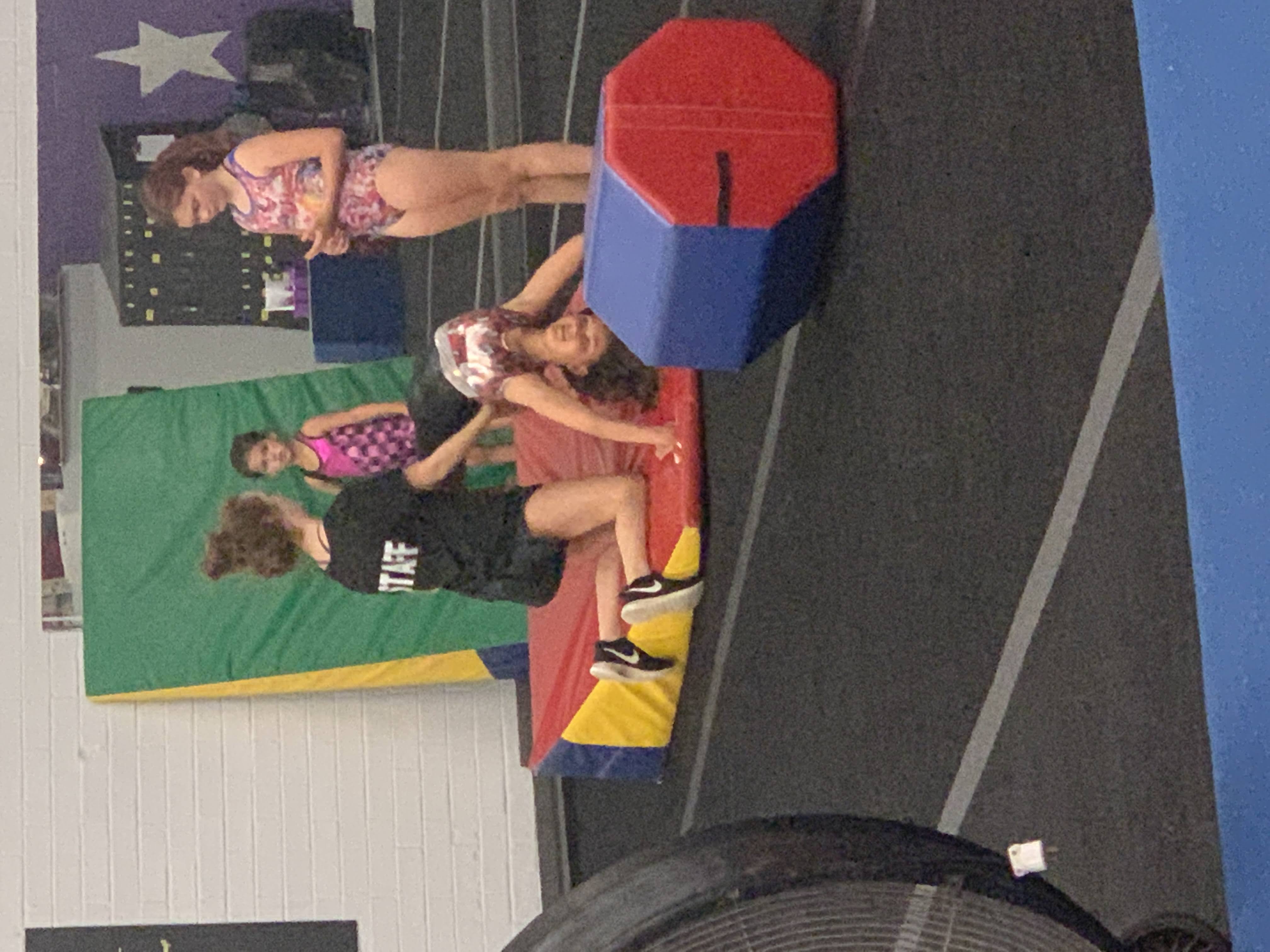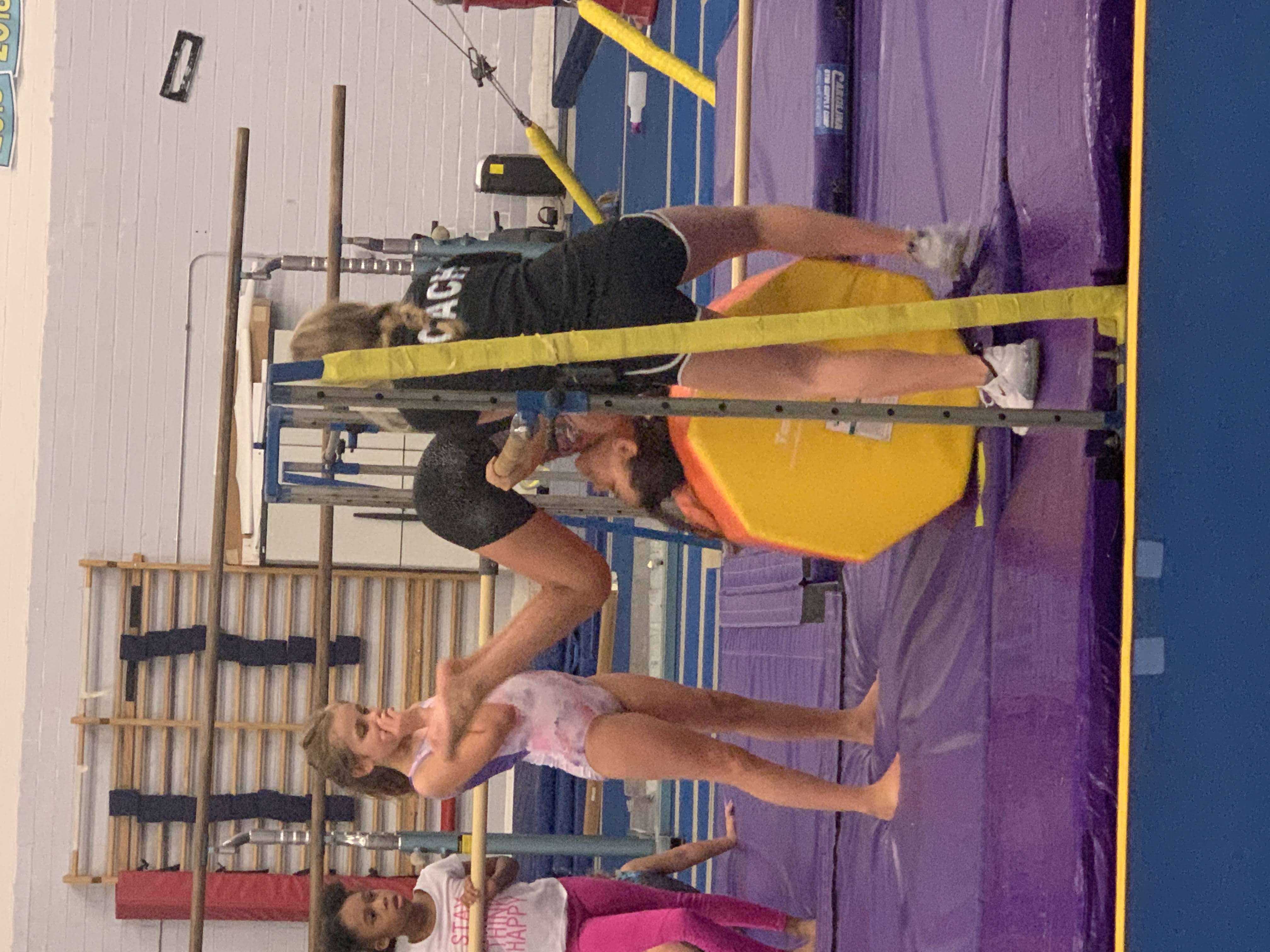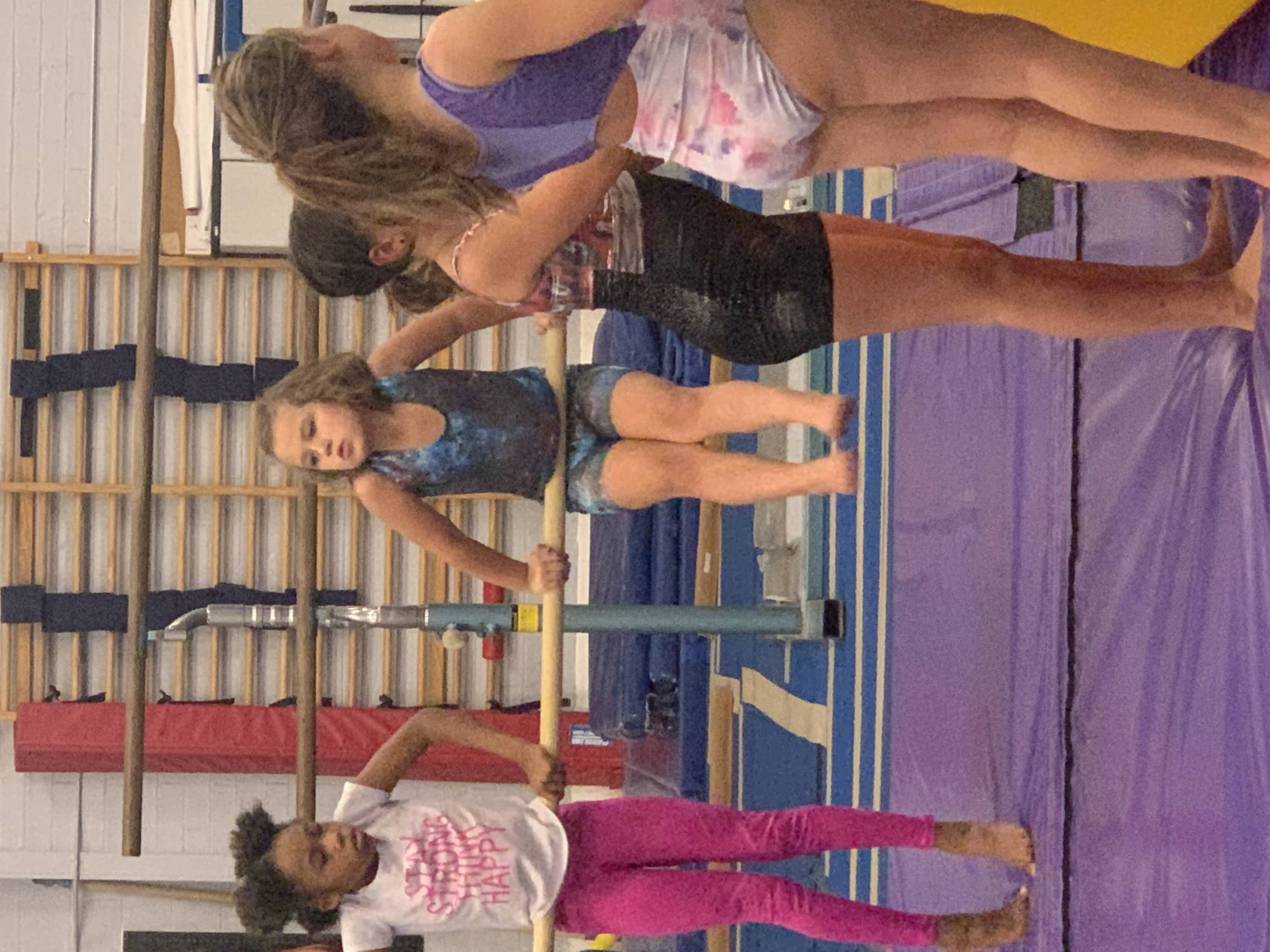 With Corra, it's like watching a fish learn how to swim. All the raw everything is there. She comes to this with a lot of natural aptitude, she just needs to start building the actual skills. Of all my kids she is the most athletic and spends the most time moving her body. I hope she sticks with this, because I'm so curious to see how far she can go.
Naomi is my least athletic. What she lacks in Corra's inherent skill, she makes up in good natured determination. She has the vital skill of being able to try and fail and not let it bother her. She gives it her all every time. Because of that, I know she'll make great progress. This is coming at a perfect time for her…she'll learn to move her body and develop strength and grace.
My two gymnasts are very different but I'm glad they have each other and they are loving every second they spend together at gymnastics. Layna loves having her dad and her brother all to herself for a whole evening once a week. I think we are all looking forward to settling in for the long haul with this and it's super exciting.