Travel & Animal Kingdom
---
2021-06-26
So before we jump in to this week's Disney Saga installment…let's zoom out a bit to talk about how we travel.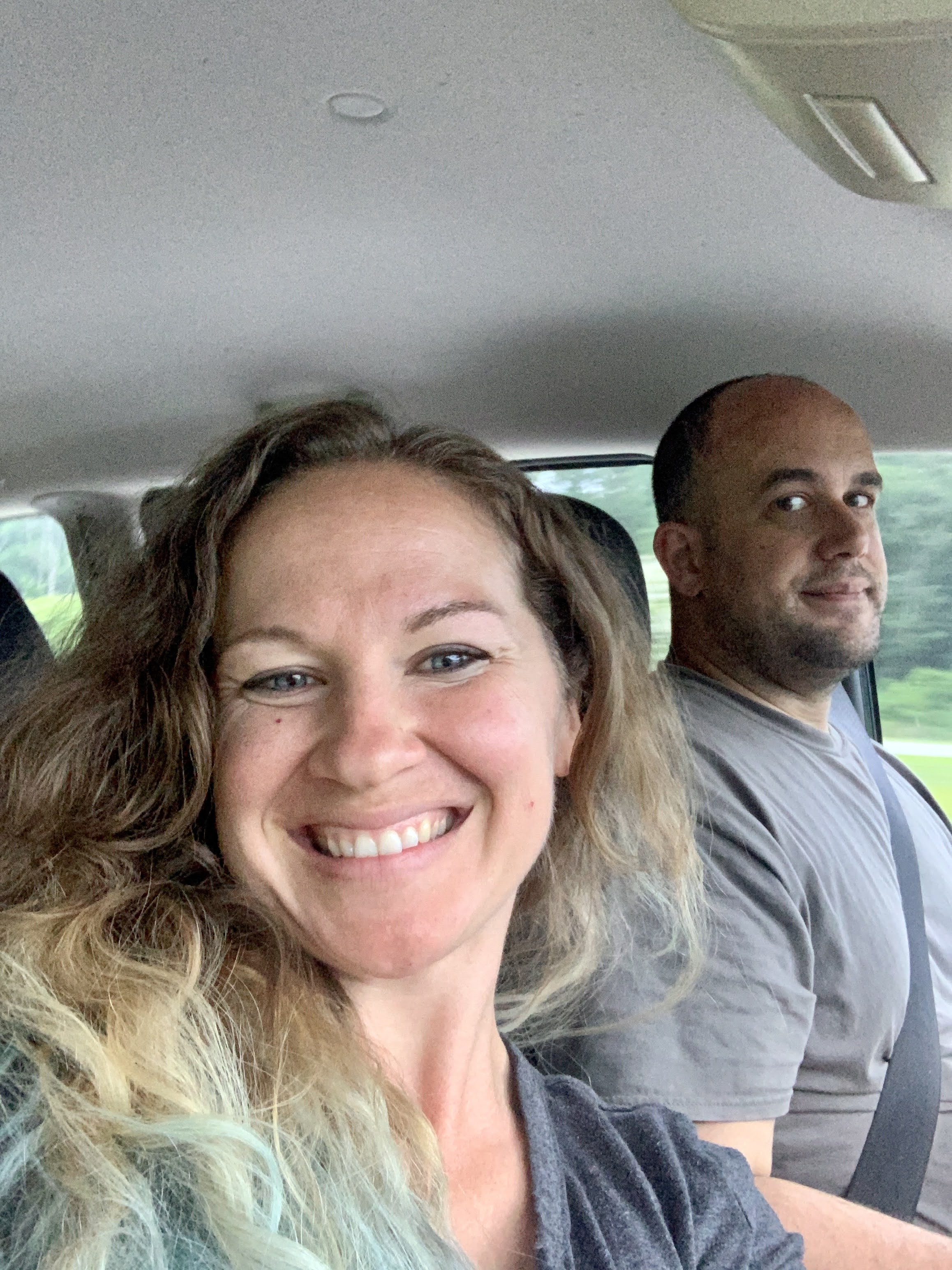 We travel awesome, that's how we travel. As the kids get older the whole thing only gets easier. See these smiles? Genuine. (Neil's smirk thing is conveying joy and excitement. I promise.)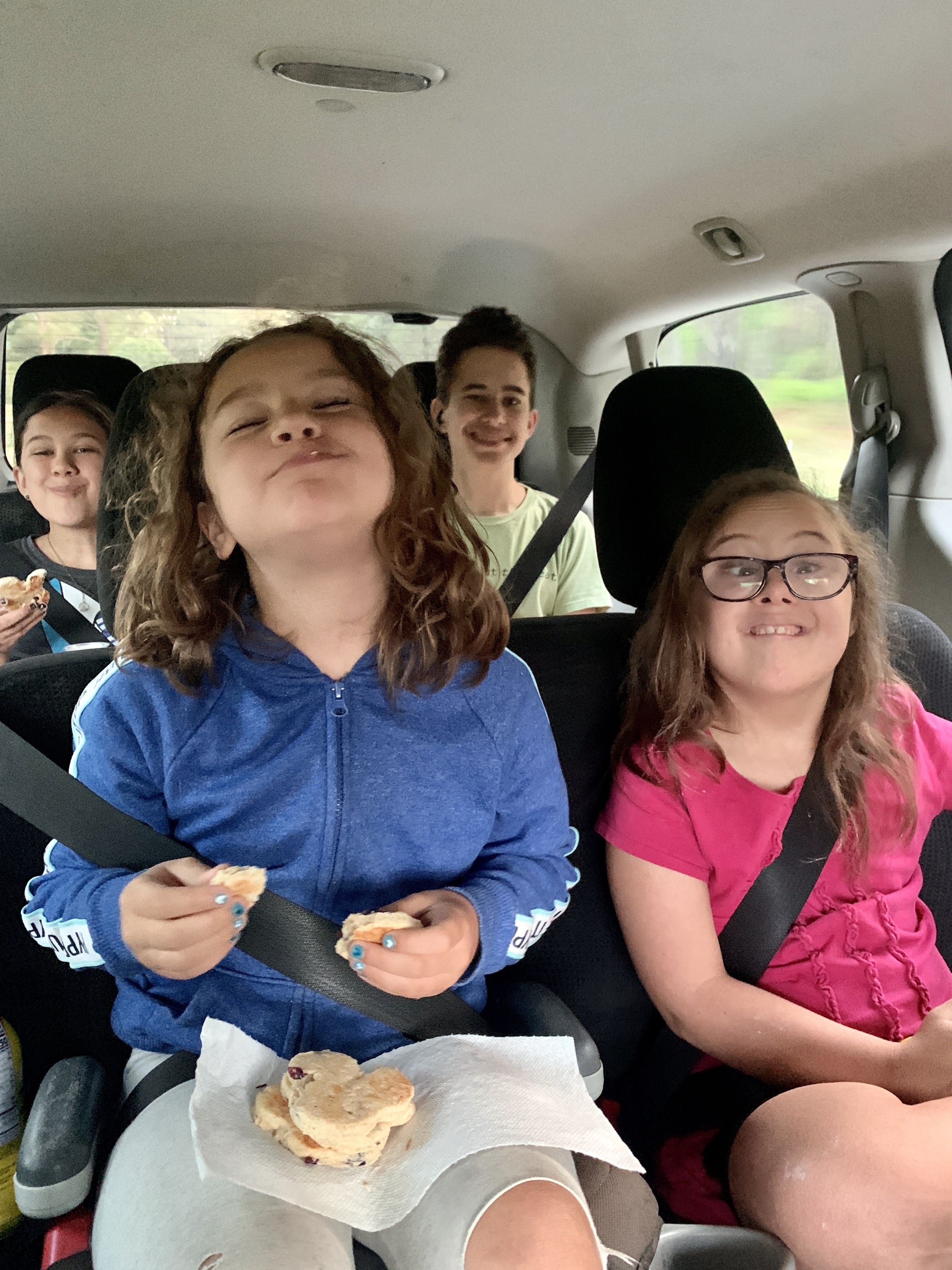 I commissioned Garyn to print me a Mickey head cookie cutter with his 3-D printer so Neil could make a properly themed breakfast for the car.
Here's the standard routine: We get loaded and on the road by 5:30 am. Being the mean mother that I am, I make everyone just enjoy the drive for an hour before I bust out breakfast. Then we read books, color and listen to whatever trip mix Neil made for the adventure (this time was a collection of Disney songs, especially from the rides). Lunch happens on the road and we get in a chapter from our current read aloud. We stop when we need to and let the dog walk around and stretch her legs (the rest of the time she sleeps or looks out the front window). Movies happen sometime about 2 hours before we get there, right about the time everyone is sick of the car. Garyn and Naomi can watch something big kid-ish (Harry Potter #3) and the girls can watch something little girl-ish (some flavor of Barbie).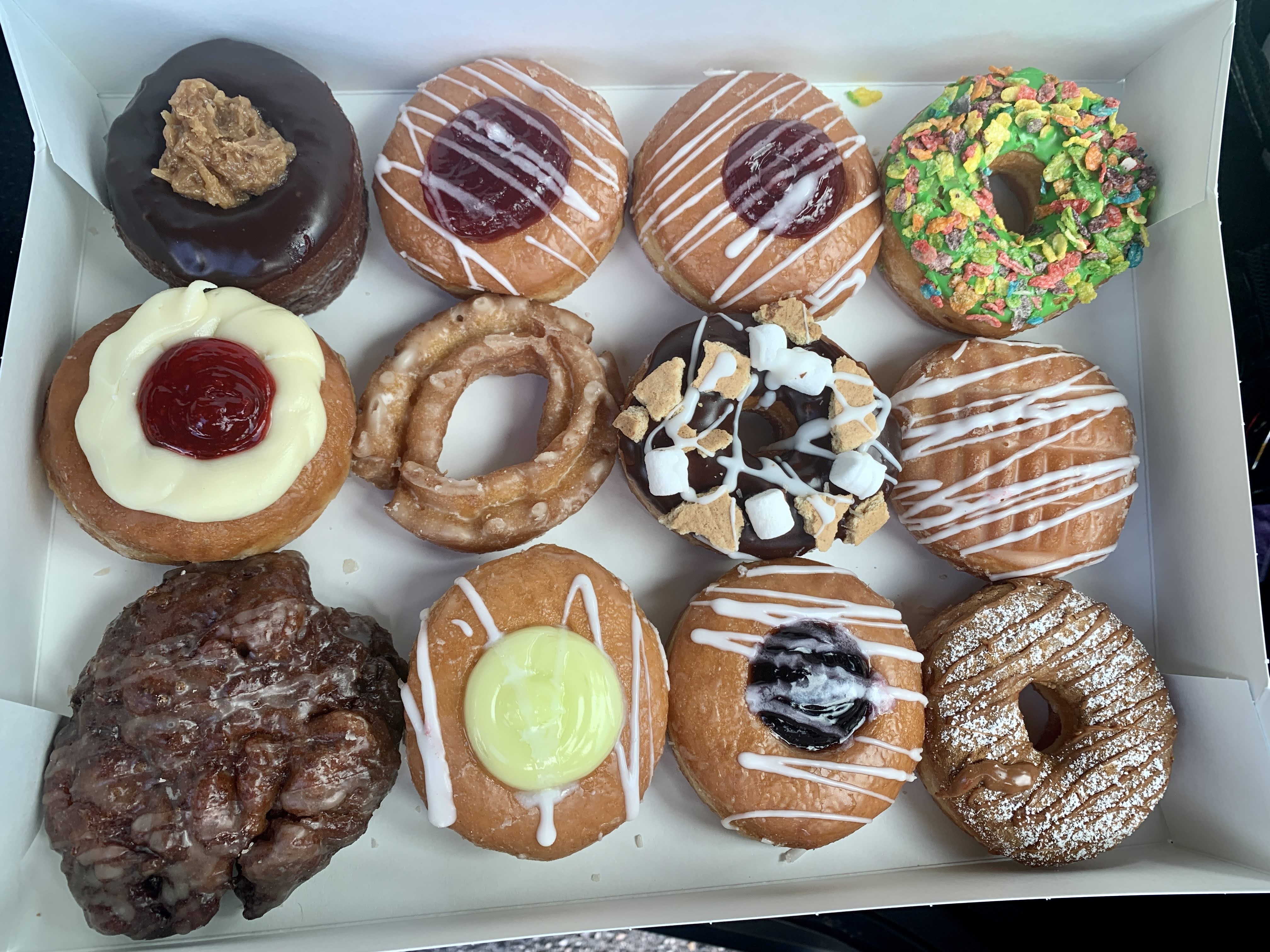 For the drive home we scored some of these…perhaps the most ridiculous donuts we've ever had. Layna's French Toast donut rocked my socks off. Even more than my Key Lime.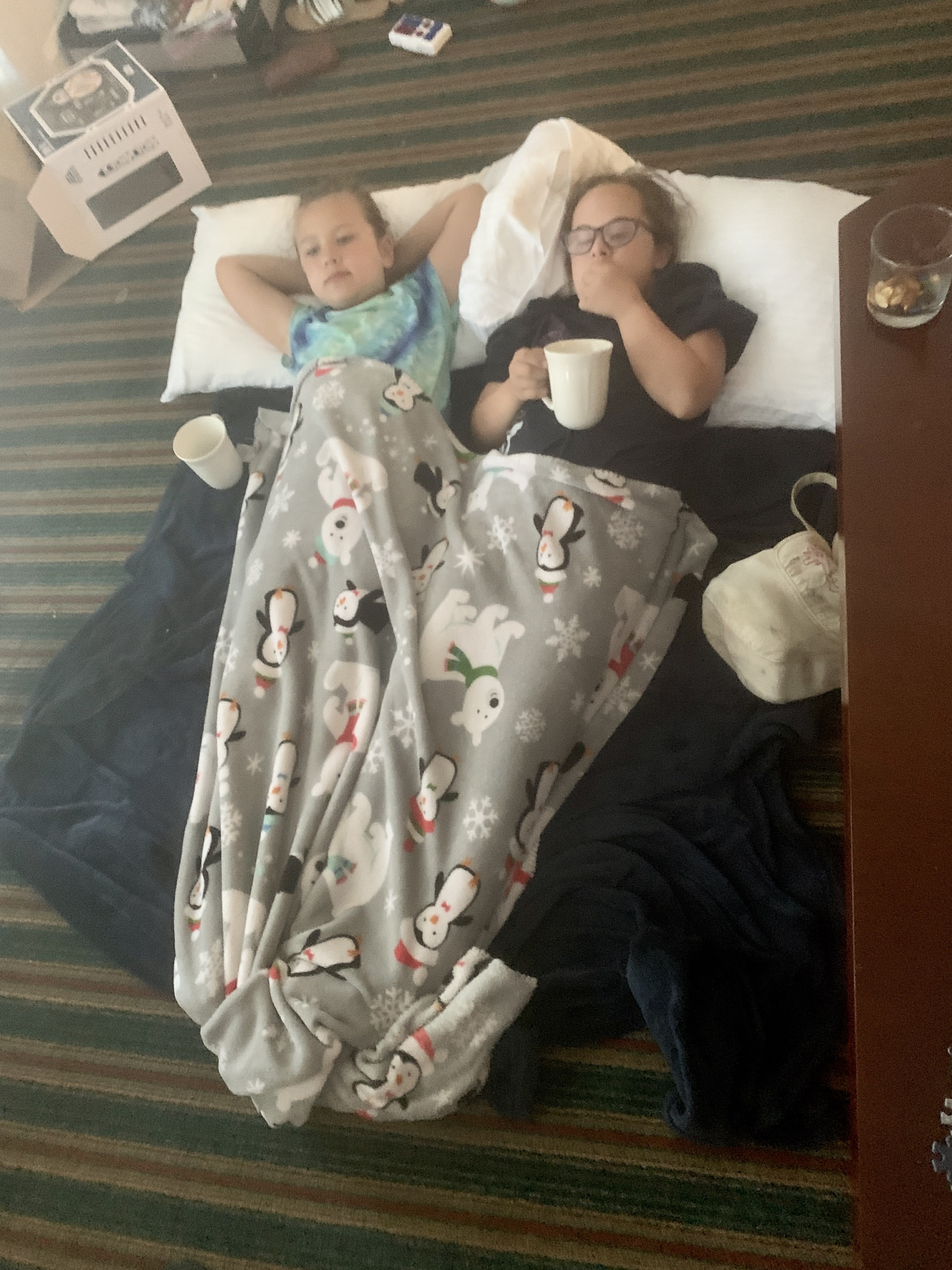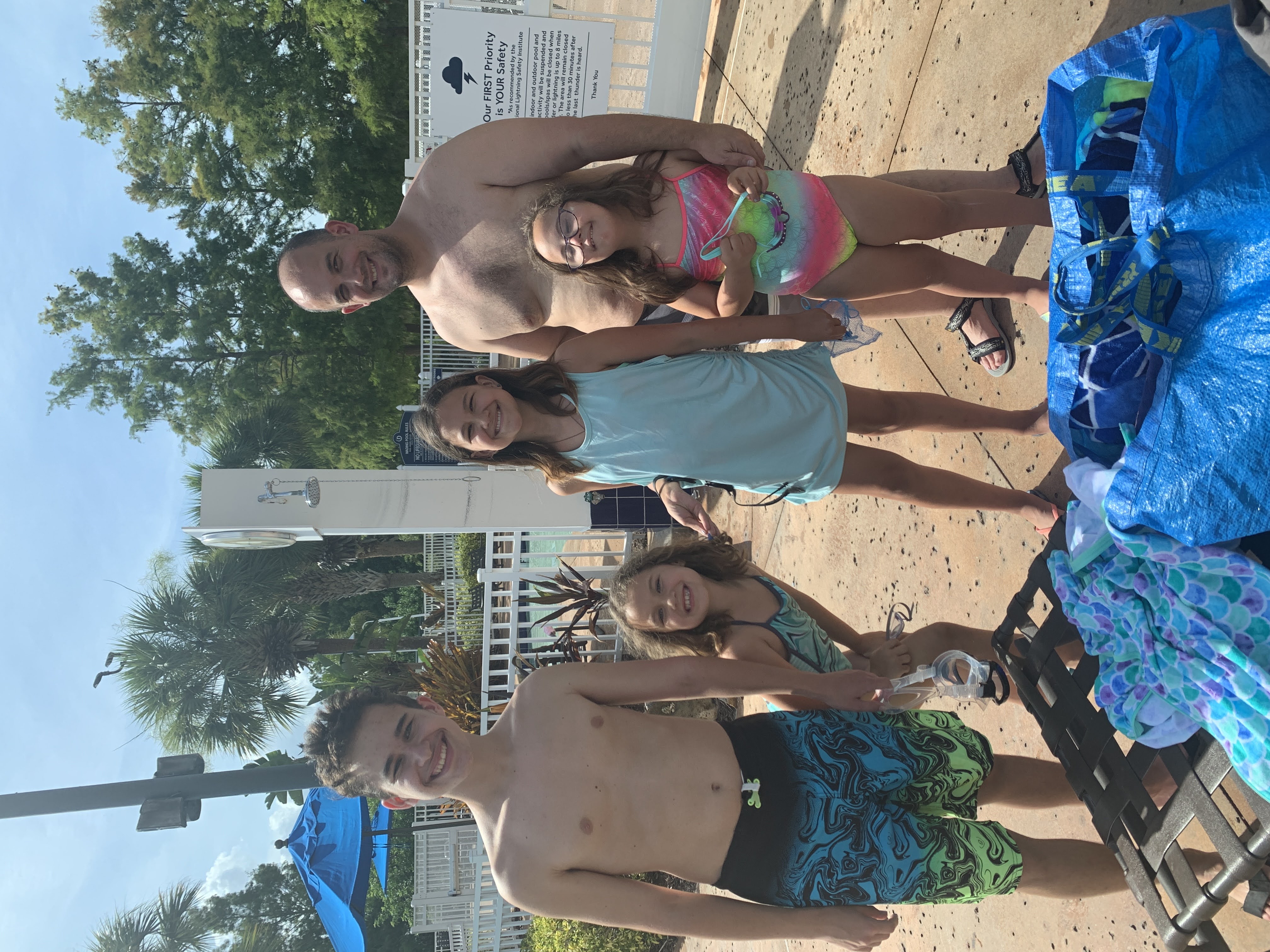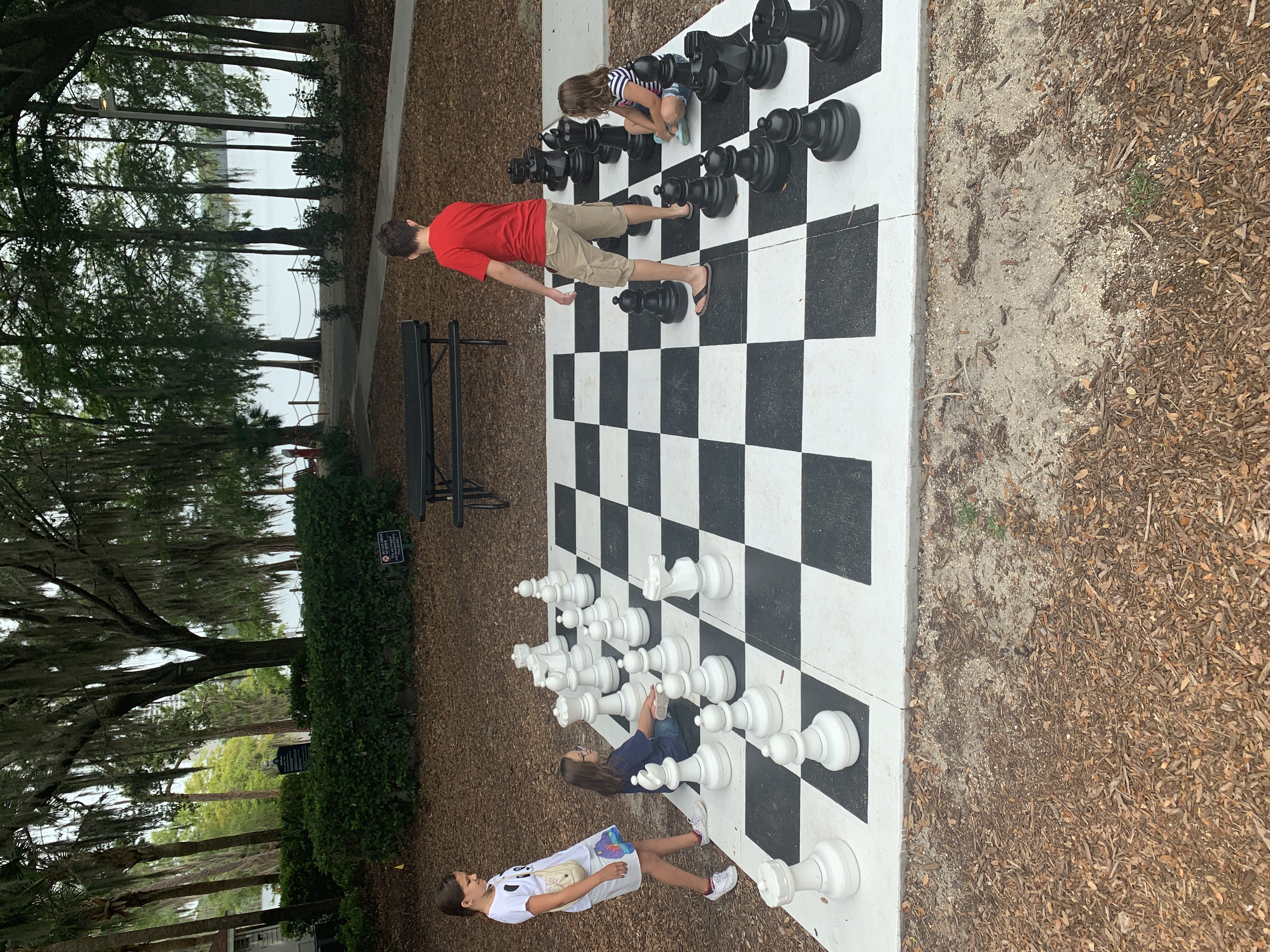 The timeshare we stay at belongs to my grandparents and we are really loving how familiar the property has become. We loved being able to squeeze in a lot of swimming (last time pools were limited due to Covid) and our littles filled in for the missing kings on the huge chess set. We also relaxed on one of our early nights with a movie. It's a great home away from home.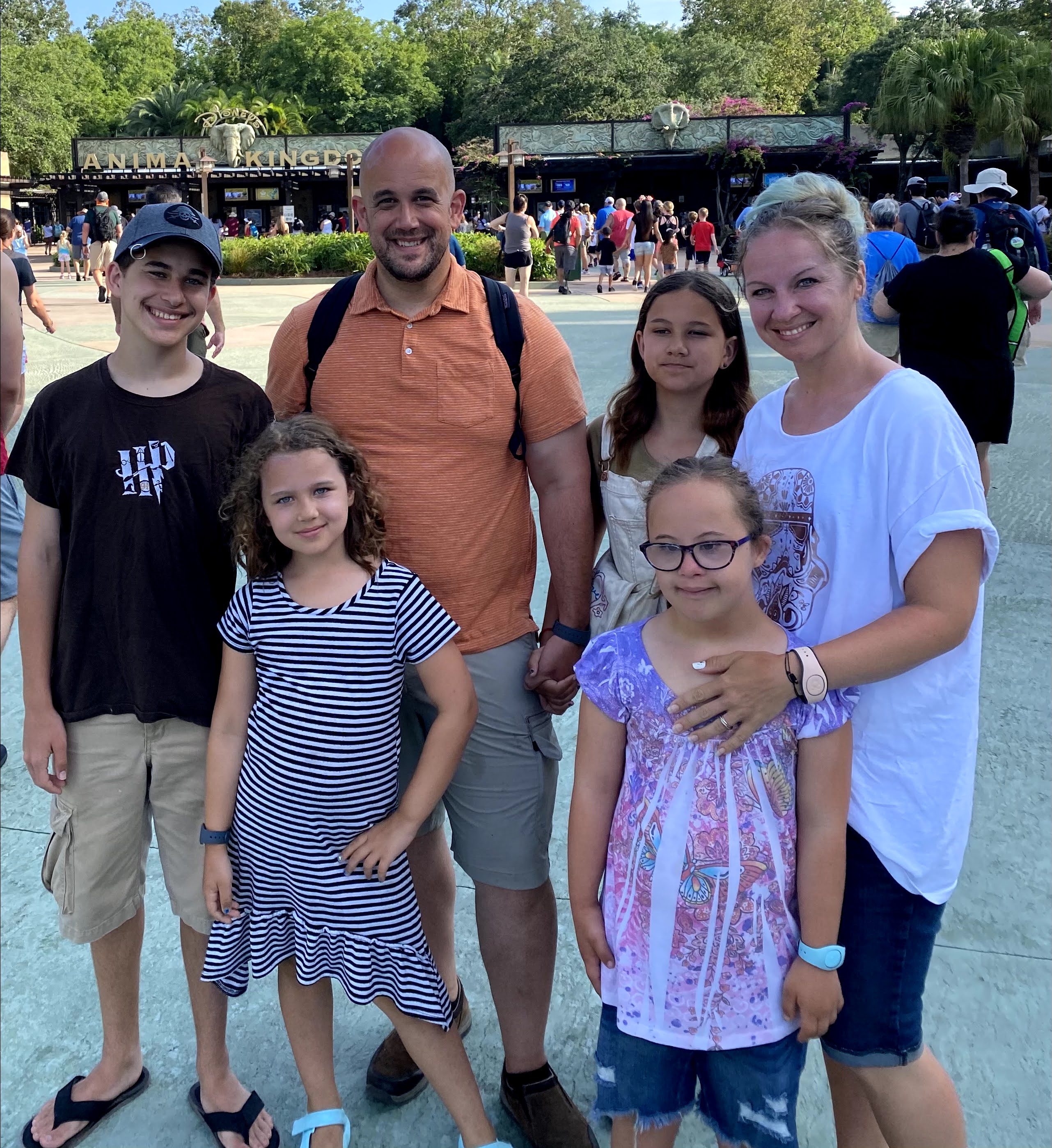 Now. On to what turned out to be (quite possibly) my favorite park.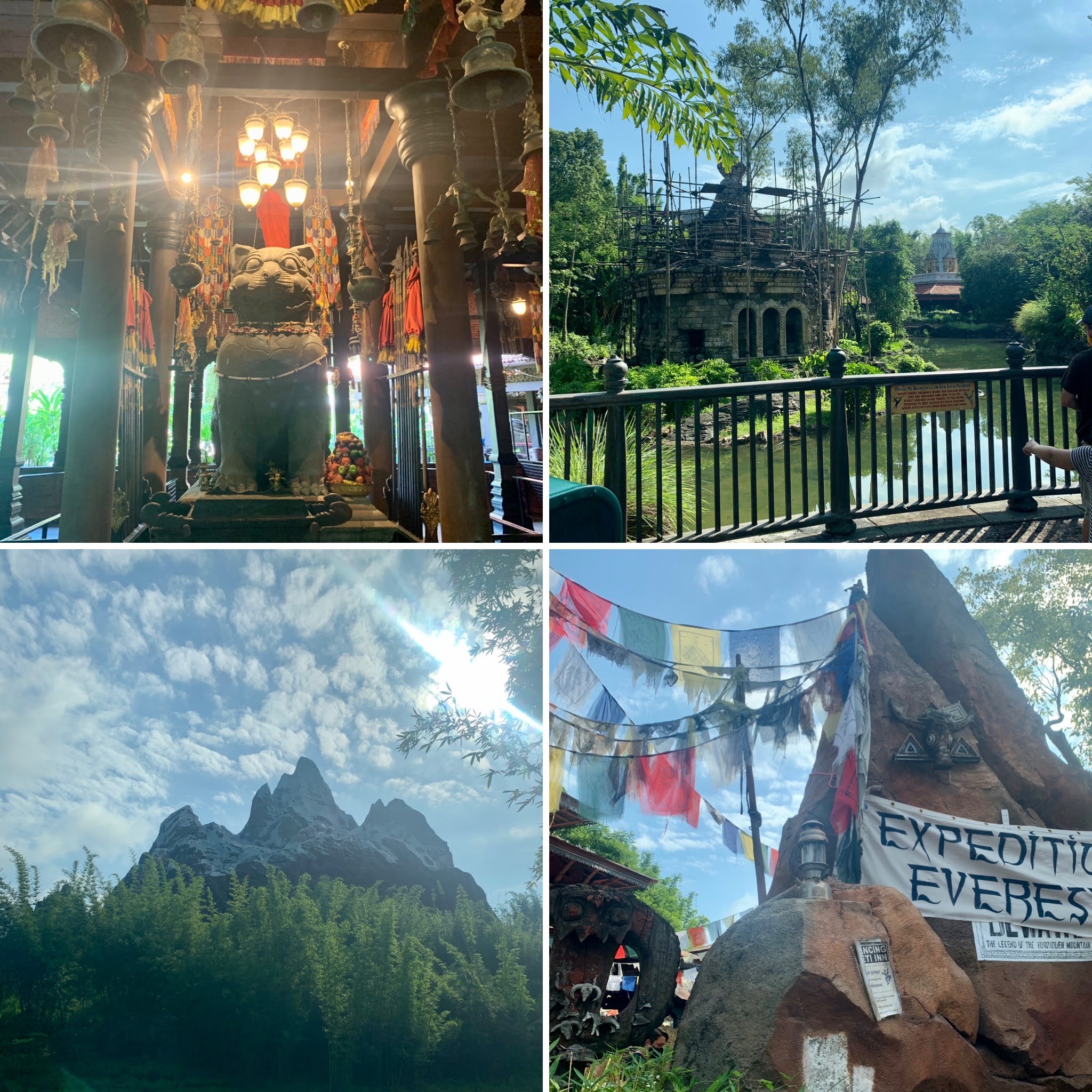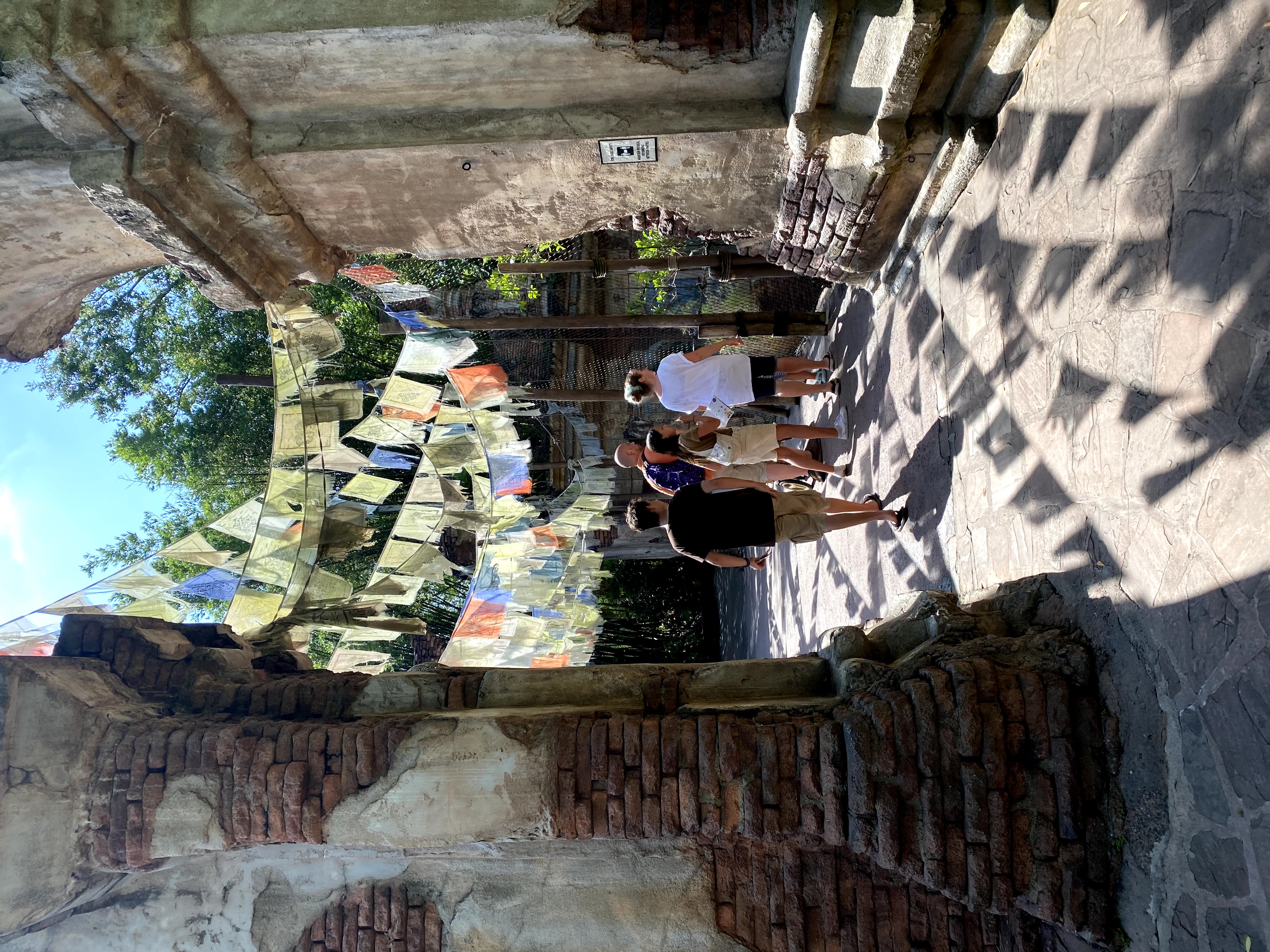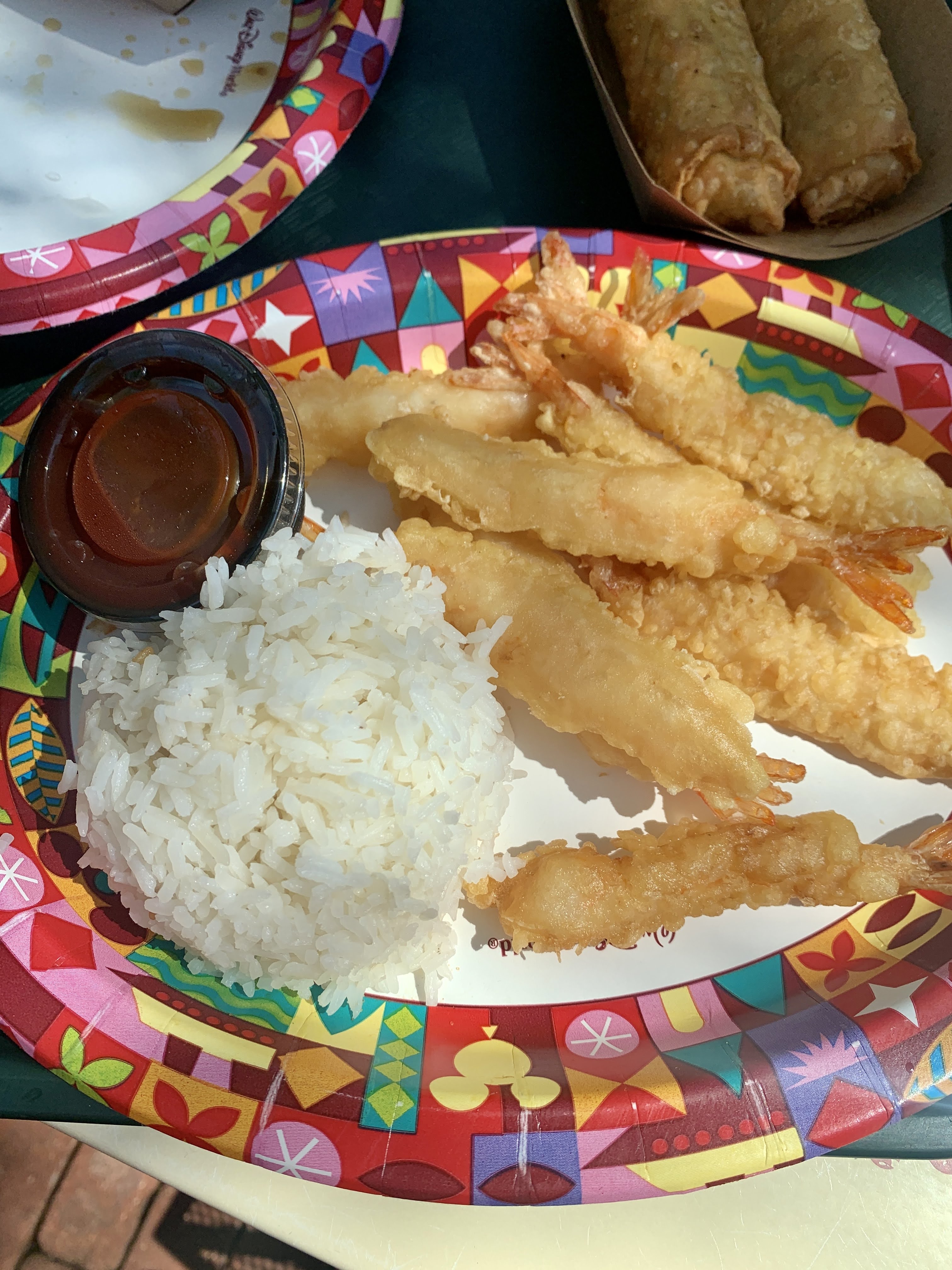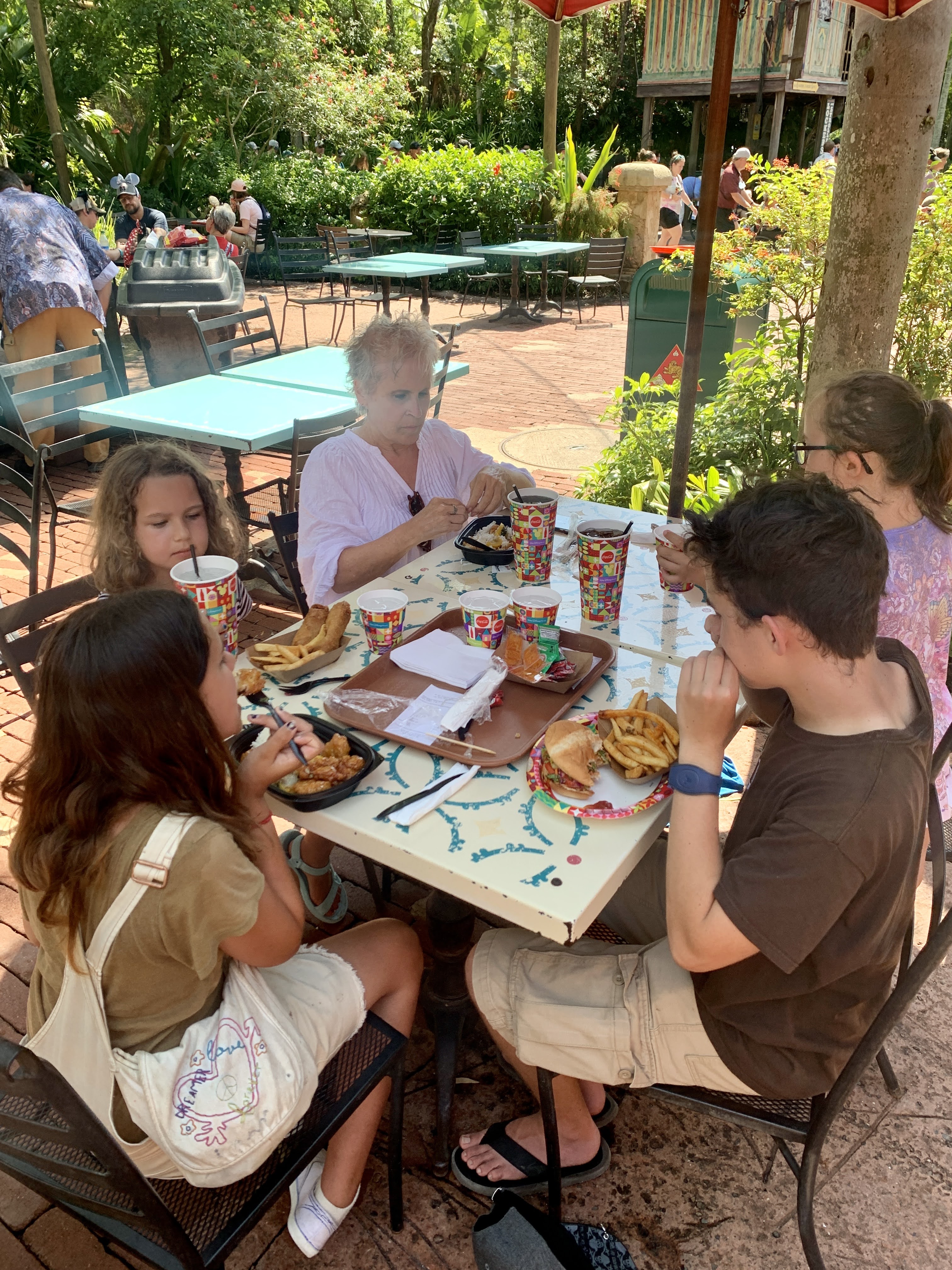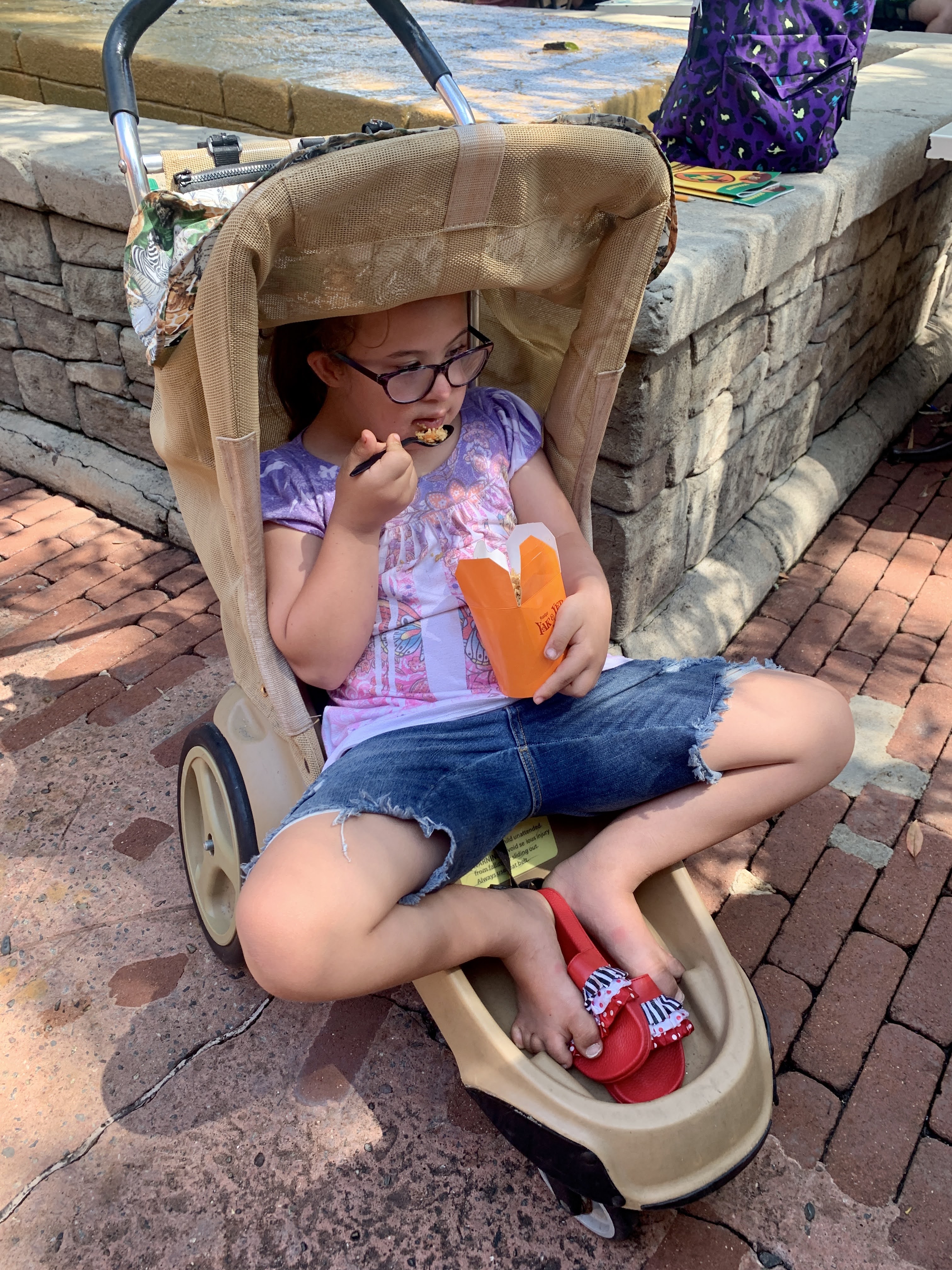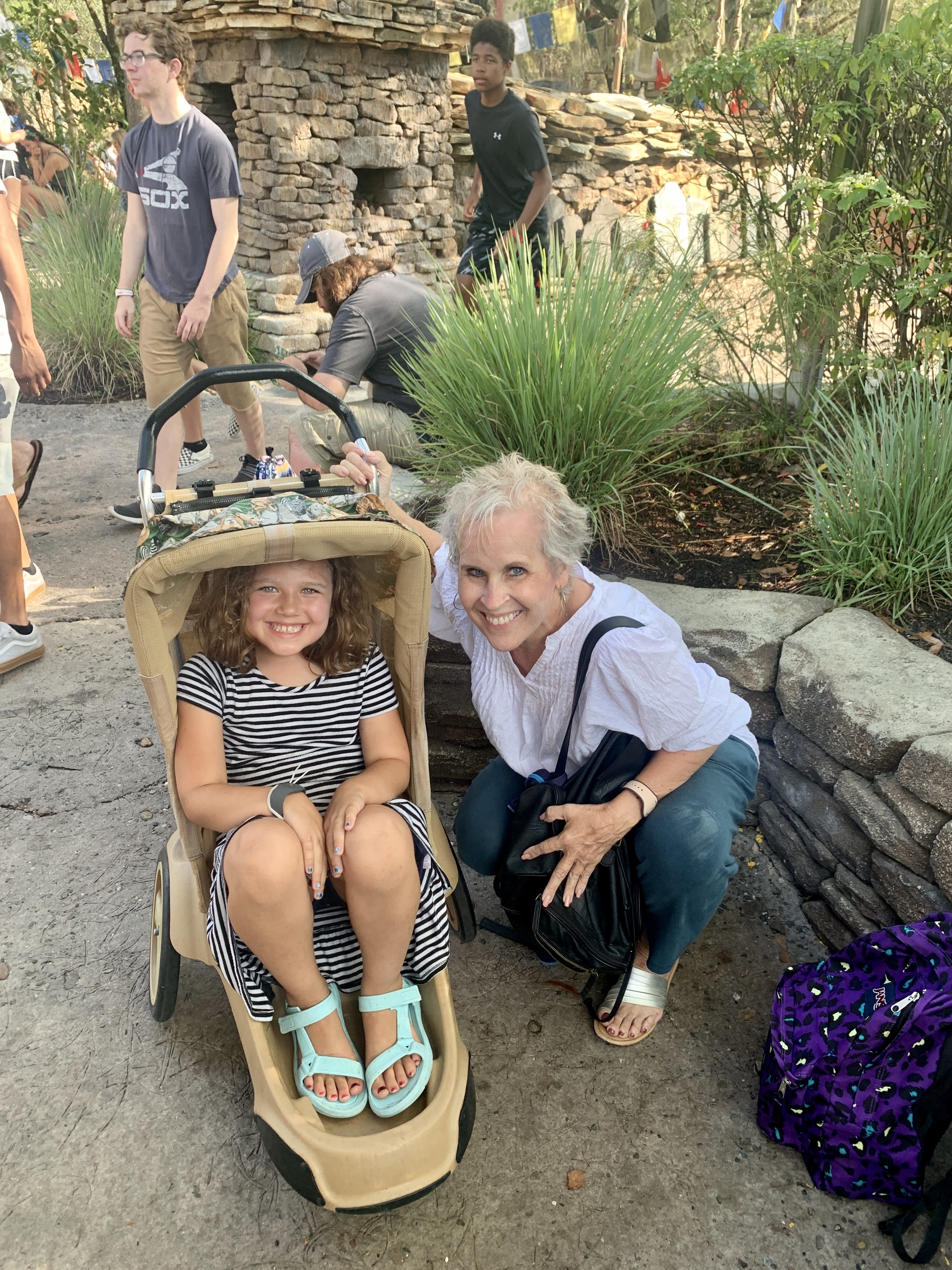 I knew it was a Zoo but didn't have a clear idea what to expect. I had read so many people online write about how this is their favorite park of the four and I was a bit skeptical. I totally get it now. Imagine all the Disney attention to detail and theming being poured into something not cheesy. In the Asia section I felt like I was walking through an abandoned Tibetan monastery complete with tattered prayer flags. The line for Expedition Everest winds you through what looked like climbing base camps from the 40's and the animal enclosures were huge ancient looking ruins. Since Tatanka was taking the day off, we sprung for a stroller. Layna needed a break too, and it ended up being a brilliant choice. Even if she was bursting out of it. We had lunch there in Asia and I had shrimp tempura and maybe the best egg roll I've ever had. Amazing how Disney has really stepped up its food game. Layna's food love language is rice and she happily tucked into her takeout box of fried rice for the rest of the day. Expedition Everest was a great roller coaster, and Corra kept Grandma company while we rode on it.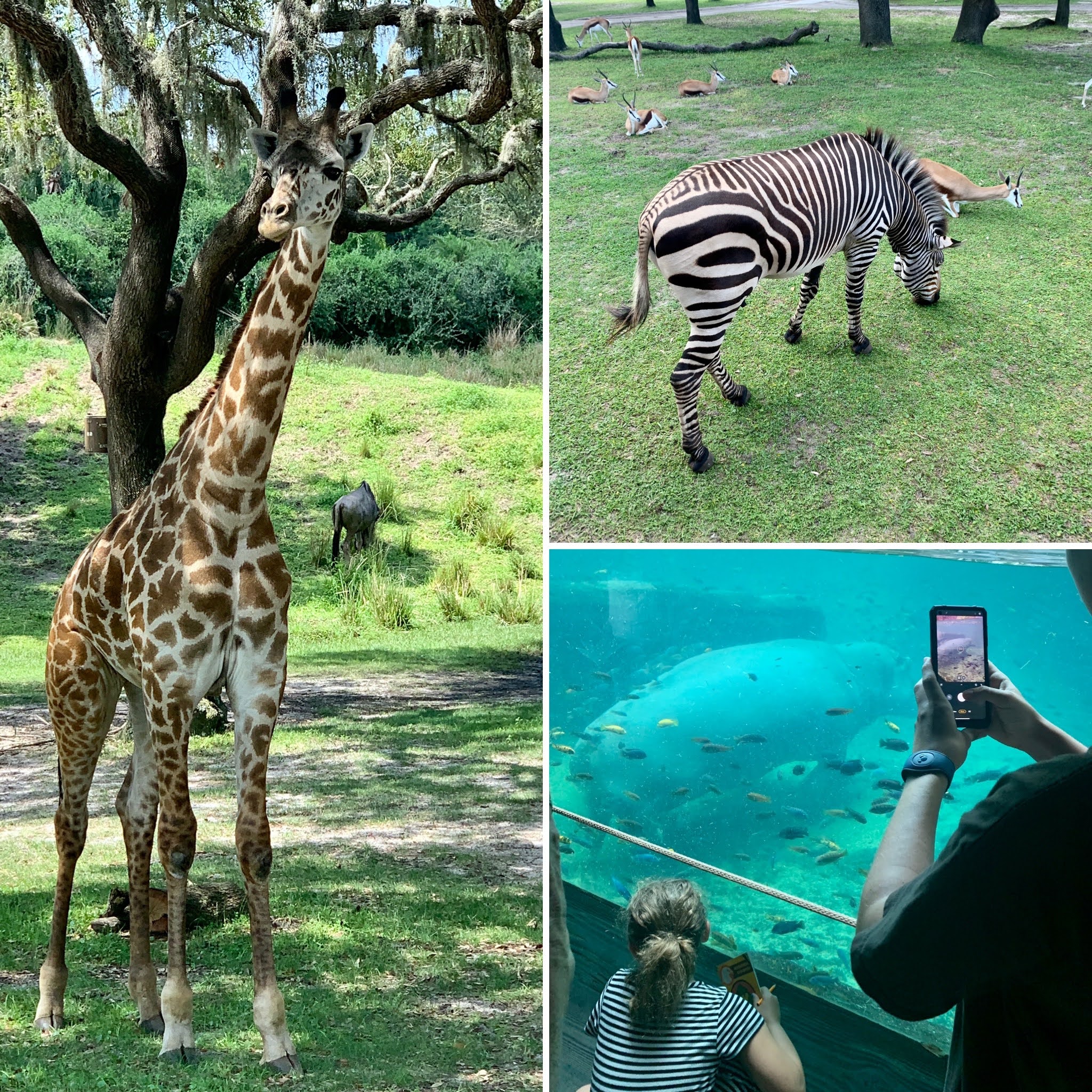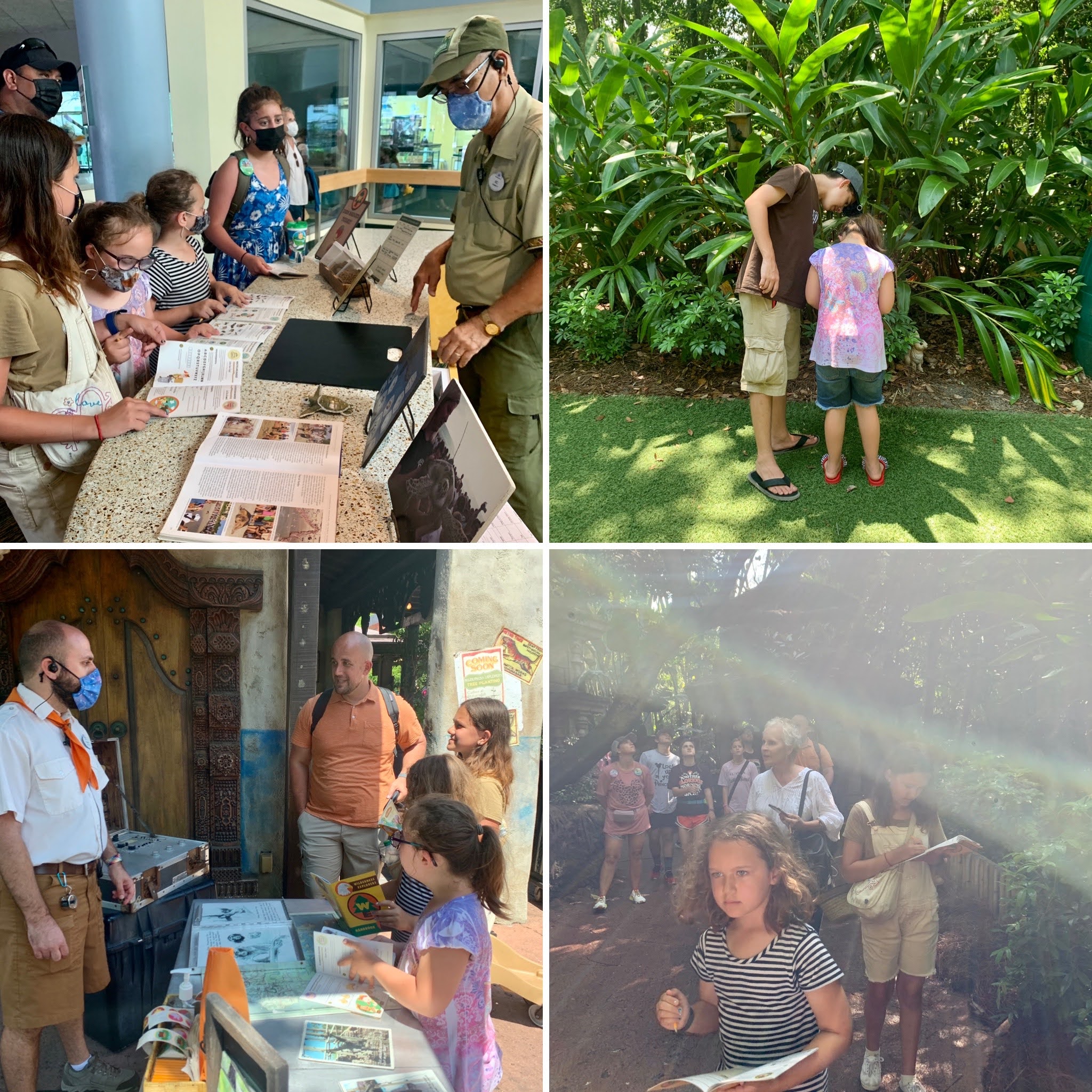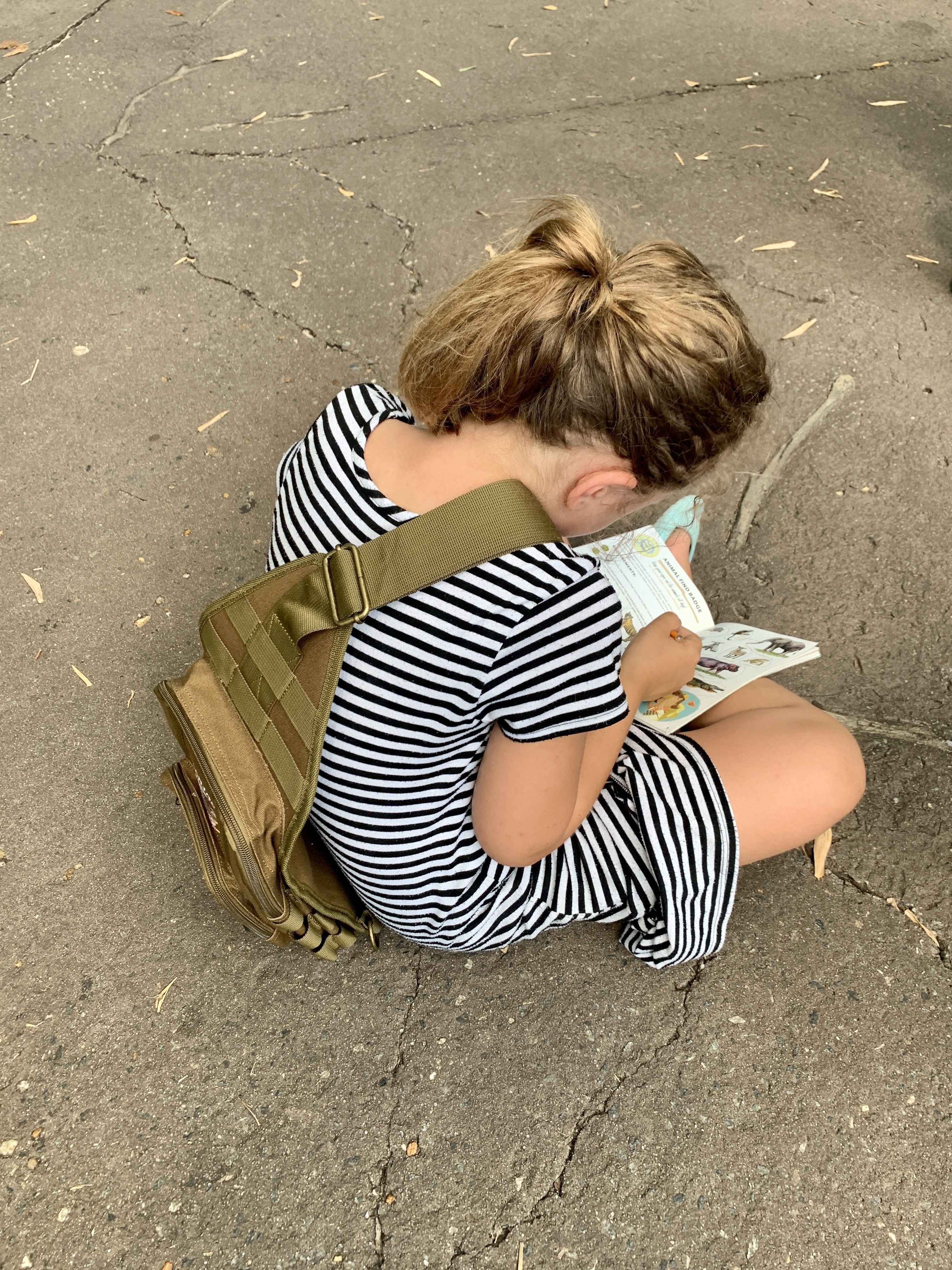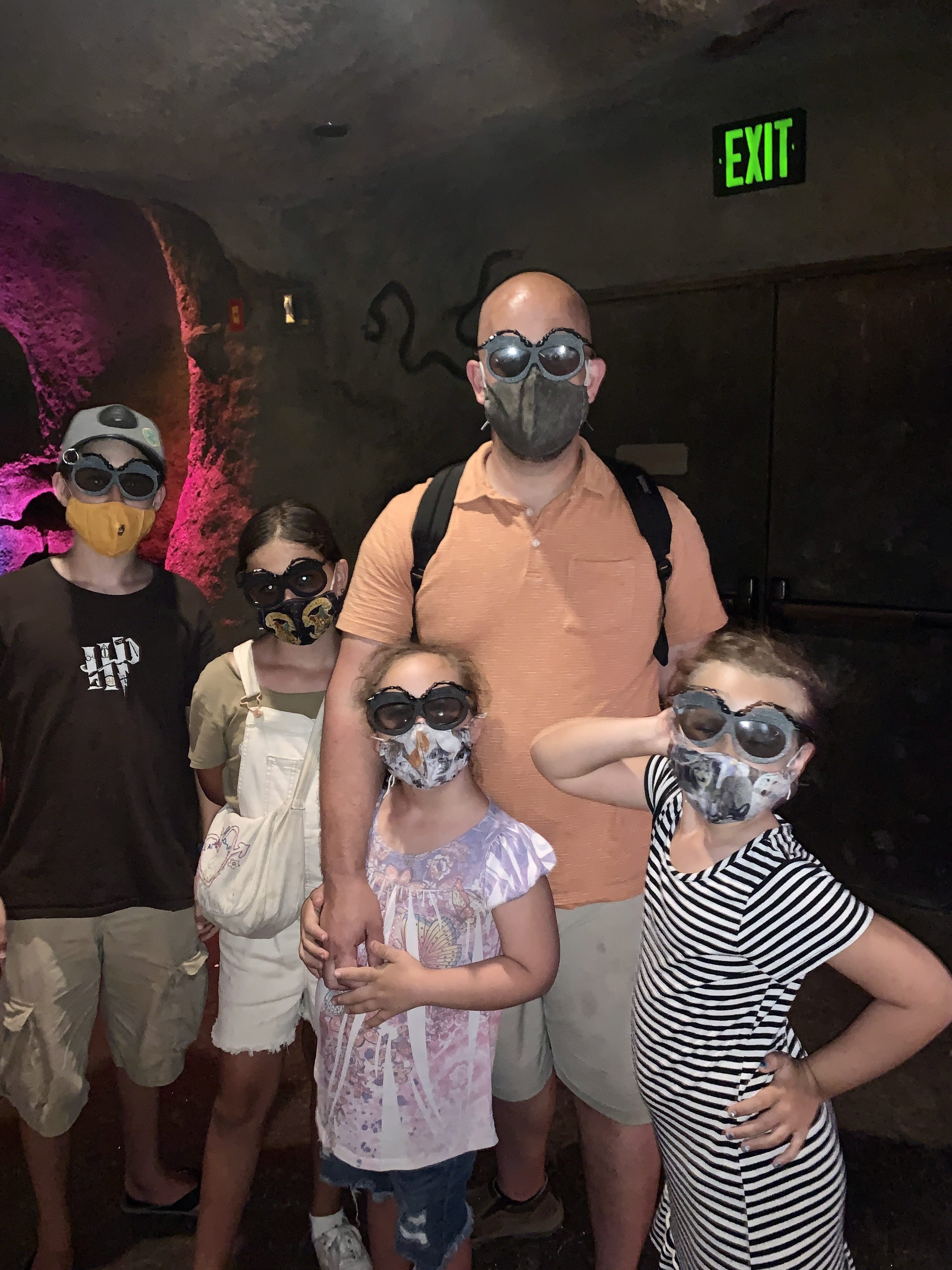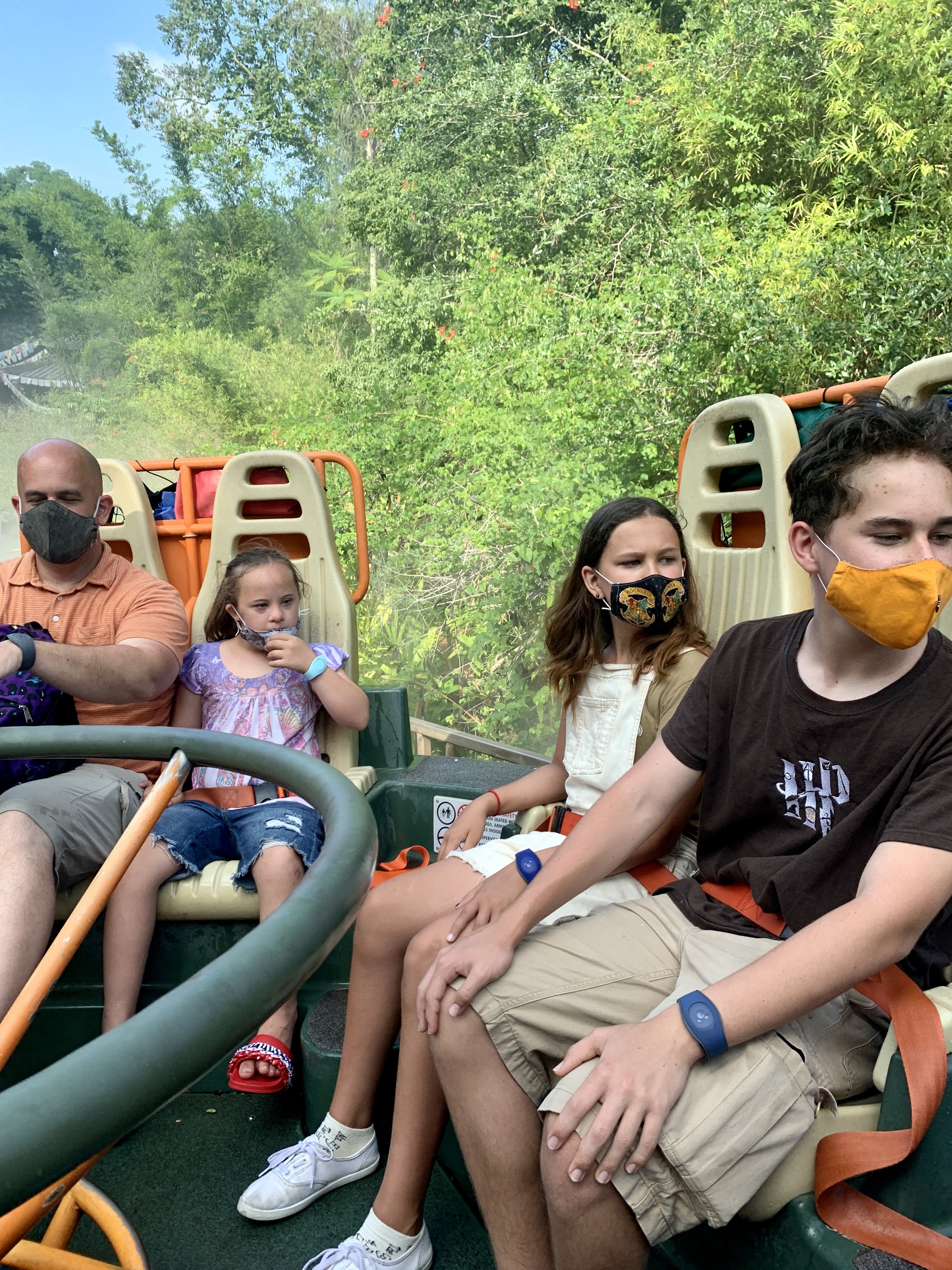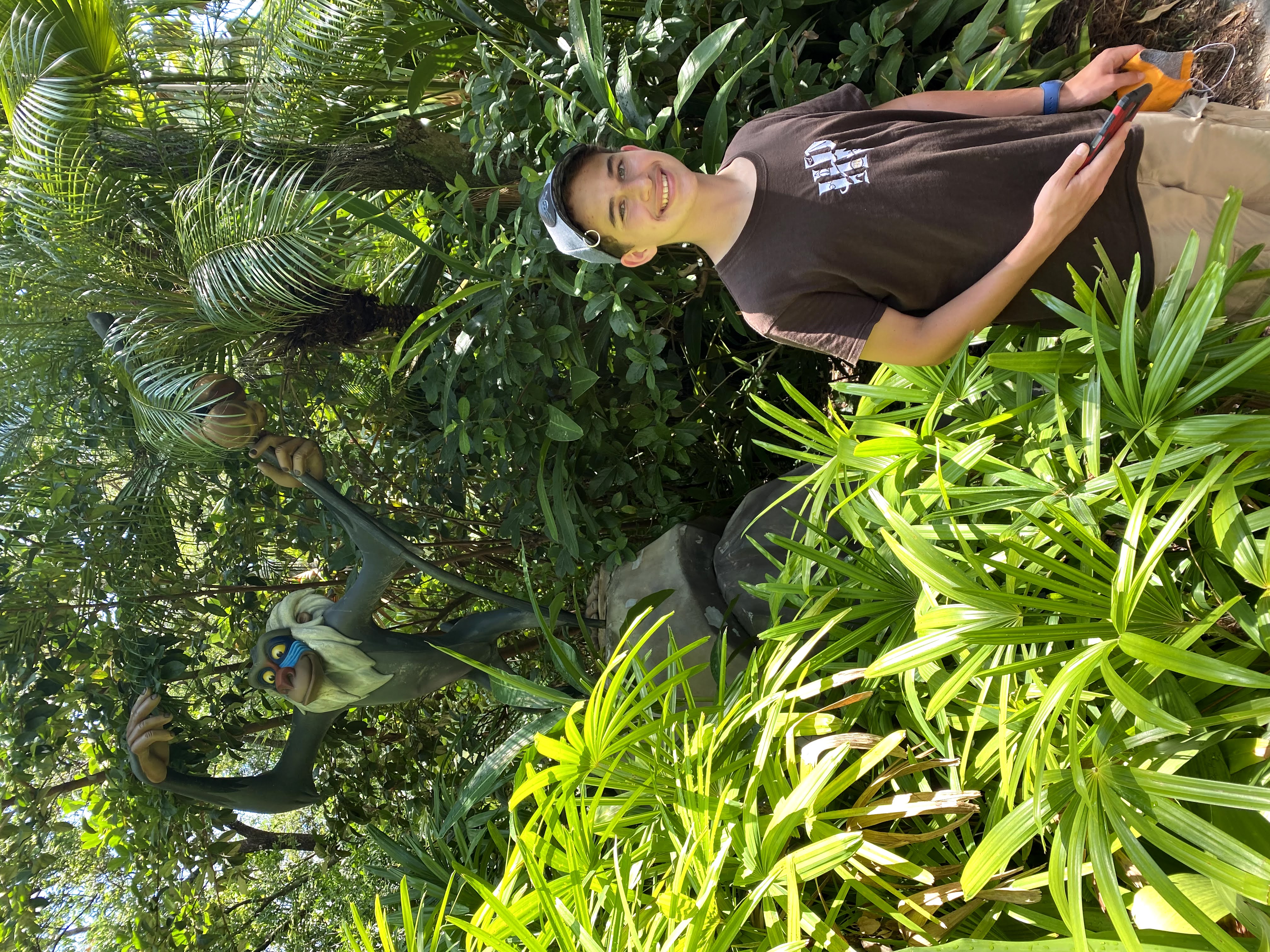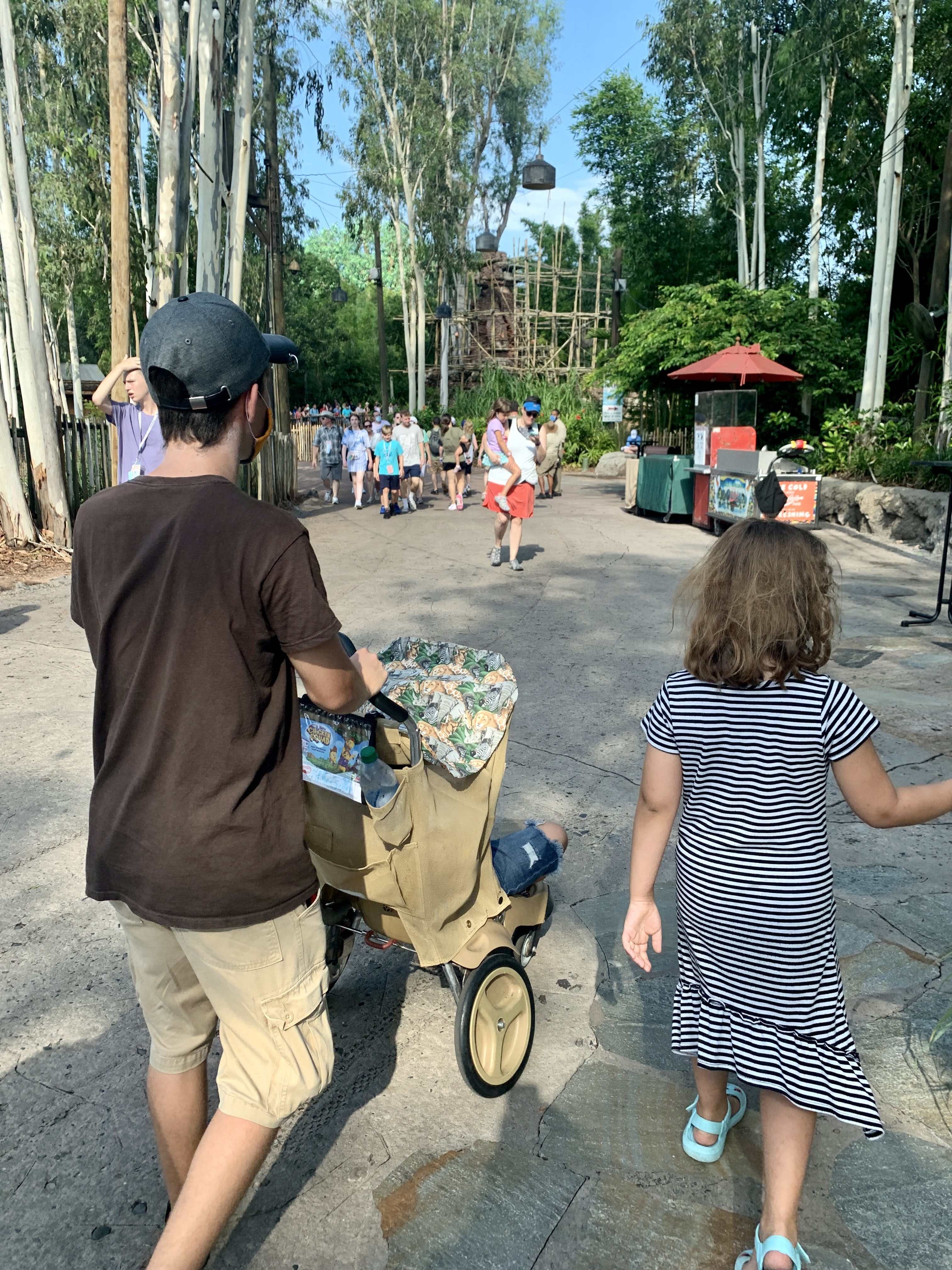 The African section was like a busy market place. Kilimanjaro Safari got us really close to zebras and giraffes because we were riding in a big jeep through a park-like space where all the animals could just wander around. They had a program for the girls to stop at booths all over the park and talk with cast members about animals and conservation and they got stickers to put in their guidebooks. They loved it! In the middle of the park is a huge tree with massive animals carved into the trunk all around it. Again with the exceptional attention to detail. There is a Bug's Life 3-D show down under the tree that was really well done. So as far as atmosphere…it was amazing. The best zoo I've ever been too, plus it had some awesome rides. Garyn was a delight to have along. He functioned just like another attentive adult this whole trip; planning and navigating, helping Layna, pushing the stroller, taking way too many pictures and more. But he was as in love with the whole adventure as the girls. Giddy and enthusiastic about every step. That combination brought an unexpected depth of magic to the whole trip. Love that kid.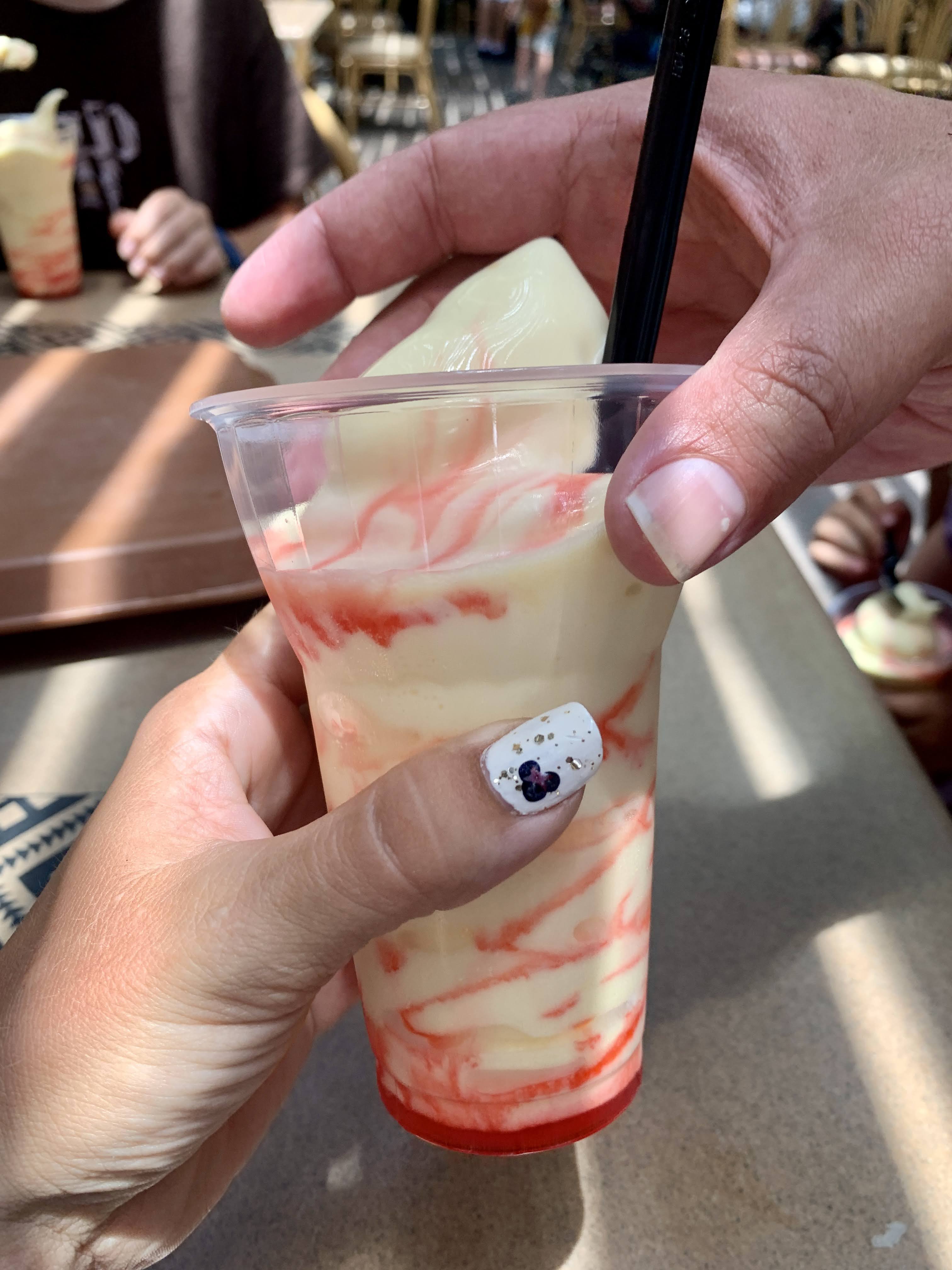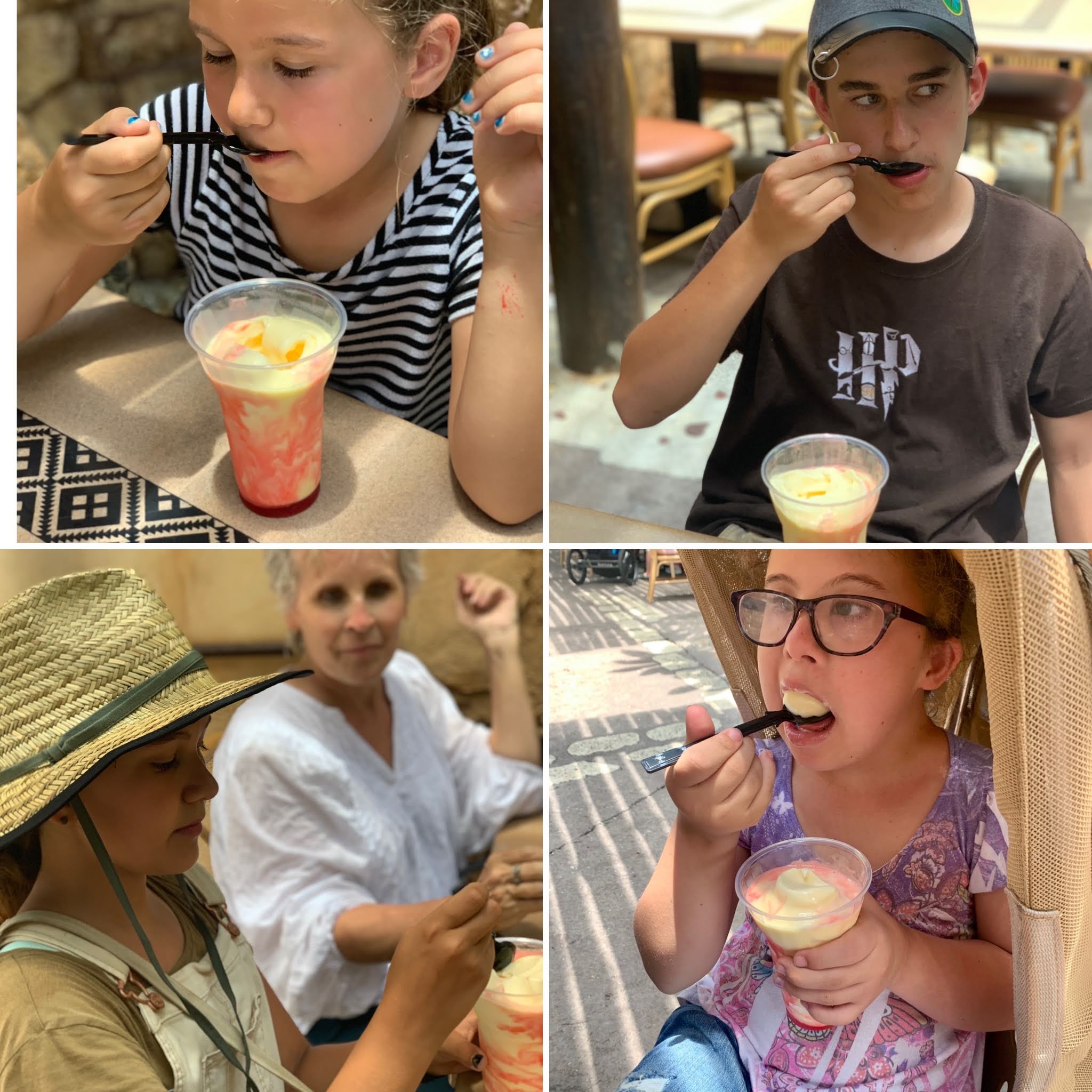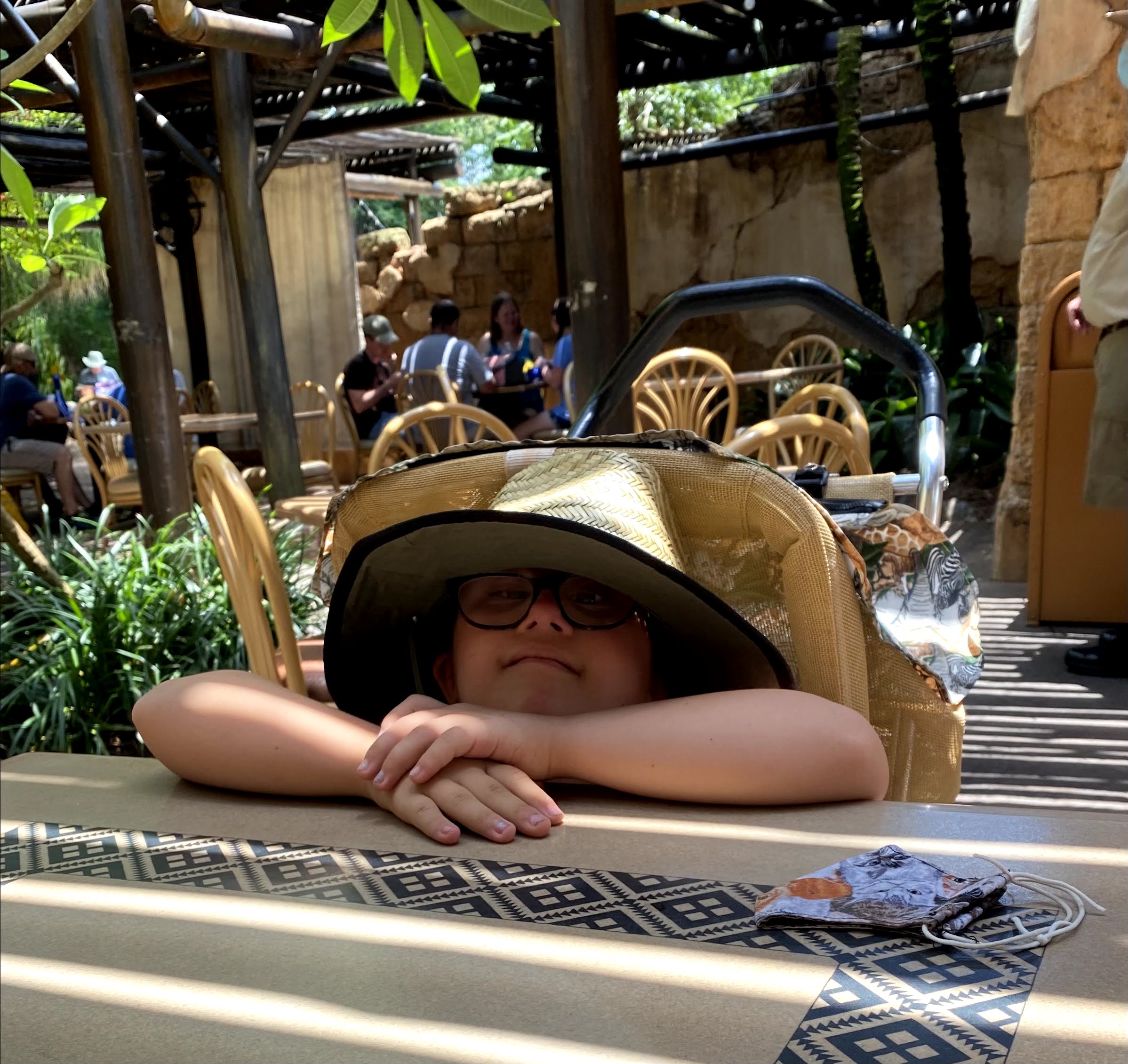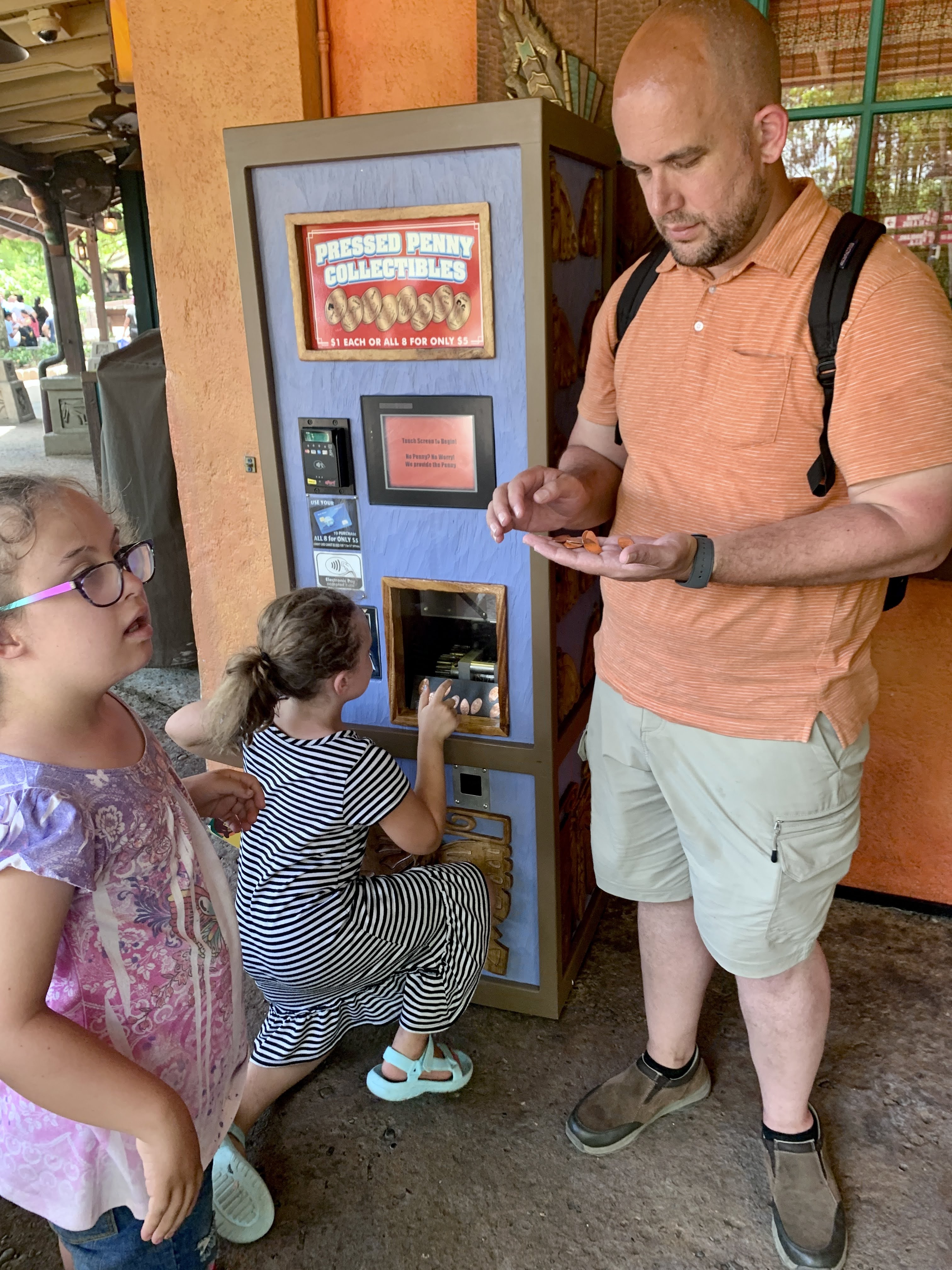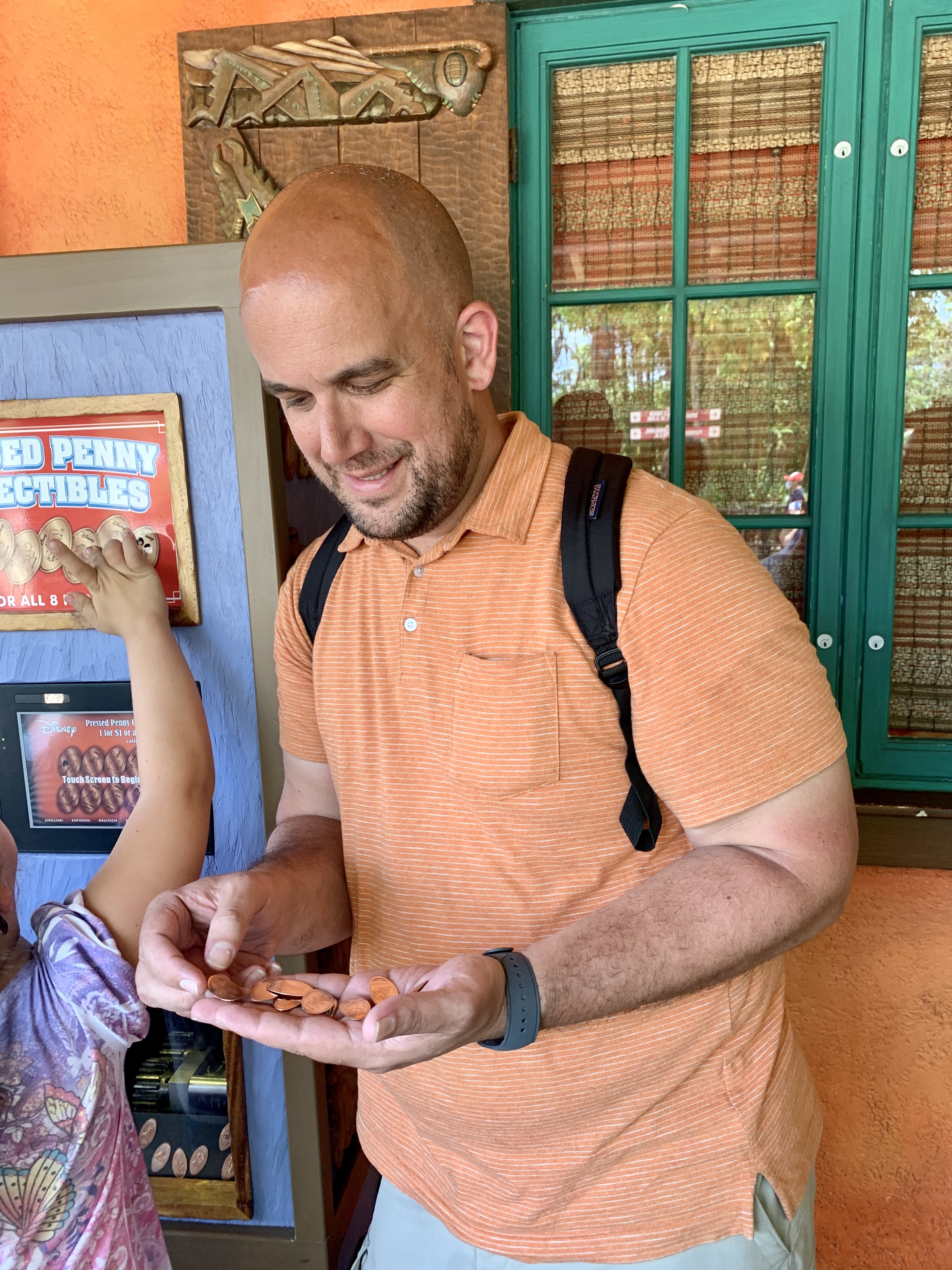 Heat Break! The Animal Kingdom spin on the dole whip is a Simba Sunrise. Tasty. Grandma's hat got a lot of milage and Neil re-kindled his numismatic interests when he discovered the pressed penny machines. He had quite a collection when we left and he has plans for further acquisitions when he comes back with Layna in 2024.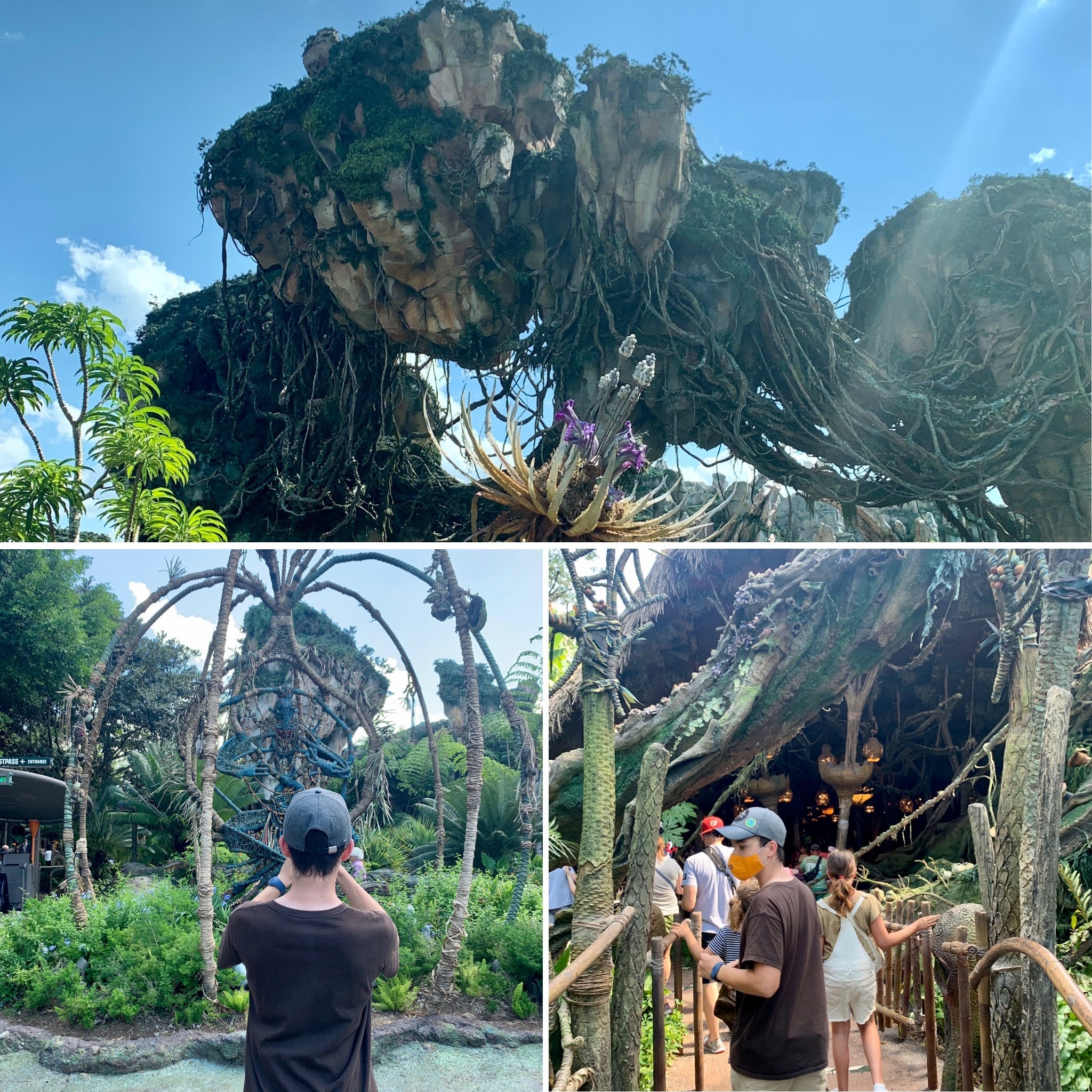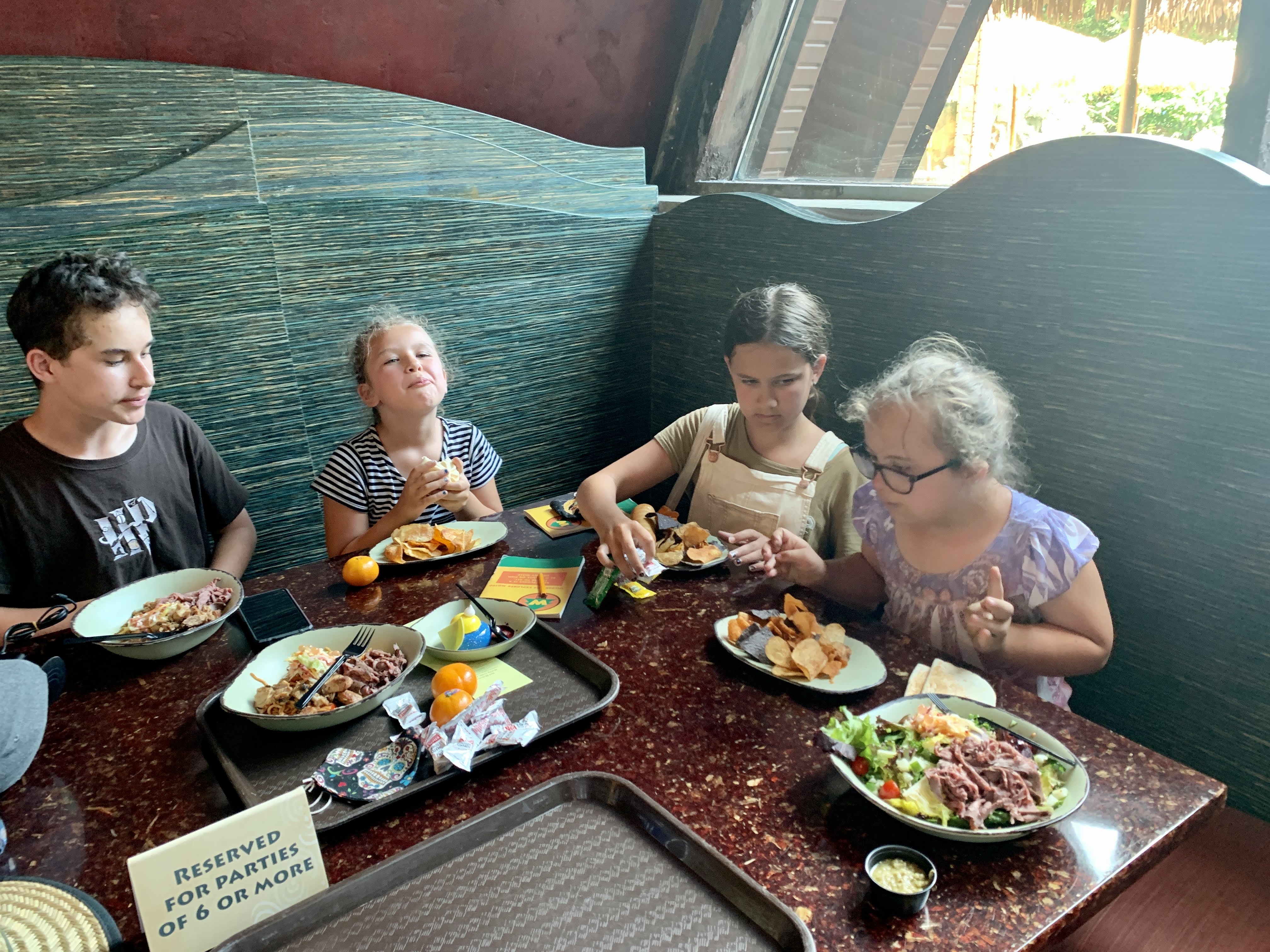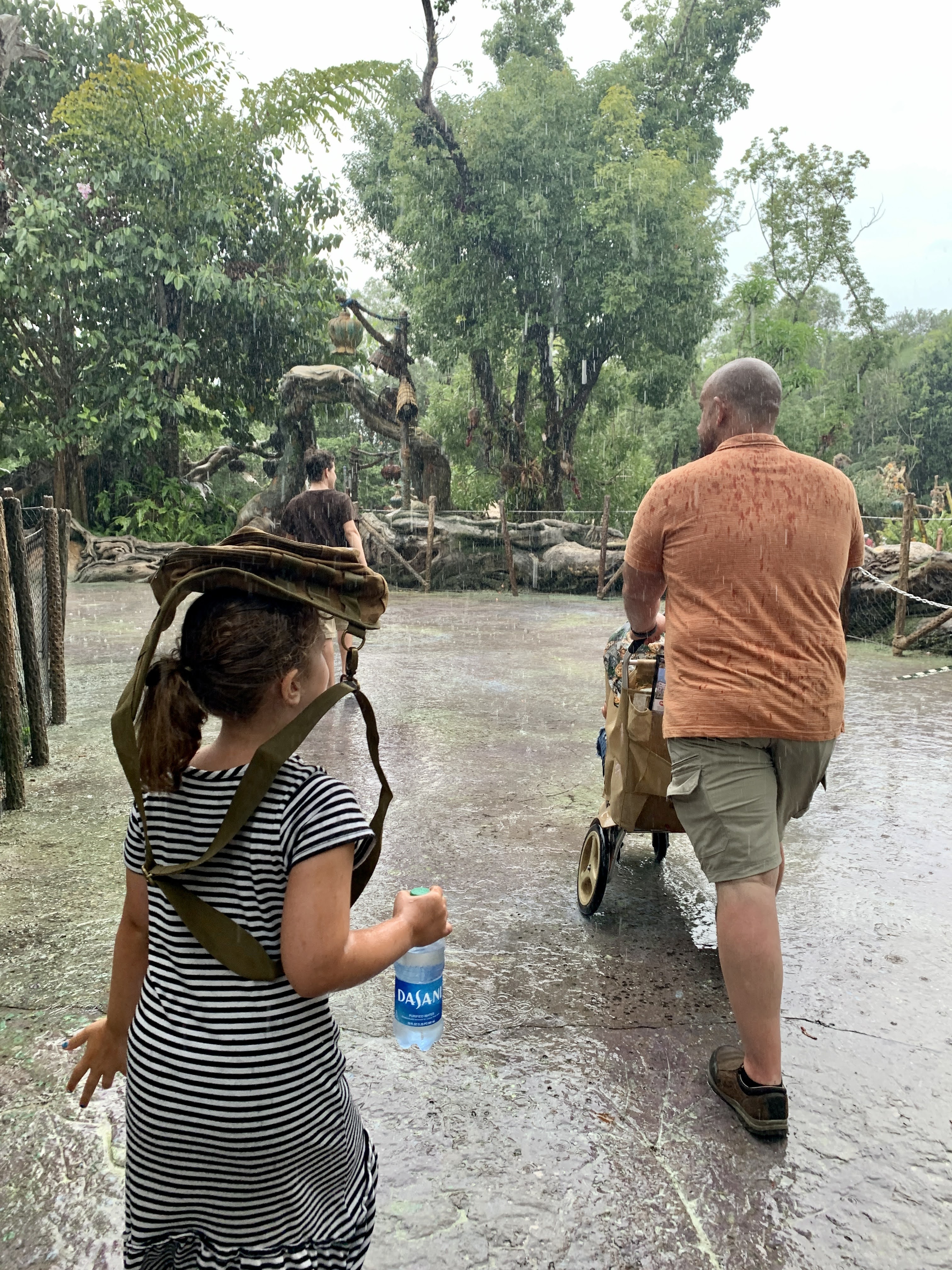 We ended the day in the Pandora section of the park and did a very cool boat ride based on the movie Avatar. Then dinner at a place that I chose. You pick a protein, a base (rice, salad, potatoes, etc) and a sauce. They mix all of that into a bowl. Yum. Corra stayed with Grandma after dinner because she was nervous about the last ride. I think she could have handled it, but maybe next time. It was a 3-D ride but unlike anything I've ever done. You sit on a seat that's kind of like a motorcycle and the restraining bar actually pushes onto your lower back. The ride is like you are flying on a dragon like creature all over this world. It was incredible. Sooooo well done. We hadn't seen the movie but that didn't in any way make it hard to appreciate how cool this area of the park was and how great the rides were. When we were getting off the last ride it started pouring rain. The park had also just closed so we had to hustle through the pouring rain all the way out of the park to the car. Can't complain though (even if it was the one day I left the ponchos at the hotel) because it was the only rain we had had all week. June is Florida's worst month for rain and we only had that one episode as we were leaving anyways on our last day.
One last post to cover our two days (Tuesday and Thursday) at Magic Kingdom, the East Coast corollary to Disney Land in California. Some of my favorite pictures are coming up…I can't wait!