Allergy testing
---
2023-01-15
I love meat. We are well under way processing the goat babies from last year and that means lovely meat. Funny thing though…I might be allergic to most meat. But I'll back up…I'm always trying to get my girls to give context before launching off into what they actually want to say.
Our first year here was fine. The second year brought the allergies, but we didn't really wrap our heads around how bad the allergies were for Neil. Then they started to impact most of our kids. Neil just learned to live on antihistamines and would give them to the kids when they were miserable. Last year when we had the bee sting catastrophes with Neil, he got serious about figuring out what exactly he is allergic too, besides the bee stings.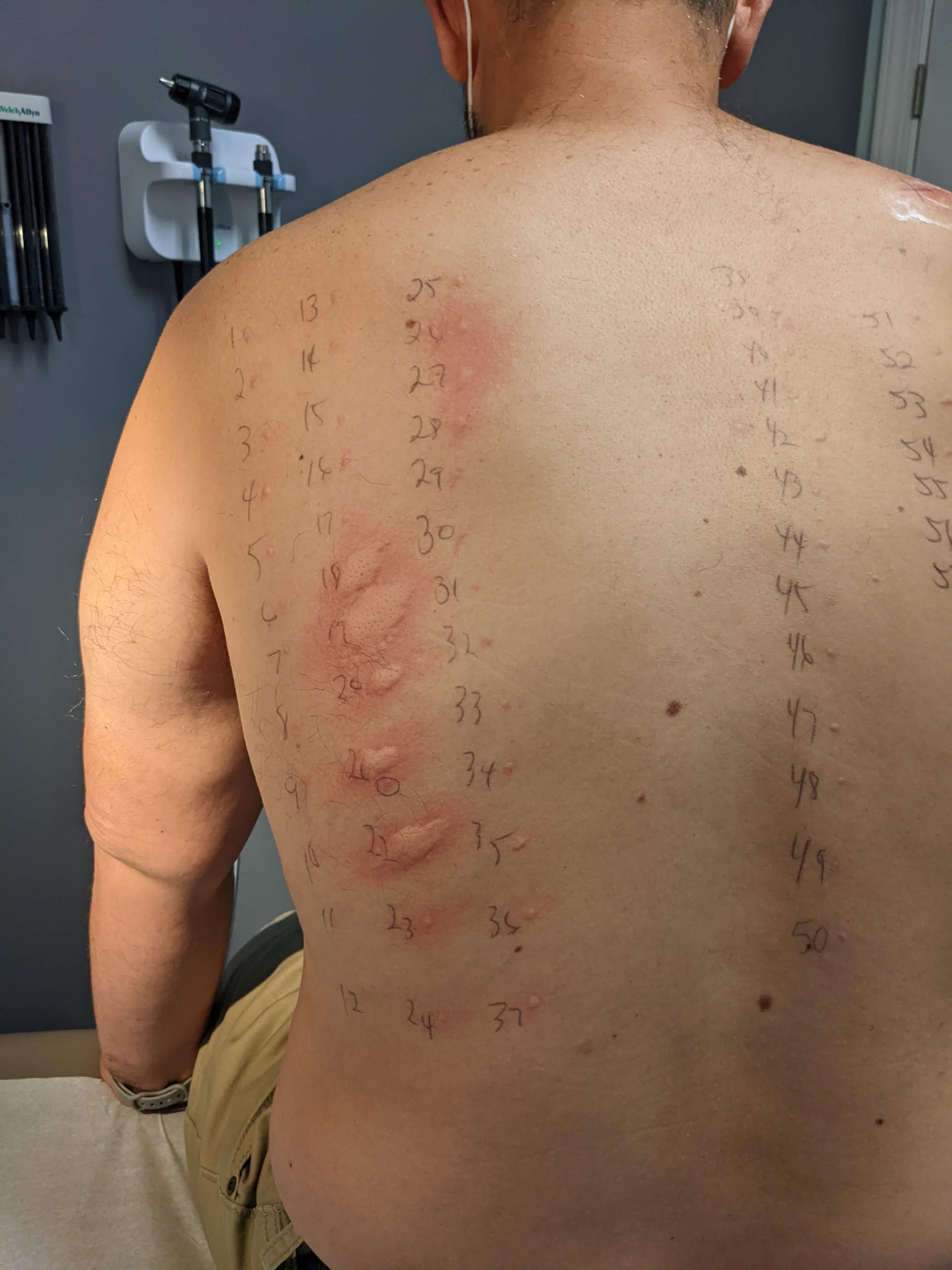 See the angry massive welts in a stripe down the left side of his back? That's grasses and weeds. Unfortunate that we live on a farm in the country surrounded by all that stuff. But he isn't allergic to foods or pets. At least now we know why life is kind of awful for him every spring and fall.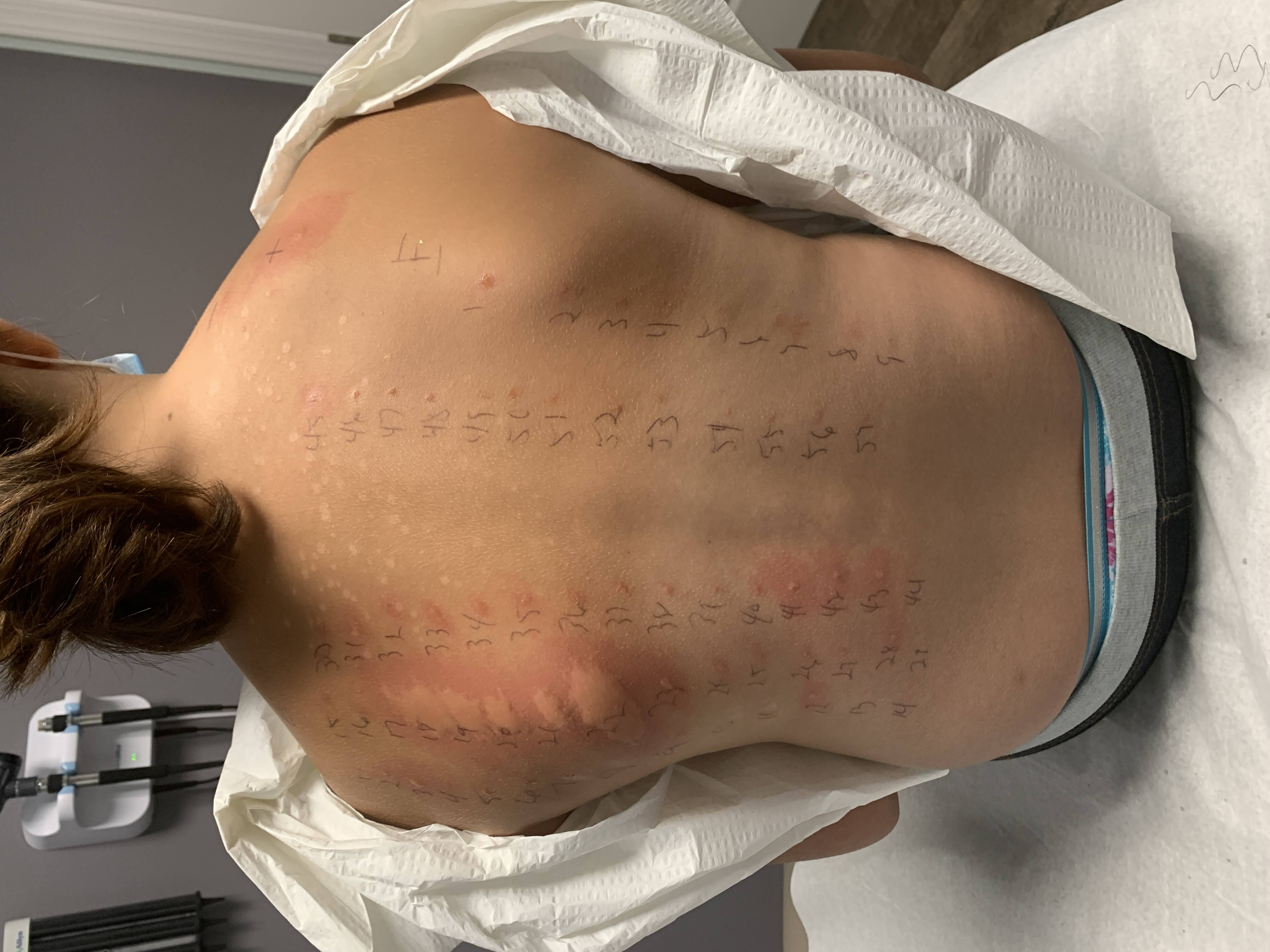 Naomi was the next big priority since she is a close second when it comes to allergy misery. She takes after her dad, but with the addition of cat/dog allergies. That prompted us to become a cat-free family. The cats lived in the girls' room and slept in Naomi's clothes and we were really noticing it impacting her sleep and overall well being. Since the cats left, she's been doing much, much better. She also has a mild codfish allergy which doesn't make her sad at all.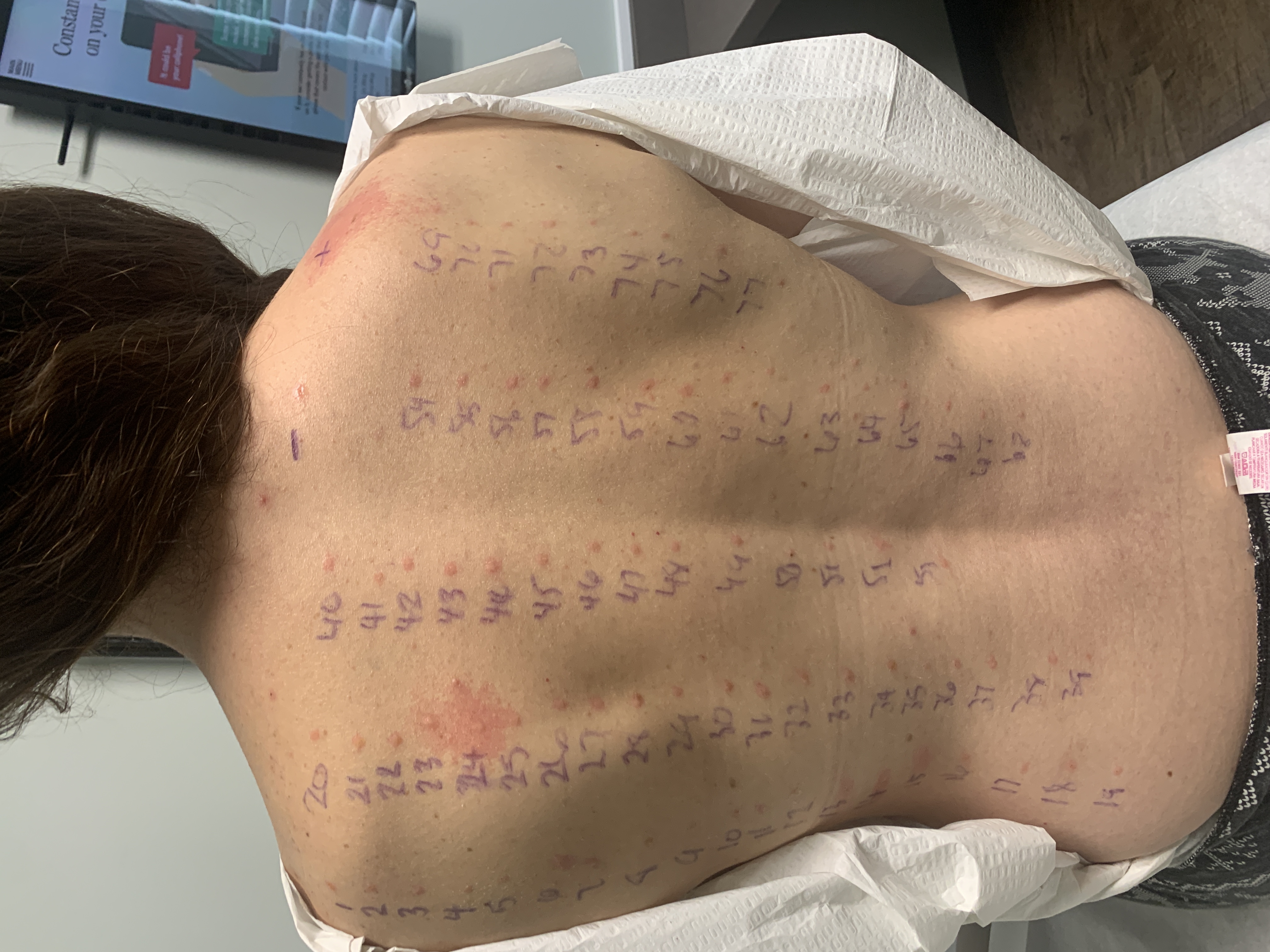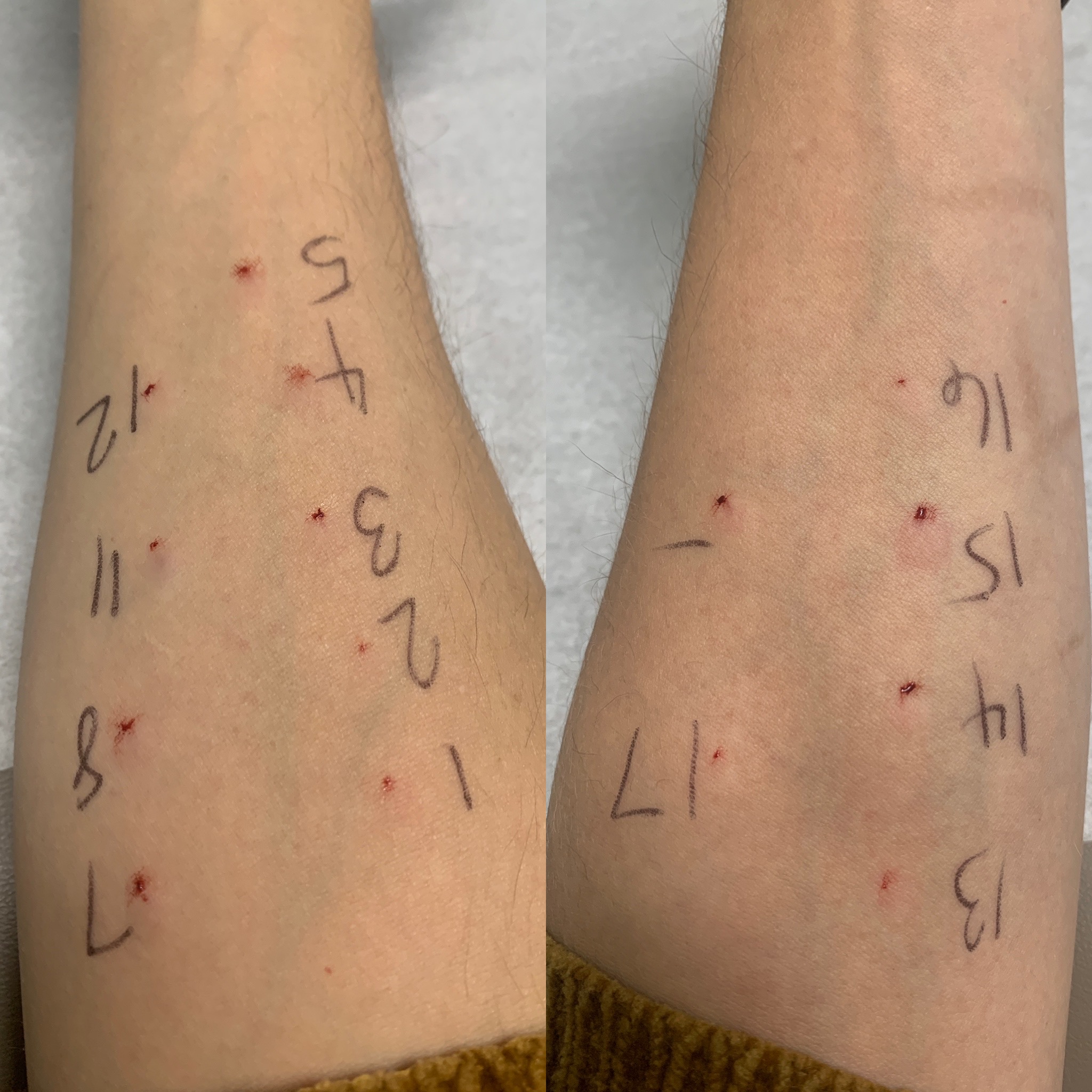 I knew going into it that any reactions I had would be mild. There are a few mild tree allergies for me but not really even bad enough to take stuff. Dust mites are my worst, which is fun because those are super ubiquitous and hard to completely avoid. Sigh. But it could have been much worse!
The real reason I went to see an allergist was to request an Alpha-Gal blood test. Alpha-Gal is the nick name for a disorder where a person is bitten by a tick and the tick's spit causes an allergy to all mammalian meat and products. So not just beef and pork and rabbit and goat, but all the dairy products, gelatin, etc. I was bitten by a tick a few months after I went full carnivore about 4 years ago. I had the classic bulls-eye rash, but didn't know anything about alpha-gal. When I didn't get any Lyme symptoms I didn't think anything more about it. Then I started having horrific gastrointestinal "events" in conjunction with eating beef and pork. I chalked it up to adjusting to a weird way of eating. Then I figured it was the high fat content so I moved away from beef and pork to lean chicken and fish. That fixed it! However, it's impossible for the body to digest protein without either fat or carbohydrates so I started adding fruit, veggies, and some grains in an attempt to feel better. I felt better but my weight started roller coastering. Now I'm wondering if I could try a high-fat carnivore approach for a month or so without any mammalian products and see how I feel. BUUUTTT that only makes sense if my blood work shows that I'm positive for alpha-gal. I'll find out in a few days. Like I told my dad, on one hand a positive test will explain so many anomalies that I've been trying to figure out over the last few years and will give me a clear framework to operate in. On the other hand: bacon, steak, goat, burgers, cheeses and Jello. Sigh. It's a pickle. I'm not sure which I'm hoping for, honestly. At least it's not like a horrible question from "Would You Rather"…I don't get to choose, all I have to do is roll with it.